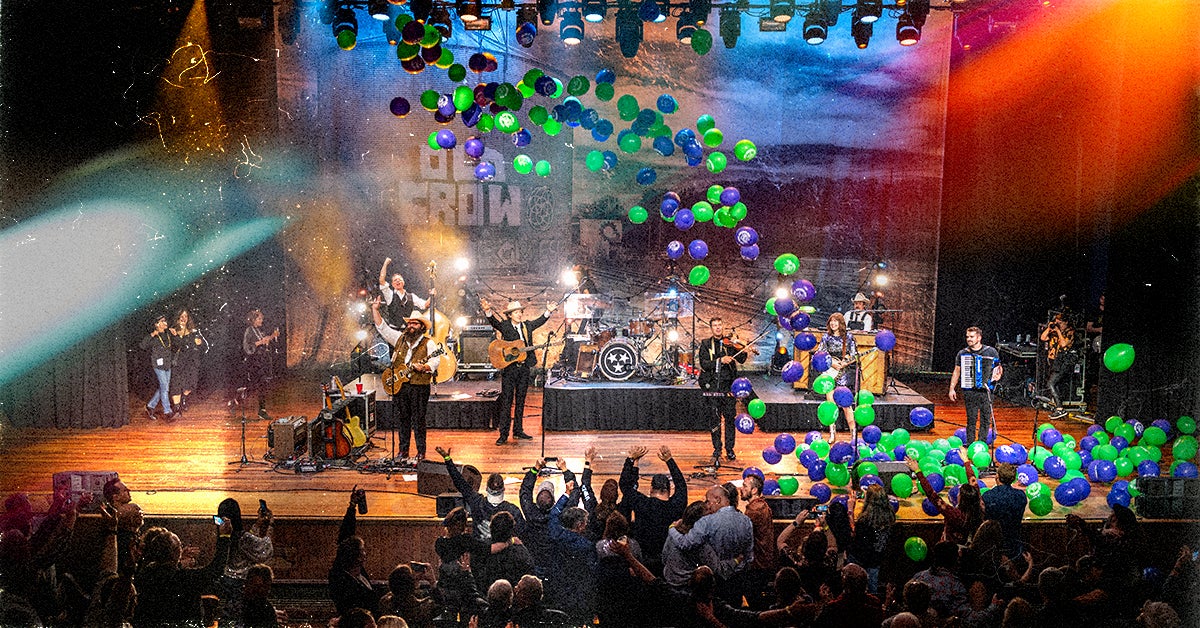 Old Crow Medicine Show + The Ryman: A New Year's Eve Tradition 
By Sarah Skates 
"All roads lead to the Ryman, especially if you've got a fiddle in your band."—Ketch Secor
New Year's Eve 2023 will mark the 14th annual tradition of Old Crow Medicine Show ringing in the new year onstage at the historic Ryman Auditorium. The band is consistently known for electrifying live performances, but for frontman Ketch Secor these holiday shows are extra special.
"New Year's Eve is a spirited, revelatory experience," he says. "There's something about saying goodbye to the old year that makes kind of a fifth Beatle in your band. Everyone's excited about the music and the show, but there's this other piece, that everybody has agreed that nothing will be the same after this night. And that's a powerful kind of community exercise for your audience. It only happens on Dec. 31. And I think that the power of that symbol for the audience just elevates the excitement, intensity and passion; as well as the passion with which we perform."
The Ryman has a longstanding tradition of excellent New Year's Eve bookings, ranging from Garrison Keillor (who welcomed Old Crow as part of his lineup) to bluegrass stalwart Del McCoury. Similarly, Old Crow has a long history with the venue itself, dating back to 2000 when they performed on a WSM-AM broadcast from the Ryman shortly after moving to Music City.
Onstage, Secor embraces his role not just as a talented musician but also as a renowned entertainer.
"I'm trying to be some kind of hybrid version of Dick Clark, Pee-wee Herman and a little Joel Osteen for good measure," he says. "We are going to play some of our new songs and a lot of our old songs, and we're going to celebrate a reunion on stage with a dear friend and founder of the band, Willie Watson. We haven't played a ticketed show at the Ryman with him since probably the stroke of midnight in 2011."
The two-night stand runs Dec. 30 with Watson and Kasey Tyndall; and Dec. 31 with Watson and Harper O'Neill. Old Crow recently released its eighth studio album, Jubilee, and while Secor enjoys the recording process, his ultimate goal is connecting with fans through captivating performances.
"I've become more of a believer in the power of live music above anything else," he says. "It's become really clear that our business is not in the record business, but in the ticket business. And yet, we bought a whole warehouse and turned it into a studio, and we're having a lot more fun making records than we ever did before. Now I'm able just to make music that I think people who like Old Crow would like to hear."
Secor's reverence for music history and the Ryman's role in it runs deep.
"Nashville was a multi-genre music town before it was ever a country music town," he says. "The Ryman wasn't built for country music, it was built for oratory, it was built for theater, it was built for dance, it was built for politics, it was built for sermonizing and country came later."
Since being erected more than 130 years ago as a place of worship, the Ryman has evolved into a world-famous music venue while retaining its important early roles of encouraging community, celebration and sanctuary. The storied building was almost lost in the 1980s, when it was in danger of being demolished. Secor is thankful that didn't happen.
"It's like a whole cannon of music that could have dissipated and people would have to tangentially rediscover it, but instead it remains," he says. "And so we can still stand there in the bellows where so many gasps of breath were taken because of the thrill of live performance of all manner. From Charlie Chaplin to Dr. King, The Fisk Jubilee Singers to Fanny Brice, it all happened there.
"When I think about the Ryman, I think about renewal," he continues. "It's a place where Nashvillians can go to recenter their minds. It's been great having that longstanding relationship with a venue that is a church where you can gather with somebody that you've been missing and rekindle things."
Secor has met close friends during his visits to the Mother Church of Country Music, including the late Cowboy Jack Clement and Jesse McReynolds; and more recently Molly Tuttle.
"I think that finding kinship ought to be easy to do in a town like Nashville, Tenn. with this many coffee shops and honky-tonks and bars and restaurants," he said. "And yet, it's the friends you make at the Ryman that you keep your whole life."
Stay in Touch
What's almost as iconic as visiting the Ryman? Always having the inside scoop!
Sign up for exclusive updates, offers, and events, so you never miss out on what's happening at the Mother Church.