Cut Your Own Song and Relive History Inside Ryman's Recording Booth
If it weren't for the Grand Ole Opry and WSM, Nashville's recording industry would likely look a lot different. In the early days when artists came through to play the Opry, they gained national exposure through WSM, the clear-channel AM radio station that broadcast the show, but if they wanted to record music, they had to go to faraway New York, Los Angeles, or Chicago. In 1946, WSM changed the game by launching Nashville's first professional recording studio, Castle Records. A group of WSM sound engineers moonlighted for Castle Recording Company, working with some of country music's biggest names like Hank Williams and Kitty Wells and setting the stage for Music City's recording boom. "There'd be no Music Row without these guys. There'd be no Quonset Hut," says Joshua Bronnenberg, Museum Curator and Tours Manager at Ryman Auditorium. "No RCA, uh-uh. None of that." [caption id="attachment_10830" align="alignnone" width="1200"]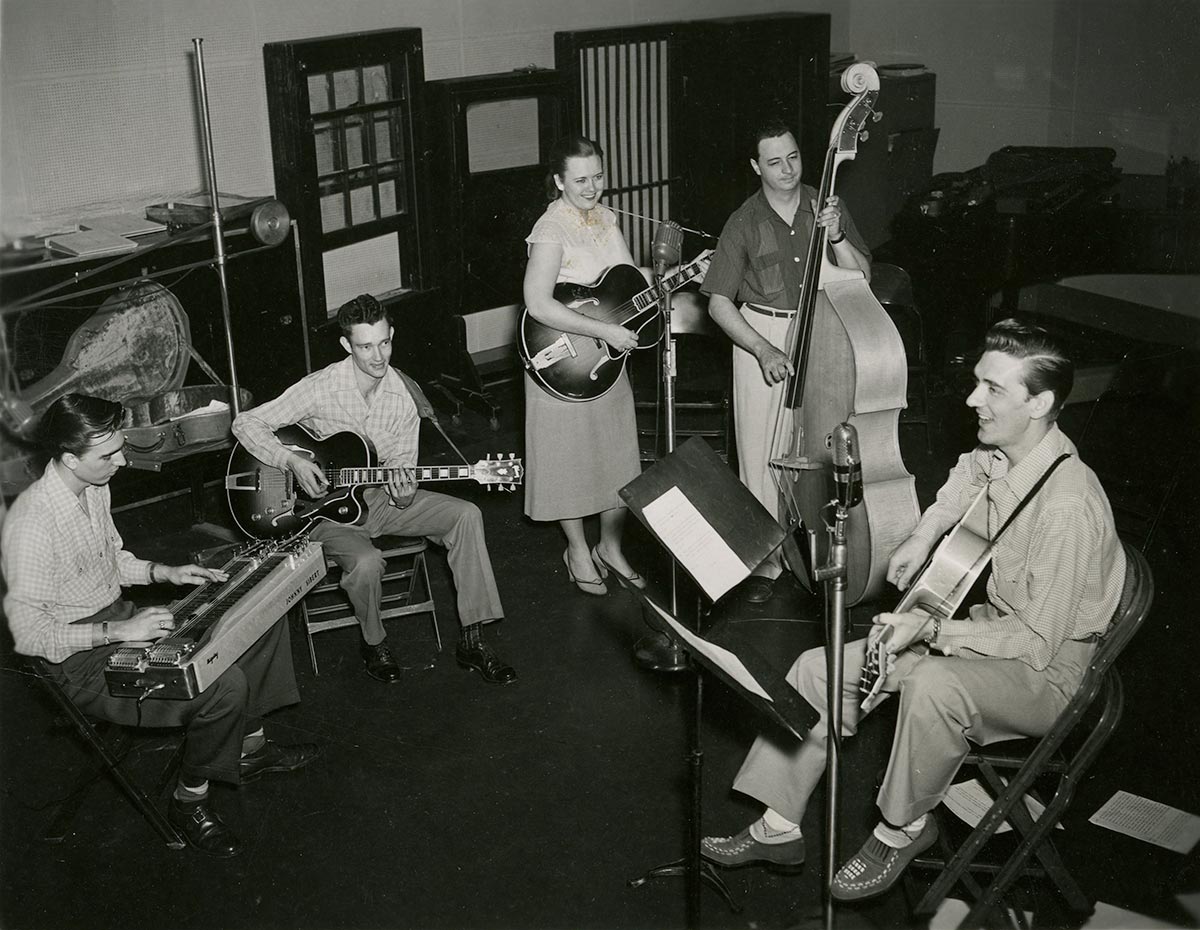 There is only one known photograph of Castle Studio, determined to be from the period in which the recording studio was housed at The Hotel Tulane, which was razed in 1956. Prior to that, sound engineers used the WSM studios for recordings.
photograph courtesy And More Bears Archive
[/caption] The studio shuttered in 1956, but the spirit of Castle Records lives on through Ryman Auditorium's reimagined recording booth, Air Castle Studio, which visitors can experience for themselves as part of
a Ryman tour
. "When you walk through that door, it looks like you're walking back in time," says Hunter Wiebe, Ryman Museum Host Guide. The softly lit booth harks back to the golden age of recording with its black-and-white tiled floor and framed front page of
The Nashville Banner
announcing the birth of WSM. It sits approximately where the box office was first located, and today, WSM still uses the space as a satellite room to broadcast the Opry during select shows. [caption id="attachment_12492" align="alignnone" width="1200"]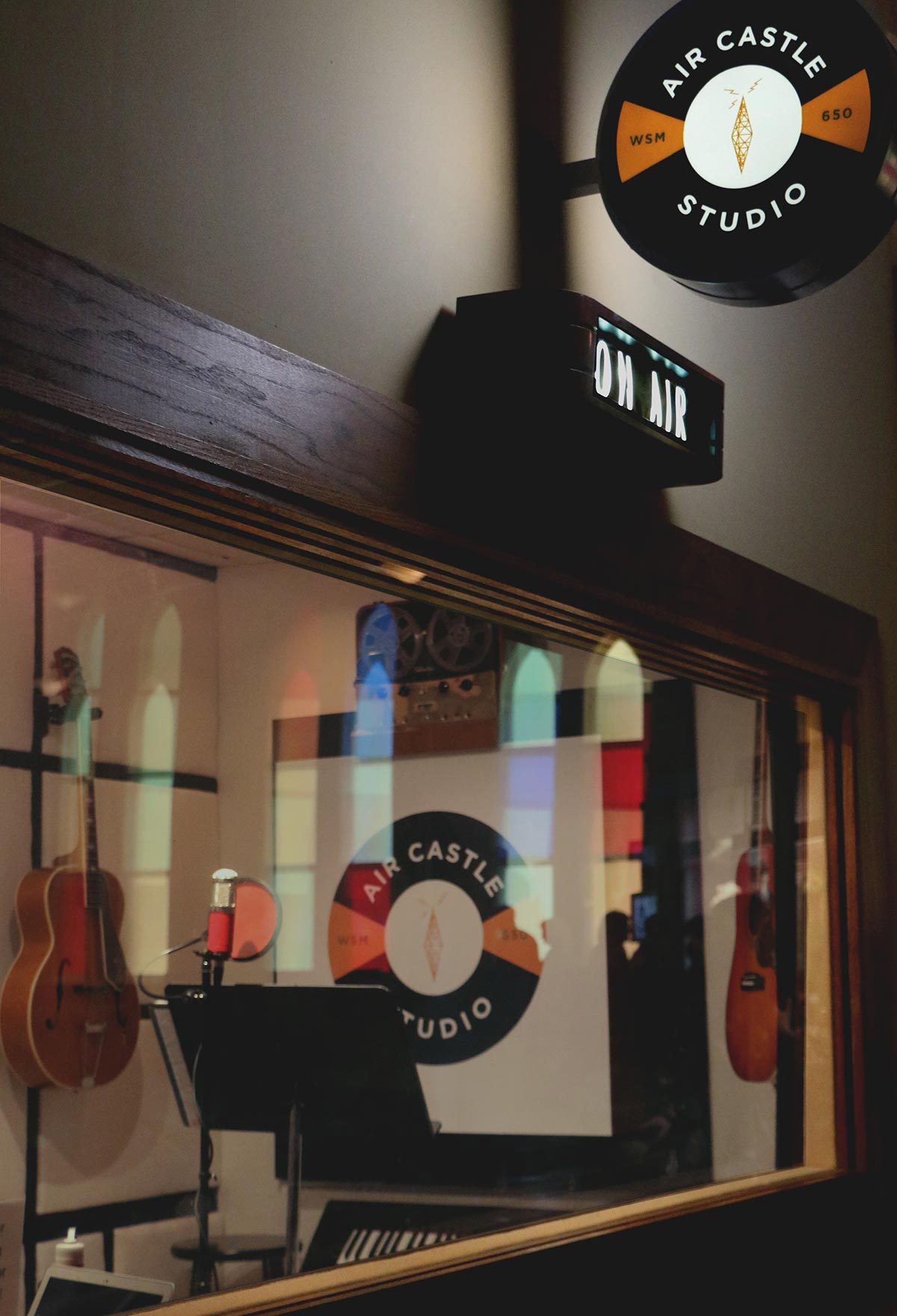 Guests who wish to record a song inside Air Castle Studio can sign up for a time slot during their visit.
Learn More
[/caption] Outfitted with soundproof pads and a top-notch studio speaker system for playback, singers — of both the professional and shower variety — can perform
a wide selection of hits
like Patsy Cline's "Crazy" and Garth Brooks' "Friends in Low Places." Any public domain track or original songs are also fair game. Those who are shier about their singing voice can read scripts from actual Opry shows that took place in the 1950s. "We get a lot of people who sing in church choir. We get a lot of people who sing in their car or in the shower," Wiebe says. "We get aspiring young musicians who just moved to town and want to do a demo of their song they just wrote here. Those are some of the really fun ones because you hear some incredibly talented people from around the world." If you want to sing at the world-renowned Ryman, all you've got to do is sign up for a time slot outside the studio door during your visit. The experience is included in the cost of your tour ticket. If you love what you've recorded, you can get a digital copy for just $15. Sessions take place in one cut, and many of the instrumental tracks that you can sing along to were recorded by the famous Grand Ole Opry House band. The studio provides a keyboard and a couple of guitars if you wish to play, or you can bring your own instrument. No matter what you sing, you'll be doing it while standing on a reclaimed piece of the 1951 Ryman stage — the same boards that the likes of Johnny Cash and Dolly Parton rose to fame on — while looking out at the current stage and the stained glass windows that still make the Ryman holy ground. There's truly no other experience like this one in Nashville.
Learn More About Air Castle Studio
Stay in Touch
What's almost as iconic as visiting the Ryman? Always having the inside scoop!
Sign up for exclusive updates, offers, and events, so you never miss out on what's happening at the Mother Church.