One of Music City's most treasured traditions will return in 2023 with Amy Grant and Vince Gill's beloved "Christmas at the Ryman" residency. The 12-concert run is scheduled for December 13-14, 16-17, 19-20 and 22-23 and will once again feature matinee performances of the beloved show.
"Christmas at the Ryman has become one of our favorite holiday traditions," shares Grant. "This is our 13th year doing these shows and it is always so special to celebrate the season with you all. We can't wait to create more holiday memories this year."
The shows have been serving as the ultimate holiday tradition for many years, with music fans from across the country and around the world flocking to the historic venue to take in the sweet sounds of two of Nashville's most cherished performers. In years past, the husband-and-wife duo have filled the show with Christmas favorites such as "Let It Snow," "Have Yourself a Merry Little Christmas," "Tennessee Christmas," "O Holy Night" and "O Come All Ye Faithful."
To ensure access for fans, resale and ticket transfer is not available for any of the Amy and Vince shows.
About Amy Grant
Amy Grant's career spans more than 40 years and stretches from her roots in gospel into becoming an iconic pop star, songwriter, television personality and philanthropist. With three multi-platinum albums, six platinum albums and four gold albums, her total career album sales have exceeded 30 million and over 1 billion global streams. Grant's chart success has been consistent throughout her career with six No. 1 hits, 10 Top 40 pop singles, 17 Top 40 Adult Contemporary tracks and multiple Contemporary Christian chart-toppers. In addition to her six Grammy® Awards, Grant has earned 26 Dove Awards (including four Artist of the Year Awards) and has been awarded a star on the Hollywood Walk of Fame as well as the Music City Walk of Fame and the Nashville Songwriters Hall of Fame. Conventional wisdom has it that Grant put Contemporary Christian Music on the map becoming the first Contemporary Christian artist to have a platinum record, the first to hit No. 1 on the Pop charts and the first to perform at the Grammy Awards. With that, her legacy as one of the most influential artists of the past four decades is assured. In 2020, the T.J. Martell Foundation—the music industry's leading nonprofit to fund innovative medical research focused on treatments and cures for cancer—honored Grant with the Tony Martell Outstanding Entertainment Achievement Award at their annual Honors Gala. Most recently, The John F. Kennedy Center for the Performing Arts included Grant as one of their five distinguished Honorees to receive the 45th Kennedy Center Honors for lifetime artistic achievements. This year Grant is hitting the road and will be performing in 70 cities across the country and releasing her first new music in a decade, starting with the single "Trees We'll Never See."
About Vince Gill
One of the most popular artists in modern country music, Vince Gill is famous for his top-notch songwriting, world-class guitar playing and warm, soaring tenor, all wrapped up in a quick and easy wit. Gill achieved his big breakthrough in 1990 with "When I Call Your Name," which won both the Country Music Association's (CMA) Single and Song of the Year awards as well as a Grammy for Best Country Vocal Performance, Male. Since then, Gill has won 16 additional CMA Awards, 22 Grammy Awards, and eight Academy of Country Music Awards. In 1991, Gill was invited to become a member of the Grand Ole Opry, and in 2007 was inducted into the Country Music Hall of Fame. In 2012 he was honored with a star on the Hollywood Walk of Fame. A gifted songwriter, Gill's compositions earned him entry into the Nashville Songwriters Hall of Fame in 2005 and was awarded the prestigious BMI Icon award in 2014. Throughout his career he has released 20 albums, sold over 30 million albums, and charted 45 singles. Always considering himself a musician above all else, Gill has over the years been a part of some iconic bands including Pure Prairie League, The Notorious Cherry Bombs, and The Time Jumpers. In 2022, Gill was inducted into the Musician's Hall of Fame. In 2017 Gill was asked to join the Eagles on the road and continues to be a part of that historic band's tour.
Wednesday,
December
13
7:30PM
7:30 PM
Thursday,
December
14
7:30PM
7:30 PM
Saturday,
December
16
3:00PM
3:00 PM
Saturday,
December
16
7:30PM
7:30 PM
Sunday,
December
17
3:00PM
3:00 PM
Sunday,
December
17
7:30PM
7:30 PM
Tuesday,
December
19
7:30PM
7:30 PM
Wednesday,
December
20
7:30PM
7:30 PM
Friday,
December
22
3:00PM
3:00 PM
Friday,
December
22
7:30PM
7:30 PM
Saturday,
December
23
3:00PM
3:00 PM
Saturday,
December
23
7:30PM
7:30 PM
Venue Information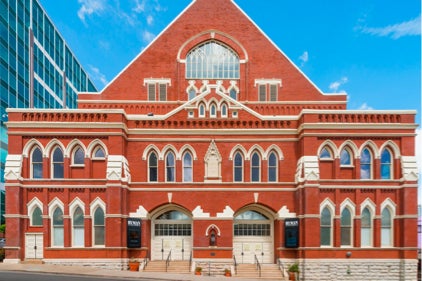 Ryman Auditorium
Ryman Auditorium, located at 116 Rep. John Lewis Way North, in Nashville, Tennessee, is one of the most celebrated venues in modern music. Built in 1892, the historic 2,362-seat live performance venue is the most famous former home of the Grand Ole Opry and is revered by artists and music fans for its world-class acoustics. A bucket list moment for both fans and artists alike, her iconic stage has hosted performers from across genres, such as Elvis Presley, Bruce Springsteen, Charley Pride, Loretta Lynn, Johnny Cash, Harry Styles, Wu-Tang Clan, Lizzo, and thousands more. While offering a diverse lineup and thriving concert schedule with over 200 shows per year, the venue is also open for daytime tours year-round. Along with best-in-class production technologies and livestream capabilities, the Ryman has been named Pollstar's Theater of the Year for 13 years through 2021.
Stay In Touch
Subscribe for updates, events offers and more. To sign up to receive our emails, Fill in the following fields and hit submit. Thanks, and Welcome!