Chris Distefano is one of today's biggest and most beloved names in comedy. Chris quickly rose to success after being named the funniest person on MTV for his show-stopping performances on the Guy Code/Girl Code series. From there, he went on to star in IFC's Benders, co-host the Netflix gameshow Ultimate Beastmaster, and even had his own CBS sitcom. Outside of TV, Chris has become one of the most respected and flat-out funniest comedians in the stand-up world. Fresh off his appearances on The Late Show with David Letterman and Late Night with Seth Meyers in 2019, Chris released his Comedy Central special Size 38 Waist, which perfectly encompassed both his Brooklyn-born edge and nice-guy charm. Chris' second full-length special, Speshy Weshy, premiered on Netflix in May of 2022 to wide acclaim.

When Chris isn't on stage delivering his gut-busting jokes, you can catch him in his element in the comfort of his own couch where he records his wildly successful podcasts, "Chrissy Chaos" and "Hey Babe", the latter of which he co-hosts with Impractical Jokers' Sal Vulcano. Both podcasts are among the most popular on all streaming platforms and have massive followings on Patreon. In 2022, Chris was chosen to host Jimmy Kimmel's newest TV venture, Super Maximum Retro Show, available on ViceTV. A big sports fan, Chris has been fortunate to host episodes of shows including MLB's Off The Bat and MSG's The Brackets, and was invited by the New York Mets to throw the first game pitch in 2021. Chris has a fearless, yet endearing stage presence, and his natural ability to connect with audiences around the world has made him a household name in not just comedy, but all of entertainment. Since selling out both the world-famous Radio City Music Hall and Theater at Madison Square Garden in New York City this past September, Chris continues to travel the country on a sold out comedy tour, entertaining thousands by poking fun at the world—and himself—with his uniquely warm energy.
Friday,
February
2
7:00PM
7:00 PM
Venue Information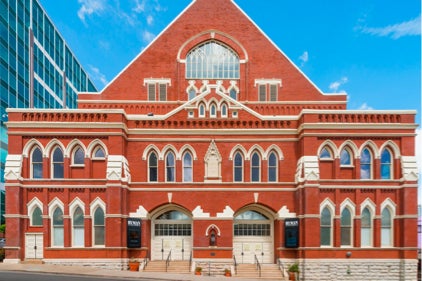 Ryman Auditorium
Ryman Auditorium, located at 116 Rep. John Lewis Way North, in Nashville, Tennessee, is one of the most celebrated venues in modern music. Built in 1892, the historic 2,362-seat live performance venue is the most famous former home of the Grand Ole Opry and is revered by artists and music fans for its world-class acoustics. A bucket list moment for both fans and artists alike, her iconic stage has hosted performers from across genres, such as Elvis Presley, Bruce Springsteen, Charley Pride, Loretta Lynn, Johnny Cash, Harry Styles, Wu-Tang Clan, Lizzo, and thousands more. While offering a diverse lineup and thriving concert schedule with over 200 shows per year, the venue is also open for daytime tours year-round. Along with best-in-class production technologies and livestream capabilities, the Ryman has been named Pollstar's Theater of the Year for 13 years through 2021.
Stay in Touch
What's almost as iconic as visiting the Ryman? Always having the inside scoop!
Sign up for exclusive updates, offers, and events, so you never miss out on what's happening at the Mother Church.