Following the massive success of last year's inaugural event, The Prine Family will present the second annual "You Got Gold: Celebrating the Songs of John Prine" this October in Nashville, with shows at the Country Music Hall of Fame and Museum's CMA Theater (October 8), The Basement East (October 9) and the historic Ryman Auditorium (October 10, Prine's birthday). The three-day affair will benefit The Hello in There Foundation and feature performances by an array of surprise artists, celebrating not only Prine's esteemed career, but also the beloved community he built over the past 50 years.
Of the celebration, Fiona Prine shares, "The time I spent with John on the road made one thing very clear - the community he helped create was always, and remains, at the heart of the music and the work we continue to do every day. I'm so happy that 'You Got Gold' will now become an annual event to ensure that we maintain that connection and grow our beloved community. I look forward to seeing everyone back in Nashville this October, to celebrate John's songs and help further the work of the Hello in There Foundation."
Last year's "You Got Gold" tribute raised nearly $500,000 for the Hello in There Foundation and featured performances by renowned artists such as Brandi Carlile, Kacey Musgraves, Tyler Childers, Jason Isbell, Margo Price, Bonnie Raitt, Kurt Vile, Nathaniel Rateliff, Emmylou Harris, Allison Russell, Bob Weir and Lyle Lovett among several others. Of the tributes, Rolling Stone praised, "as gifted as Prine proved himself to be at boiling down universal truths into pithy tunes over his long, fruitful career, it was the between-song anecdotes shared…firsthand reflections of both his big heart, and subtle-yet-wicked sense of humor—that made his loss feel most pronounced and proved that Prine was a man not only gifted in writing about the human experience, but living it too," while American Songwriter declared, "a figure doesn't get more colossal than him—his lyricism is unmatched and his songs remain a magnum opus for musicians the world over…only Prine could bring Keb' Mo' and Kurt Vile together and make it seem as natural as rain—mutual admiration is a great equalizer."
Established by the Prine family, the work of the Hello In There Foundation is inspired by John's simple song title, "Hello In There." The Foundation aims to identify and collaborate with individuals and communities where people are marginalized, discriminated against or, for any reason, are otherwise forgotten. Benefitting organizations for the 2023 "You Got Gold" concerts include the Tennessee Immigrant and Refugee Rights Coalition, Porter's Call, Renewal House and the National Coalition for Homeless Veterans.
Regarded as one of the English language's premier phrase-turners, Prine is a four-time Grammy-winner, a Grammy Lifetime Achievement Award honoree, a seven-time Americana Music Award-winner, a PEN New England Lyrics Award recipient and member of both the Songwriters Hall of Fame and the Nashville Songwriters Hall of Fame. Since his debut in 1971, Prine released over eighteen albums and has had his songs recorded by Johnny Cash, Carly Simon, Bette Midler, Bonnie Raitt, Norah Jones, George Strait, Miranda Lambert, Zac Brown Band and many others, while drawing effusive praise from Bob Dylan, Kris Kristofferson, Bonnie Raitt, Roger Waters, Tom Petty, Bruce Springsteen and more, who knew him as a smiling, shuffling force for good.
Tuesday,
October
10
7:30PM
7:30 PM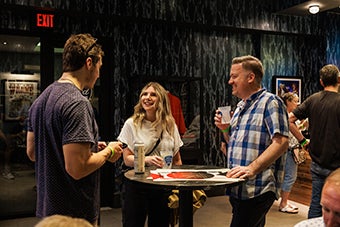 ELEVATE YOUR RYMAN EXPERIENCE
Want to make your night at the Ryman an iconic one? Snag a spot in our new and improved Ford Lounge. Hang out in our recently-expanded private space, grab some food and a top-shelf drink from the open bar, and take home a commemorative Hatch Show Print Poster.

Upgrade your ticket, you deserve it!
Venue Information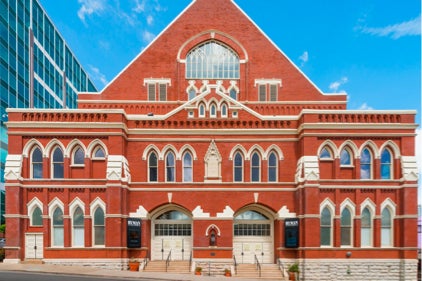 Ryman Auditorium
Ryman Auditorium, located at 116 Rep. John Lewis Way North, in Nashville, Tennessee, is one of the most celebrated venues in modern music. Built in 1892, the historic 2,362-seat live performance venue is the most famous former home of the Grand Ole Opry and is revered by artists and music fans for its world-class acoustics. A bucket list moment for both fans and artists alike, her iconic stage has hosted performers from across genres, such as Elvis Presley, Bruce Springsteen, Charley Pride, Loretta Lynn, Johnny Cash, Harry Styles, Wu-Tang Clan, Lizzo, and thousands more. While offering a diverse lineup and thriving concert schedule with over 200 shows per year, the venue is also open for daytime tours year-round. Along with best-in-class production technologies and livestream capabilities, the Ryman has been named Pollstar's Theater of the Year for 13 years through 2021.
Stay In Touch
Subscribe for updates, events offers and more. To sign up to receive our emails, Fill in the following fields and hit submit. Thanks, and Welcome!