Born in Atlanta, GA, Grammy-winning artist and songwriter Michael Render aka Killer Mike, is part of the popular hip-hop super duo, Run The Jewels. Alongside his partner, EL-P, he has released four studio albums. Their most recent, RTJ4, soared to the Top 10 on the Billboard 200 and was met with widespread critical acclaim, landing at #1 on NME's The Best 50 Albums of 2020 list. Named the 2020 Spin Magazine Artist of the Year, Run The Jewels have won eleven Libera Awards, including the 2021 A2IM Humanitarian Award, took home four Clio Awards, including two Gold-winning Music Marketing campaigns, and received a 2018 Grammy nomination for Best Rap Song. Beyond his work with Run The Jewels, Killer Mike has been an active solo artist for over 20 years, releasing studio albums and mixtapes, while also collaborating on projects by some of the biggest names in hip-hop including Outkast, Jay-Z, Big Boi, T.I., Black Thought, and more. Killer Mike secured a Grammy Award for Best Rap Performance Duo or Group for his collaboration with Outkast, "The Whole World," and also featured on "Poppin' Tags" off Jay-Z's #1 and triple-Platinum album, The Blueprint 2: The Gift and the Curse. In addition to his success as a musician, Killer Mike has gained wide recognition beyond the industry. He acted in several films, including Baby Driver, Idlewild, and ATL. He also provided voiceover for the 2021 Netflix film America: The Motion Picture and is the host of multiple series including PBS' Love & Respect with Killer Mike, Facebook's Roll'N with Killer Mike, and Netflix's Trigger Warning with Killer Mike. Killer Mike is an advocate for the disenfranchised, a business owner, and a frequent public speaker on politics, race, and inequality in many communities. In 2020, his extensive work as a social justice activist earned him the first-ever Billboard Change Maker Award.
Venue Information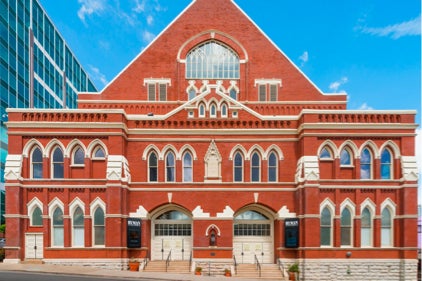 Ryman Auditorium
Ryman Auditorium, located at 116 Rep. John Lewis Way North, in Nashville, Tennessee, is one of the most celebrated venues in modern music. Built in 1892, the historic 2,362-seat live performance venue is the most famous former home of the Grand Ole Opry and is revered by artists and music fans for its world-class acoustics. A bucket list moment for both fans and artists alike, her iconic stage has hosted performers from across genres, such as Elvis Presley, Bruce Springsteen, Charley Pride, Loretta Lynn, Johnny Cash, Harry Styles, Wu-Tang Clan, Lizzo, and thousands more. While offering a diverse lineup and thriving concert schedule with over 200 shows per year, the venue is also open for daytime tours year-round. Along with best-in-class production technologies and livestream capabilities, the Ryman has been named Pollstar's Theater of the Year for 13 years through 2021.
Stay in Touch
What's almost as iconic as visiting the Ryman? Always having the inside scoop!
Sign up for exclusive updates, offers, and events, so you never miss out on what's happening at the Mother Church.