There's a line in the title track of Ruins that is the most direct the Söderberg sisters have ever been. "I lost you, didn't I?" asks Klara Söderberg. "But first I think I lost myself." The whole album will take you back to the first time your veins were squeezed to the point of suffocation by that first heartache – the one that left you anchorless, questioning your purpose, your world, yourself.
Klara, the younger sister to her sparring partner Johanna, isn't sure that she knows when she's written one of those lines. It's the facts that pour out of her. "Life just happened and it dictated what the record was about," she says. "Most of it is the aftermath of a relationship ending, where to go from there, figuring out who you are after that happens. It's a documentary, and it's quite sad." Johanna, however, does know. She acts as the executive producer to Klara's ideas, identifying the golden moments, telling her which to pursue and how to make them sing. "Johanna puts it all together," explains Klara. "She knows that it's good but it needs something else. I'll argue that it doesn't. Then we'll do it, it'll sound perfect and I'm like, 'Oh fuck it's true – it is better now.'"
"Rebel Heart" – the album's opener – documents a love doomed from the start. "It's A Shame" – the lead single – is a plea to live in the moment because everyone disposes of each other eventually. On "Postcard" and "To Live A Life," you feel the breath-stealing weight of despair when a shattered love leaves you bereft of hope. "Fireworks" introverts the blame with self-loathing. Overall, it's a nod to the traditions of the classic folk rock sound, a sound First Aid Kit have revived via their breakthrough album Stay Gold (2014) and previous Wichita releases The Big Black And The Blue (2010) and The Lion's Roar (2012). The difference is that this time they've lived. The results are intense. No longer in thrall to their forebears, they now channel the hurt and longing felt in their heroes' works – Gram Parsons, Townes Van Zandt, Johnny and June. Long gone are the days of covering Fleet Foxes and singing fairytales, of leaving school to pursue music, emerging in flannel from tall tree'd forests. Here is First Aid Kit as you've never heard them before: wounded and biting back hard.
To understand the journey that they've been on for the last decade you have to go to the root of it: Stockholm. Their birthplace is a maze of memories. A boat trip to one of the city's islands takes the sisters past a theme park where they've played; a walk through the city's center recalls the night they performed at the Polar Music Prize for Swedish royalty and moved Emmylou Harris to tears. Walking past the old town, Klara remembers the days when she'd busk outside to pocket enough money to dye her hair. Her parents weren't into the hair idea. Klara is the "rebel heart" of the album's opening track. Her arms decorated by maps of black ink.
Johanna agrees that there's a rockstar inside Klara, no longer screaming to get out. She's arrived, guts spilled on the floor, her sister here to steer the fruits of her choppy journey. When the pair landed with their 2010 debut they oozed natural talent, possessing that Swedish sixth sense for melody, their harmonies an offering from the halls of Valhalla. Their music was stunning but no less earnest. With Stay Gold they perfected the art of gorgeous songs steeped in darkness. Today they admit had they not stopped, they'd still be on the road with it. They had to stop.
"At one point you have to say no. You have to start thinking about yourself, your health, your sanity," offers Johanna. "It got to the point where playing felt so repetitive. We didn't have our soul in it any more. Listening to music felt like work. It was all just, ugh." Klara chimes in. "We'd been on a continuous tour since I was 16. That's all we knew. We got to a point where we were like, 'What do we have back at home?' We wanted to return, to be 'normal'." "You especially," adds Johanna. "You were going crazy." Suffering from exhaustion on the road, Klara went to live in Manchester with her fiancé to escape and find her own space. "Now that I've moved back to Stockholm, I've proven that I am my own person, but I needed to figure that out," she says. Johanna returned to Stockholm, and wondered where the remnants of her past were. "I had a crisis coming back," she says. "You get restless. On tour, you were always going somewhere, there'd be people waiting for you, excited. I was depressed."
When they came back to each other, the relationship had evolved. "I was actually excited to see Klara!" says Johanna. They've had to learn how to work with each other, have clearer lines of communication, essentially grow the hell up. "Now our relationship is better than ever, but it was pretty rocky," says Klara. Johanna continues, "You can be really rude to someone you love, somebody you know will always be there." At this moment, Klara bursts into song as she's prone to do. "You always hurt the one you love…" Johanna looks at her, full of adoration.
Ruins was made with one target in mind: make it sound more real. In many ways, First Aid Kit's largest asset is their biggest problem. Their voices are so damn pretty. "The records were always so perfect," says Johanna. "We don't want it to feel perfect. We want it to feel rough, gut-wrenching." Given the material, the lyrics had to be the focus. These sentiments didn't need to be dressed up. They needed to be naked.
Four years ago, lyrical ideas began to stem from Klara's Manchester life, particularly the end of her engagement. "We'd been on a break from music," says Johanna. "Not listening, not writing." During a trip to Los Angeles last Spring, just after Klara's breakup, they hunkered down for six weeks to gather inspiration. They went to Joshua Tree to a house as decimated as their hearts. "All you could hear was a storm outside," recalls Klara. The place was filled with Ouija boards and tarot cards. "We were kind of freaked out." Nothing was as scary as the reality they had to face in the studio. Lead single "It's A Shame" was written during that time. It's a song about the desperation of loneliness. "It's also about being in L.A.," adds Johanna. "Everything's so beautiful but we felt like shit." At their most prolific yet, they came away with more ideas than ever.
Long after Los Angeles, in January of 2017, they committed those songs to record, working with Tucker Martine (My Morning Jacket, Laura Veirs) in Portland. "There was an ice storm. It was terrible!" recalls Johanna. "No one could go anywhere, you couldn't drive, you couldn't walk. We were just stuck in the studio." Locked in with a group of amazing musicians—McKenzie Smith of Midlake, drummer Glen Kotche from Wilco and REM's own Peter Buck—they set the demons free.
With the Söderbergs back to their old selves, their bond stronger and their desire fuller, their enjoyment of playing again is as reassuring as learning how to re-connect. Having felt the loss of human relationships so strongly – Klara with her ex, and the sisters with each other – the greatest reward will be to experience the catharsis of performing Ruins to new audiences, others who can relate to their lessons. "It's different, I play bass now," says Johanna. Klara: "Yeah, Johanna feels free. She's rockin' out!"
Despite the time apart, and the ups and downs as bandmates and sisters, the Söderbergs are full of the joys. Earlier in the day, they were at the bow of a boat, looking out on their hometown. Suddenly they held each other and broke out into that harmony: "Near, far, wherever you are, I believe that the heart does go on…." Singing the theme song to Titanic on a boat while looking at the sea has the potential to be the shmaltziest of moments. Not for First Aid Kit, though. They have overcome stormy weather and they believe again. They believe in themselves.
Venue Information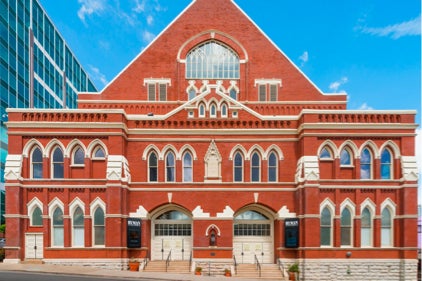 Ryman Auditorium
Ryman Auditorium, located at 116 Rep. John Lewis Way North, in Nashville, Tennessee, is one of the most celebrated venues in modern music. Built in 1892, the historic 2,362-seat live performance venue is the most famous former home of the Grand Ole Opry and is revered by artists and music fans for its world-class acoustics. A bucket list moment for both fans and artists alike, her iconic stage has hosted performers from across genres, such as Elvis Presley, Bruce Springsteen, Charley Pride, Loretta Lynn, Johnny Cash, Harry Styles, Wu-Tang Clan, Lizzo, and thousands more. While offering a diverse lineup and thriving concert schedule with over 200 shows per year, the venue is also open for daytime tours year-round. Along with best-in-class production technologies and livestream capabilities, the Ryman has been named Pollstar's Theater of the Year for 13 years through 2021.
Stay in Touch
What's almost as iconic as visiting the Ryman? Always having the inside scoop!
Sign up for exclusive updates, offers, and events, so you never miss out on what's happening at the Mother Church.