Born in the Soviet Union, Regina Spektor began studying classical piano when she was six. Her family emigrated in 1989, landing in New York City, where she continued her classical training. Spektor eventually studied composition at the Conservatory of Music at Purchase College where she graduated with honors. She began writing pop songs in her late teens and made her recorded debut in 2001 with the self-released 11:11, a collection of songs heavily influenced by jazz and blues. Songs followed in 2002 and Soviet Kitsch in 2004. Spektor's commercial breakthrough came in 2006 on her fourth LP, Begin to Hope. The gold-certified album included the singles "On the Radio," "Better" and "Fidelity," which climbed the Billboard Hot 100 singles chart. Spektor's fifth album, Far released in 2009, and sixth album, What We Saw From the Cheap Seats released in 2012, both debuted at No. 3 on the Billboard 200 albums chart.
Spektor's songs have appeared in TV shows and movies including Orange Is The New Black, Grey's Anatomy, Weeds, How I Met Your Mother, Veronica Mars, The Good Wife and (500) Days of Summer. Spektor played for the Obamas and guests at the White House and performed as part of philanthropic campaigns for Tibet, Doctors Without Borders, and many more. Her most recent tours included her first concerts in her native Russia plus sold out shows at Radio City Music Hall in New York City, The Royal Albert Hall in London and two nights at Sydney Opera House in Australia.
Spektor's most recent album, her seventh, is entitled Remember Us To Life. The album has received extensive critical praise. Rolling Stone declared that Remember Us To Life wraps underdog storytelling in brilliant songcraft" and Esquire described Regina as "our generation's Joni Mitchell" adding that "(Spektor) has long made a habit of spinning fictional, winding tales into songs that utilize humor and absurdity for the purpose of pointed social commentary. Her new LP is no different."
Venue Information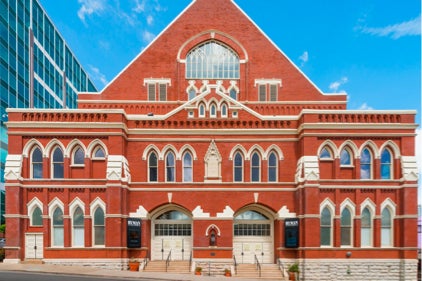 Ryman Auditorium
Ryman Auditorium, located at 116 Rep. John Lewis Way North, in Nashville, Tennessee, is one of the most celebrated venues in modern music. Built in 1892, the historic 2,362-seat live performance venue is the most famous former home of the Grand Ole Opry and is revered by artists and music fans for its world-class acoustics. A bucket list moment for both fans and artists alike, her iconic stage has hosted performers from across genres, such as Elvis Presley, Bruce Springsteen, Charley Pride, Loretta Lynn, Johnny Cash, Harry Styles, Wu-Tang Clan, Lizzo, and thousands more. While offering a diverse lineup and thriving concert schedule with over 200 shows per year, the venue is also open for daytime tours year-round. Along with best-in-class production technologies and livestream capabilities, the Ryman has been named Pollstar's Theater of the Year for 13 years through 2021.
Stay in Touch
What's almost as iconic as visiting the Ryman? Always having the inside scoop!
Sign up for exclusive updates, offers, and events, so you never miss out on what's happening at the Mother Church.