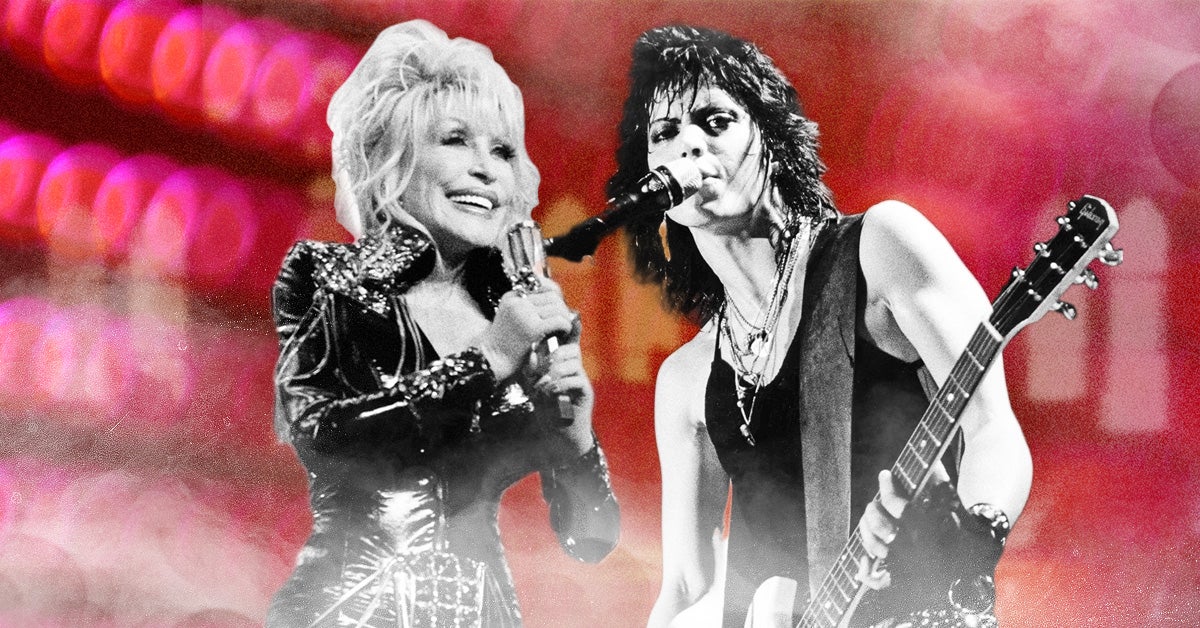 The Incredible Women of Rock Hall at the Ryman
By Jillian Wyatt
Some artists are so influential, they transcend genre and generation. Such is the case of the musicians featured in Ryman Auditorium's Rock Hall at the Ryman.
More than 100 artists inducted into the Rock & Roll Hall of Fame have also performed on the Ryman stage. And undoubtedly, many of the most influential artists and individuals to achieve this honor are women.
While women still remain vastly underrepresented in modern music, accounting for less than 22% of artists recognized on Billboard's Hot 100 Year-End chart in the last decade, there's no denying the influence female songwriters, producers, and performers have had on the music industry. From Tammy Wynette's resolution to stand by her man to Lizzo's body-positive lyrics, some stories are best told from a woman's point of view.
Here are three boundary-breaking ladies who have made history and earned themselves a spot in Rock Hall at the Ryman.
Joan Jett
Called the "Queen of Rock 'n' Roll," the "Original Riot Grrrl," and the "Godmother of Punk," Joan Jett is the epitome of a rock star. She is the frontwoman of Joan Jett & The Blackhearts and was a member of the 70's all-female punk band, The Runaways. Her single "I Love Rock 'N' Roll" topped Billboard's Hot 100 for seven weeks when it debuted in 1982.
Jett has always been unapologetically herself–fierce, defiant, and leather-clad, breaking all "good girl" expectations. Plus, she's an amazing guitarist. She's credited for influencing the L.A. punk scene, artists from Green Day to Miley Cyrus, and paving the way for female rockers everywhere. She's even present in country music; Country singer Kasey Tyndall celebrates Jett in her single "Jesus and Joan Jett."
Jett was inducted into the Rock & Roll Hall of Fame in 2015. In August 2021, Joan Jett & The Blackhearts made their Ryman debut, rocking with fan favorites like "Crimson and Clover" and "I Hate Myself for Loving You," and reminding music fans everywhere that Ryman Auditorium isn't just for country music. It's a celebration of all genres.
Joni Mitchell
Of all the women in modern rock, no one has captured hearts and achieved critical recognition like Joni Mitchell. Her songs have been covered by Brandi Carlile and Crosby, Stills and Nash, and she's influenced the sounds of everyone from Taylor Swift to Chaka Khan to Prince, as well as country stars like Bonnie Raitt and Johnny Cash. Mitchell's music masterfully weaves pop, folk, rock, and jazz into a sound that's uniquely hers, and her poetic songwriting pulls listeners deep into her lyrical storytelling.
She took the Ryman stage many times throughout 1969-1970 when she performed on The Johnny Cash Show. Mitchell was inducted into the Rock & Roll Hall of Fame in 1997 and was recognized as "one of the preeminent artists of this century."
Dolly Parton
Dolly Parton breaks every barrier in her path. Her likability eclipses musical genre, economic status, gender, sexual orientation, religion, and political affiliation. Beloved for her songwriting as much as her unapologetic style (which she's credited to "good lighting, good doctors, and good makeup"), Dolly is the big sister we always wanted. And now, in her mid-70s, she's as culturally relevant as ever.
To many, she's synonymous with Ryman Auditorium and the Grand Ole Opry, having appeared on the Ryman stage many times since she debuted on the music scene in the 1960s. But Parton can't be fenced in by genre; Her songs have spilled into the pop, Christian, and rock scenes, being performed by the likes of Kesha, Waxahatchee, and, famously, Whitney Houston. Her writing even extends beyond music to books and movies.
Dolly was inducted into the Grand Ole Opry in 1969 and the Rock & Roll Hall of Fame in 2022. "I [used to think], well, if I'm gonna get in the Rock & Roll Hall of Fame, I'm gonna have to do a rock album," she said in her acceptance speech at her induction. But Dolly has done enough in her 60-year career to deserve every acknowledgment and accolade that comes her way. She's written nearly 3,000 songs, recorded more than 50 studio albums, sold 100 million albums, and given millions of dollars through her philanthropic efforts. She may have started singing country in the hills of Tennessee, but Dolly Parton brings smiles to faces around the world.
Rock Hall at the Ryman
Ryman Auditorium's new tour feature, Rock Hall at the Ryman, celebrates the stories of Rock & Roll Hall of Famers who have graced the Ryman stage throughout the years. Commemorating the Ryman's mark on rock & roll history, the interactive exhibit features photos and memorabilia from rockers like The Byrds, Foo Fighters, Joan Jett, James Brown, and more. In 2022, Ryman Auditorium became one of 12 iconic venues to be designated a Rock & Roll Hall of Fame Landmark.
Learn more about the Rock Hall at the Ryman and get your tickets for this once-in-a-lifetime experience.
Stay In Touch
Subscribe for updates, events offers and more. To sign up to receive our emails, Fill in the following fields and hit submit. Thanks, and Welcome!