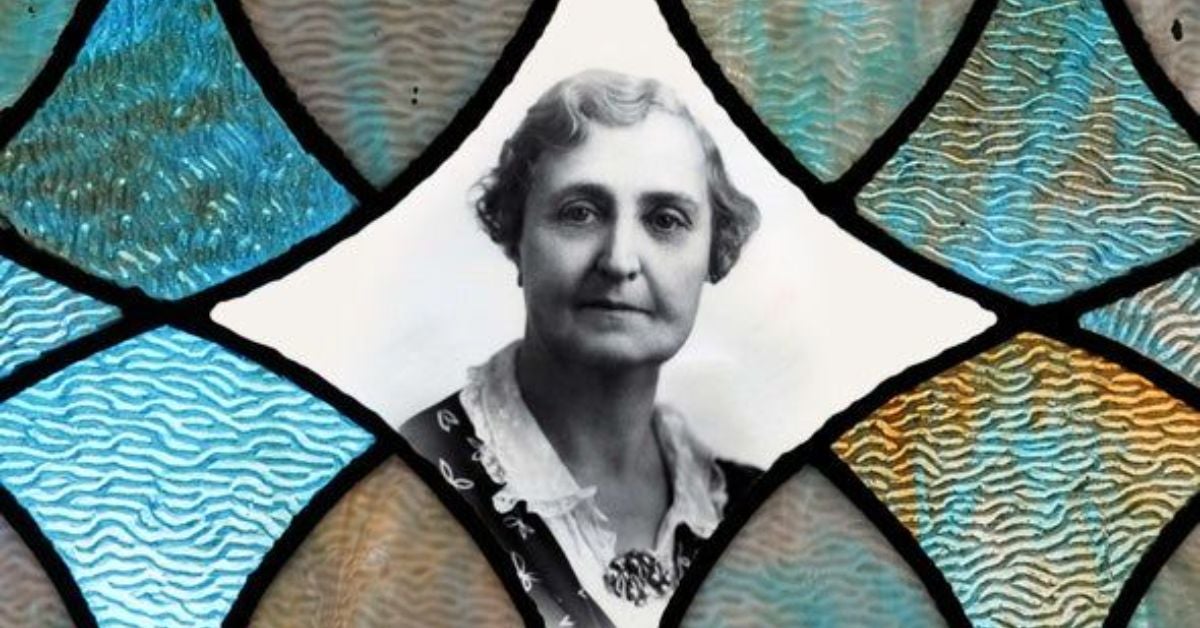 The Ryman's Woman-Led Legacy: Lula C. Naff
Call Lula Clay Naff a trailblazer, a woman ahead of her times, but don't call her ordinary, that she was not.
The Beginning of Something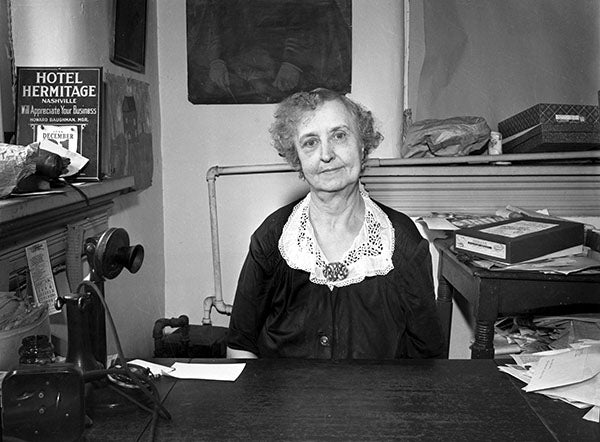 America's First Lady of theater management served as general manager of Ryman Auditorium from 1920 until her retirement in 1955. She was a rare female gem in a male dominated industry. She even went by L.C. Naff to avoid criticism and bias. Her influence on the Ryman really began in 1904, as a secretary/bookkeeper for the Delong Rice Lyceum Bureau that booked entertainment for the Ryman. When the agency dissolved in 1913, the widow had to come up with a way to continue taking care of her young daughter and elderly mother. With her moxie, she convinced the Ryman board of directors to allow her to rent the venue. She secured the lease and began renting out the auditorium on her own for events.
Untapped Potential
Astute enough to realize that the traditional tabernacle offerings of preaching and revivals, and the lyceum circuit, would grow the company's revenues only so far, she pushed the borders to lure large audiences to come downtown for shows. Lula famously asked the question: "Who wanted to hear Billy Sunday when they could see Mary Pickford for a dime?"
Lula feverishly sought the best talent, period. One of her first conquests was the world-renowned Irish tenor John McCormack in 1916. McCormack was a favorite of hers. However, his management required a prohibitively high $3,000 guarantee for him to appear. That didn't deter Lula. She made a way out of when there seemed to be no way to meet their request. It was rumored that she took a second mortgage on her house. She never squashed the rumor, and even started repeating the story because it was good for her brand. Whatever she sacrificed, it was worth it. She was victorious when the concert was a success and profitable.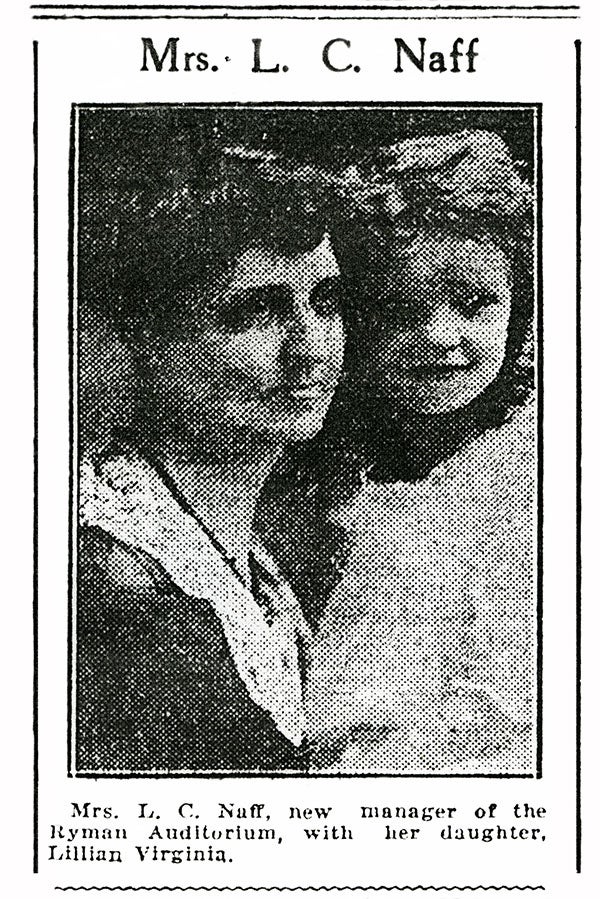 "Lula essentially ran the building on her own for seven years (all of which were before women could vote in the U.S.) and, as a result of the success achieved, she was hired as the building's GM," says Joshua Bronnenberg, museum curator and tours manager of Ryman Auditorium.
By the time the auditorium's charter was reorganized in 1920 as the "Auditorium Improvement Company," the board knew they had the right person in place and officially hired Lula as general manager. To set the table for progress, they also absorbed the Ryman's $6,000 in outstanding debt, as well as $9,000 toward the much-needed improvements of heating, a lighting system, decorations, sanitation and other means of making the building safe.
Lula continued to turn heads by paying off their investment within three years.
The Woman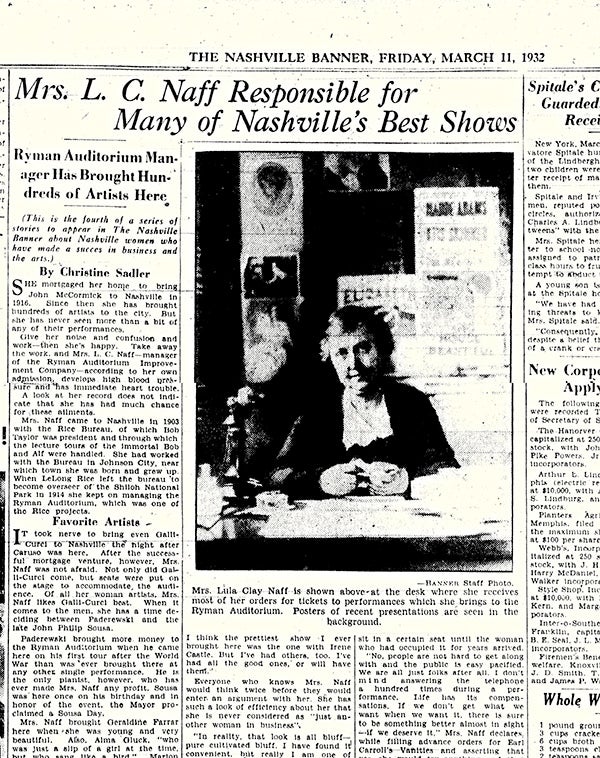 For Lula, entertainment had a very broad definition. The Ryman hosted theater, dance, magic, politics, opera, and even jazz, R&B, blues, and country music. She helped launch the Ryman name onto the national stage by bringing the Grand Ole Opry radio show through its doors in 1943, and then sold-out shows week after week. Big names from Bob Hope, Harry Houdini, Katharine Hepburn, Ethel Barrymore, Will Rogers, and many more graced the Ryman stage. She was open-minded and her mix was profitable. The no non-sense way she conducted business only added to her myth.
How did she do it? Lula constantly leaned on the newspapers to advertise her shows. Each year she went to New York City to lobby for shows. She knew a thing or two about good customer service too. She took care of her best customers by paying boys in the community to hold the guests' favorite seats inside of the house should they run late. She famously battled the city's Board of Censors to have the play Tobacco Road shown at the Ryman. The city tried to ban the show and threatened to jail its lead actor for indecency. Lula believed that the play had every right to be shown and took the Board of Censors to court. The day after the show went on sale, the judge ruled in her favor, the play went ahead and was successful. That's how Lula did it.
Describing herself as an ardent Methodist and an unreconstructed rebel, Lula didn't believe in spending money on an expensive ticket rack when a shirt box would do, she would carry the money made from ticket sales to the bank in a cigar box, she claimed to only own two dresses (an everyday dress and a black dress for Sundays), took pride in correcting people on Methodism, wouldn't allow talk of Abraham Lincoln in her presence, and did her best to spend as little time as possible on the phone.
Frankly, says Bronnenberg, "she could, at times, rub people the wrong way. She was known for being difficult."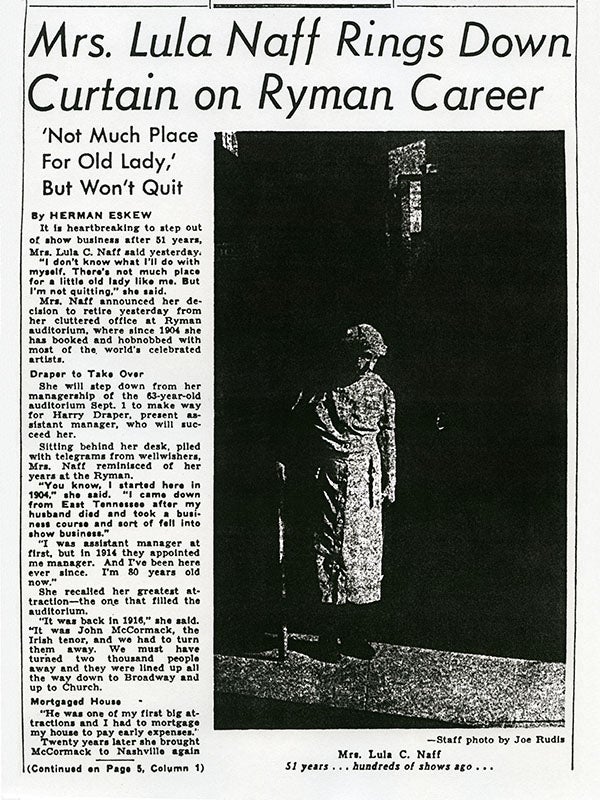 However, he says three things in particular standout about Lula, "She got the building out of debt, brought a powerful variety to the building's state, and defended the public's right to see whatever entertainment they desired when she challenged the Board of Censor's attempt to block a performance."
Her most unique attribute, says Bronnenberg, was her dedication. "The Ryman was her whole world. She worked long hours, didn't take vacations, and didn't spend money needlessly. She would go above and beyond to ensure things went as well as possible."
The Legacy
Lula, who was named manager emeritus when she retired, was inducted into the Music City Walk of Fame in 2017. Despite all of her groundbreaking ideas and business acumen, she was still a woman in a man's world, and that was reflected in her paltry pay, which she complained about for years. The board, however, did give her an annual bonus based on the annual season's profits.
"She talked in her personal letters about how the board didn't necessarily take care of her as well as they should, which I am sure had something to do with the fact that she was a woman, but despite such hurdles, she continued," says Bronnenberg.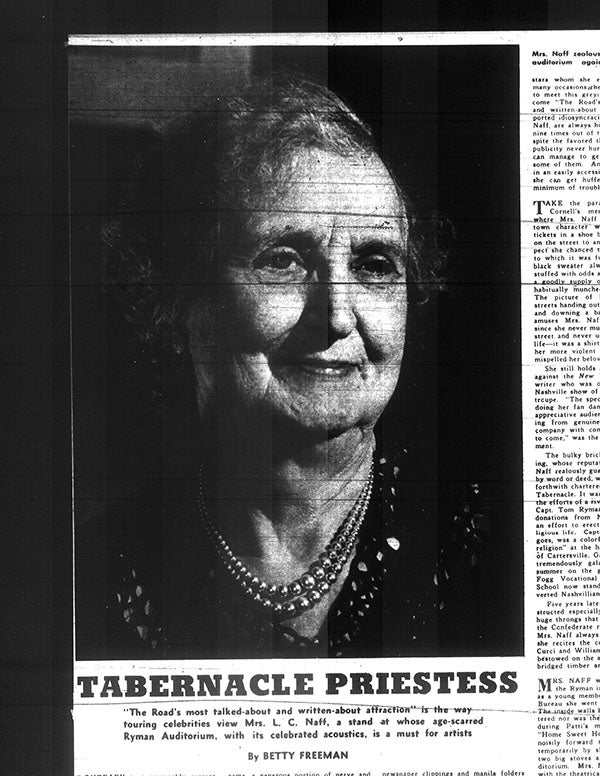 Her perseverance and determination paved the way for other women. "I can say with certainty that the Ryman GM previous to Gary Levy, Sally Williams, took great pride in the fact that she was continuing Lula's legacy of a woman running Nashville's 'mother church.' The swath that Lula cut isn't lost on people who continue in such roles today in Nashville," says Bronnenberg.
Her influence can still be felt in the diversity of acts the Ryman continues to house. "Lula's whole philosophy was to bring in high caliber talent and that would get people to come downtown to purchase a ticket. Once we got away from revivals and the lyceum circuit, the Ryman's legacy truly began," says Bronnenberg.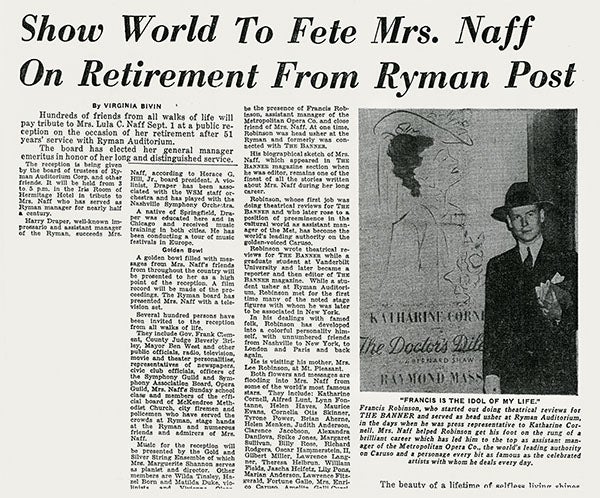 He adds that while Lula had flaws, despite the odds against her, "Lula's unwavering love for the Ryman kept her going. She shamelessly promoted herself and the work that she did, but, in many instances, it was not unwarranted. Anything she could do for the betterment of 'her child' was what Lula did, and in my opinion, is the real reason the building is still in existence."
Want to know more? Learn more about the Ryman's incredible history here.
Stay in Touch
What's almost as iconic as visiting the Ryman? Always having the inside scoop!
Sign up for exclusive updates, offers, and events, so you never miss out on what's happening at the Mother Church.