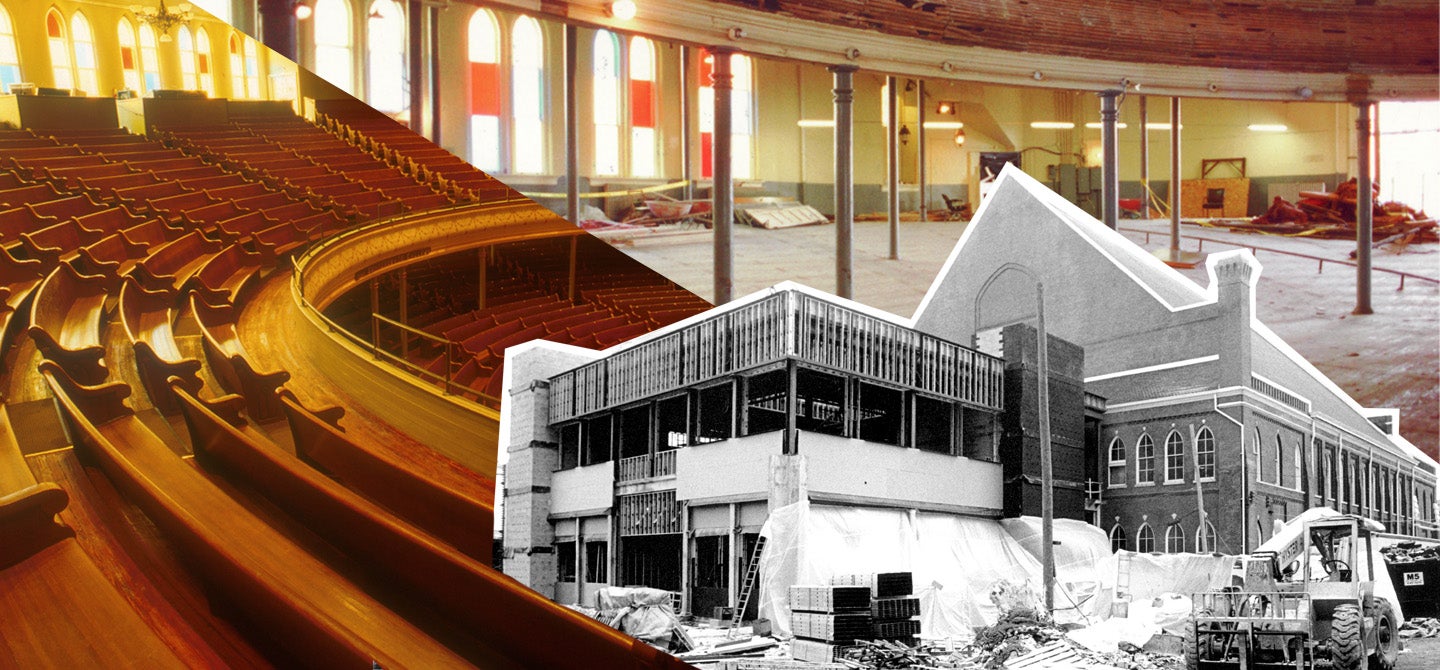 Ryman Renovations: Reviving the Mother Church
By the Ryman
In March 1993, Gaylord Entertainment Company announced that the Ryman would undergo a full interior rehabilitation. Once again, it would serve as a performance venue by night and would continue operating tours by day. Hart Freeland Roberts, Inc. was chosen as the architectural firm and R.C. Mathews Company as the general contractor for the project.
Renovations had been proposed as early as 1920 when a New York promoter considered including the Ryman on a Southern theatre circuit. However, despite the consensus that the Ryman's facilities were rustic at best, no major renovations took place. Upgrades and additions over the years were mostly cosmetic, so the original 1892 structure remained intact.
It was impossible to locate all of the areas needed for modern theatre operations within the original building without compromising its integrity, so an addition was constructed for offices, restrooms, concessions, a gift shop, and mechanical rooms. A glass vestibule connected a new entrance to the "back" of the Ryman. Pews shed buckets of chewing gum and more than one splinter. The house floors were cleaned and re-varnished. Air-conditioning, at long last, completed the make-over.
The entrance moved from Fifth to Fourth Avenue. The design of the new addition includes details such as gothic arches and buttresses found on the original structure. In keeping with the Secretary of the Interior's Standards for Rehabilitation, the addition is distinct from the original.
The Ryman lacked proper dressing rooms and other backstage amenities. Because the Confederate Gallery wrapped around the stage to the back wall, there was no space to create dressing rooms, and a portion of the seating was unusable because of limited views. In the most visible change to the auditorium, sections of the balcony were removed on each side of the stage. What amounted to a four story building was then erected on each side of the stage to house dressing rooms, an elevator, a production office, and catering room.
The new configuration in the backstage areas also allowed for the creation of a proscenium wall to frame the stage. In the past, a makeshift wall had been created using curtains.
In June 1994, the renovations totaled $8.5 million dollars and was completed. The Ryman was reborn that summer and its debut performance was a live broadcast of Garrison Keillor's A Prairie Home Companion. It was a fitting beginning to the building as it was Opry shows at the Ryman that inspired a young Keillor to do a show of his own.
Learn more of our history.
Stay In Touch
Subscribe for updates, events offers and more. To sign up to receive our emails, Fill in the following fields and hit submit. Thanks, and Welcome!