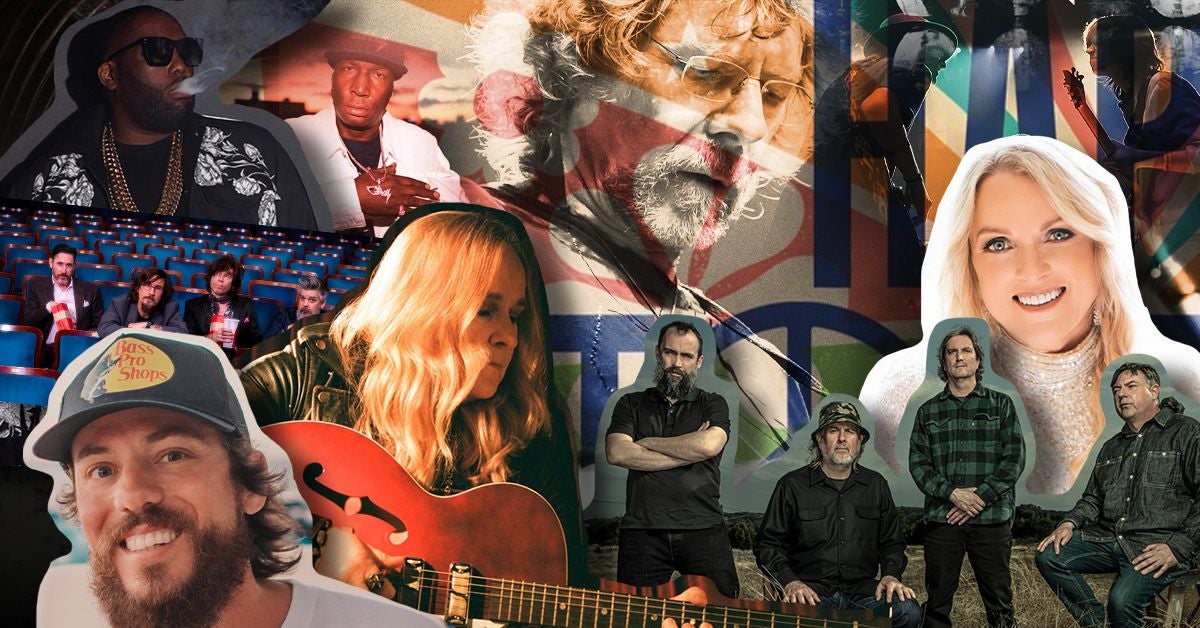 Hot Summer Shows at the Ryman
July
5
, 2023
|
Things To Do
By: Hannah Grubbs
From bluegrass to hip-hop, stay cool this summer with a ticket to any of these Ryman shows. We've got a stacked lineup you won't want to miss:
July 6: Sam Bush
The Father of Newgrass (a progressive and electric style of Bluegrass) famous mandolinist, and International Bluegrass Music Hall of Fame Inductee Sam Bush will bring his talents to the Ryman stage for a night full of hits like "Flyin' Shoes," "Sailin' Shoes," and "Molly and Tenbrooks."
July 11: The Mountain Goats
Indie-folk band The Mountain Goats are coming to liven up our stage with their unique sound featuring songs like "No Children," "This Year," and "Up the Wolves."
July 13: Rhonda Vincent
Opry member, world-renowned bluegrass singer-songwriter, and multi-instrumentalist Rhonda Vincent will take the Ryman stage to bring the audience top songs like "Kentucky Borderline," "Drivin' Nails in My Coffin," and "Just for Old Time's Sake."
July 14: Killer Mike and the Midnight Revival
GRAMMY Award-winning rapper and actor Killer Mike is set to bring his band, The Midnight Revival, to the Ryman for a night full of hits like "SCIENTISTS & ENGINEERS," "DON'T LET THE DEVIL," and "Legend Has It."
July 15: Save the Morris Building Benefit with Grandmaster Flash & Friends
American DJ and rapper Grandmaster Flash will bring his musical stylings and a few friends to our stage to honor and memorialize African American culture in Nashville by raising funds to save the historic Morris Memorial Building. Join us to hear songs like "Before I Let Go," "The Message," and "White Lines."
July 19: School of Rock
School of Rock Nashville, Franklin, and Mt. Juliet will return to the historic Ryman Auditorium for their 5th Annual "Rockin' The Ryman" show benefiting the Music Health Alliance. Bands will perform music from Pink Floyd, Red Hot Chili Peppers and Friends, Nu Wave, Southern Rock, and Classic Metal.
July 20: Dailey & Vincent
Famous Bluegrass duo Dailey & Vincent will bring their talents to the stage for a one-of-a-kind night full of hits like "Gimme All The Love You Got," "Beautiful Scars," and "Baton Rouge."
July 25 & 26: Ryan Adams & The Cardinals
Rock band Ryan Adams & The Cardinals are sure to have fans rocking out with songs like "If I Am A Stranger," "Don't Fail Me Now," and "How Do You Keep Love Alive."
July 28: America
London-based rock band America will celebrate their 53rd anniversary as a band and bring their powerful harmonies and folk-rock sound to the Ryman for a night you won't want to miss!
July 30: Melissa Etheridge
Melissa Etheridge, known for her raspy-voiced rock 'n' roll vocals, is headed to the Ryman to "wow" the audience with songs like "I'm The Only One," "Like The Way I Do," and "Come To My Window."
July 31: Clutch
Maryland-based rock band Clutch will showcase their unique blend of hard rock, stoner rock, blues rock, and alternative metal for a night at the Ryman that'll leave your ears ringing and your head banging – in a good way.
August 9: Happy Together
Join us for a night full of chart-topping hits from the '60s and '70s with the Happy Together tour featuring The Turtles, Little Anthony, Gary Puckett & The Union Gap, The Vogues, The Classics IV, and The Cowsills.
August 14: Lyle Lovett
Texas-based musician Lyle Lovett is set to bring his combination of country, swing, jazz, folk, gospel, and blues to fans in a captivating performance at the Mother Church.
August 16: Chris Janson
Crowd-pleaser Chris Janson will bring his self-taught multi-instrumental and vocal talents to the Ryman stage along with his combination of country's past, present, and future with popular songs like "Buy Me a Boat," "All I Need Is You," and "Good Vibes."
This summer, we've truly got something for everyone. Plus, there's no better place for a music lover to beat the heat. Get your tickets before they're gone!
Stay In Touch
Subscribe for updates, events offers and more. To sign up to receive our emails, Fill in the following fields and hit submit. Thanks, and Welcome!