What to Do in Nashville Besides Bars
Visitors come to Nashville from all around the world to experience the best in live music. Known for honky-tonk row, with its neon lights and music pouring from every open window, the city offers tourists a unique and entertaining experience visit after visit. But while you could spend your entire trip in bars on Broadway, many are looking for variety in their Nashville adventures. This post will shed light on the wealth of other fun attractions in Music City.
Nashville's Best Activities & Attractions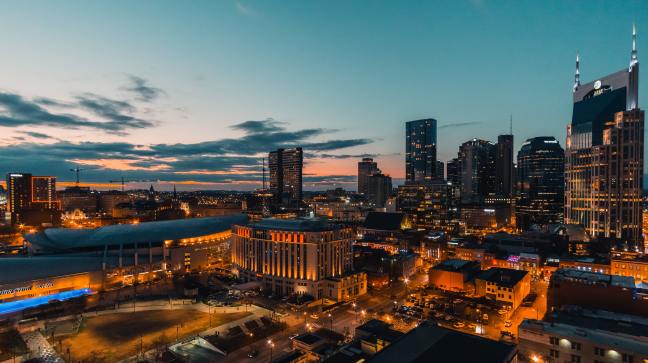 Sure, Music City has tons of bars with live music offering a fun time, but Nashville is more than just a bar crawl. Bursting with history, architecture, world-class restaurants, and impressive museums, there's so much more to experience in this one-of-a-kind city.
Cultural Experiences
Nashville was built on entertainment. Tap your toes to live music or set your sights on classic art or historical artifacts in one of the city's museums.
Listen to Live Music: Ryman, Grand Ole Opry, Symphony
Whether you're a fan of country, rock, R&B, or classical, there's a venue and show for you every night in Music City. Enjoy an unparalleled experience at Ryman Auditorium, one of the most famous performance venues in the world, or see a show at the home of country music, the Grand Ole Opry. Nashville's Schermerhorn Symphony Center is located right downtown and welcomes guests of all ages.
Visit Museums: Frist Art Museum, Country Music Hall of Fame, Johnny Cash Museum, Tennessee State Museum
Spend a day taking in one of Nashville's many museums. The Frist Art Museum hosts rotating, world-class art exhibits and even has a kid-friendly art studio where little artists can create their own works of art to take home. Celebrate the roots of country music with an informative tour at the Country Music Hall of Fame or the Johnny Cash Museum, or learn more about the history of Tennessee through exhibitions on the state's first peoples, the civil war, and an interactive Children's Gallery at the Tennessee State Museum.
Art: Festivals, Murals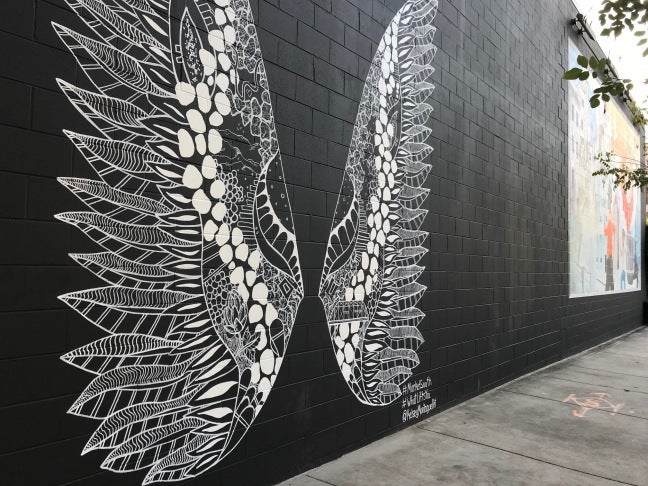 Tomato Art Fest takes place each summer in East Nashville's Five Points neighborhood. Offering live music, food, and works by local artisans, Tomato Art Fest is a local favorite. Check out Porter Flea, a trendy collection of art, jewelry, clothes, ceramics, and more from makers in Nashville and beyond. The market takes place twice a year, in summer and winter. Or spend an afternoon visiting photo-worthy murals located throughout the city, like the famous "What Lifts You–Wings" in the Gulch or "I Believe in Nashville" in 12th South. There are even guided walking and bus tours that will take you to some hidden murals around town.
Historical Explorations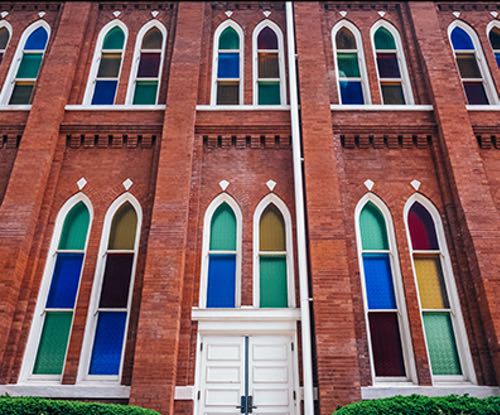 Founded in 1806 when James Robertson and his crew landed their boats on the shores of the Cumberland River, Nashville has been home to former presidents and played a significant role in the Civil Rights movement of the 1960s. Step into Nashville's history by visiting historic sites and recognizable architecture around town.
Famous Architecture: Ryman, The Parthenon
The city is an inspiring blend of architectural styles ranging from Greek Revival to Art Deco. Ryman Auditorium is one such architectural gem. Originally built as Union Gospel Tabernacle in 1892, the venue still has the original church pews, stained glass windows, and sound-projecting acoustics. Another building, the Parthenon, brings ancient Greece to the Athens of the South. Constructed in 1897 as part of the Tennessee Centennial Exposition, the structure now stands as a museum in Centennial Park.
Historic Sites: The Hermitage, Belmont Mansion, Fort Nashboro, Woolworth on Fifth
History buffs will love visiting the city's many points of interest, like The Hermitage, the home of Andrew Jackson, with a museum and more than 30 historic buildings. Or tour another historic home, the Belmont Mansion, constructed in the mid-1800s and surrounded by elaborate gardens. Fort Nashboro, the original stockade along the Cumberland River that grew into the city of Nashville, offers free self-guided tours of its late 18th century structures. Dine at Woolworth on Fifth, a downtown restaurant offering southern fare at what was the site of the 1960s lunch counter sit-ins.
Culinary Adventures

Incredible new restaurants open every day in Nashville. Whether you crave a classic southern meal or the city's signature hot chicken, you won't walk away hungry.
Local Specialties: Hot Chicken, Meat & Three, Goo Goo Clusters, Fruit Tea
Nashville boasts a number of original dishes, but arguably none is as famous as Nashville hot chicken. It's coated with a thick layer of cayenne and spices and fried crispy, and we promise it's one of the hottest things you've ever eaten. If you crave delicious flavor without the spice, try meat and three, an iconic meal with a choice of meat and three sides, like mac and cheese or black-eyed peas. Satisfy your sweet tooth with a Goo Goo Cluster, a chocolate candy invented in Nashville in the early 1900s. The Goo Goo Shop is located downtown, just off Broadway. Or taste a sweet sip of fruit tea, a unique tea blended with pineapple, oranges, and lemonade.
Top-Rated Restaurants
For fine dining, Nashville has some of the best restaurants in the country. Try The Catbird Seat, offering a changing tasting menu of American cuisine in an open kitchen, or Husk, serving elevated southern dishes in a historic mansion. For more casual dining, everyone loves Rosepepper Cantina, as famous for the quippy phrases on its exterior sign as its knock-you-off-your-feet housemade margaritas.
Wineries, Breweries, & Distilleries
A city built around music's bound to have some good watering holes. Visit one of Nashville's many breweries, like Yazoo Brewing Company, Black Abbey, Jackalope, or Southern Grist. City Winery offers a fun environment for wine lovers with live music, food, and wine on tap. Or, pack a picnic and spend an afternoon on the rolling hills of Arrington Vineyards about 30 minutes south of Nashville. Distilleries abound, too. Corsair Distillery and Big Machine Distillery & Tavern are a couple of local favorites.
Sports Experiences
When in Nashville, visit a game. With three professional sports teams, a minor league baseball team, and racing, there's plenty to cheer for.
Predators, Titans, Nashville SC, Nashville Sounds, Music City Grand Prix
See Nashville's NHL team, the Predators, take the ice at Bridgestone Arena or cheer on the Tennessee Titans at Nissan Stadium downtown. Nashville SC, the city's professional soccer team, also plays at Nissan Stadium and hosted the largest soccer crowd in Tennessee history during its first match in 2020. On a nice night, enjoy a MiLB game at First Horizon Park with the Nashville Sounds. Racing fans will enjoy the inaugural Music City Grand Prix, an INDYCAR race through the streets of downtown Nashville in August 2021.
Outdoor Excursions
Nashville's mild weather and hilly terrain make it an ideal location for outdoor activities like biking, hiking, and water sports. These excursions are open for all interests and skill levels.
Sports: Cycling, Boating & Kayaks
See the city by bike. BCycle is a bike-sharing service offering bike rentals by the hour with self-serve locations everywhere you'd want to be. Scooter rentals are also available around town through apps like Bird. If you'd rather spend the day on the water, why not rent a boat or kayak? Boat on Center Hill Lake or float down the Cumberland or Harpeth Rivers on a kayak from Cumberland Kayak.
Nature: Hiking, Mountain Biking, Shelby Park Greenway
There are great hiking trails around the greater Nashville area. Take in the beauty of Radnor Lake State Park, with six hiking trails, or visit Percy Warner Park on the city's southwest side for hiking and mountain biking. Check out Shelby Bottoms Nature Center & Greenway just over the Cumberland River in East Nashville. The park offers paved trails for walking, running, and biking, free bike rentals, and a nature center.
Romantic Experiences
Looking for a romantic getaway? Music City is the perfect place for a couple's weekend, whether you're a music fan, a foodie, or simply looking to have some fun together.
Live Music
Move to the music at a concert. There are always great performers in town at the Grand Ole Opry and the Mother Church, Ryman Auditorium, where you can enjoy the architecture and history of the venue as much as the music. Or, take in a show in a more intimate setting, like the famed Bluebird Cafe.
Rooftop Restaurants
Enjoy the sights and sounds of the city on a rooftop overlooking the bustling streets of Nashville. There are many unique rooftop bars and restaurants on Broadway, like The Lookout at Ole Red, boasting southern food, beer, wine, and cocktails, or the famous Tootsies Orchid Lounge. A number of hotels also offer great rooftop spots, like the L.A. Jackson, Bobby Hotel Rooftop Lounge, and White Limozeen.
Proposal Package
If you're looking for a place to pop the question, consider proposing on stage at Ryman Auditorium. The Ryman's proposal package includes two self-guided tour tickets, a keepsake photo of your big moment, two Ole Red meal vouchers, and a special gift. Create an unmatched memory for your beloved music fan.
Kid-Friendly Activities
Nashville's not just for adults; there's plenty to do for all ages. Whether your kid is an animal lover, a budding scientist, or a fearless adventurer, there's something they'll love in Music City.
Educational: Nashville Zoo, Adventure Science Center, Nashville's Children's Theater
Voted among Nashville's best day trips, the Nashville Zoo is one of the largest zoos in the U.S. and one of the top attractions in the state. Experience hands-on exhibits and live demonstrations at the Adventure Science Center, which also houses a planetarium with regular events. Or check out the Nashville Children's Theatre, the oldest continually running children's theater in the U.S.
Adventurous: The Escape Game, Fannie Mae Dees Park, Treetop Adventure Park, Nashville Shores
For a little more adventure, see if you can solve a puzzle at the Escape Room, with multiple locations around the city, or visit Fannie Mae Dees Park, also known as Dragon Park, with multiple structures to climb including a large dragon. Daredevils in the family will love Nashville Shores' Treetop Adventure Park with a zipline and other challenging obstacles. Or, spend a hot day water sliding at Nashville Shores, located on the shores of Percy Priest Lake.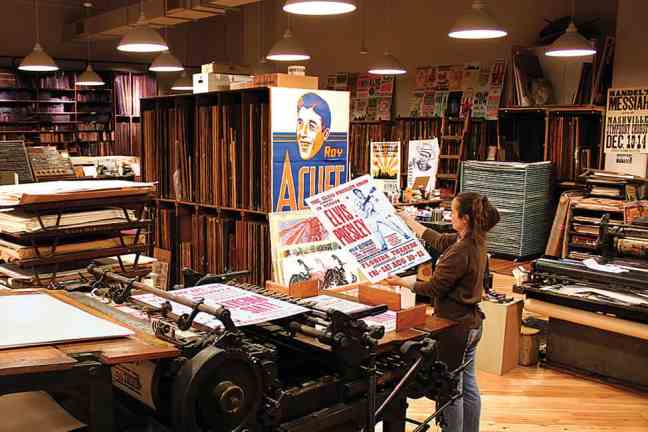 Unique Things To Do
A city as historic as Nashville has some secret attractions off the beaten path. Once you've hit the honky-tonks and the museums, visit one of these spots for a unique peek at Music City.
Hatch Show Print
One of the oldest letterpress print shops in the U.S., Hatch Show Print was founded by two brothers in 1879. Easily recognized by their use of hand-printed bold type and colorful graphics, Hatch's signature, hand-printed style is still used on more than 150,000 posters each year. Hatch Show Print was located directly behind Ryman Auditorium until 2013, when it was disassembled and relocated to the lobby of the Country Music Hall of Fame. The shop is open for tours and shopping seven days a week.
Ryman Alley
The road that separates Ryman Auditorium from the back entries of Broadway's honky-tonks is more than just an alley. To some music fans, it's hallowed ground. That's because performers throughout the decades have exited the gates of the Ryman after their shows and passed through that alley to Tootsie's Orchid Lounge. This journey is even documented in the Willie Nelson lyric "seventeen steps to Tootsies and thirty-four back." Visit the alley today and you'll see a set of footprints in the ground immortalizing this sacred walk.
Sign Up for Alerts
Fun activities happen in Nashville every single day. Sign up for email alerts from Ryman Auditorium to stay in the know whenever new shows and events are added to the calendar.
Stay in Touch
What's almost as iconic as visiting the Ryman? Always having the inside scoop!
Sign up for exclusive updates, offers, and events, so you never miss out on what's happening at the Mother Church.