Vince Gill + The Ryman: Something Spiritual
In Vince Gill's new and unreleased song "I Gave You Everything I Had," he says he has sung every song like it could be his last. And that's the truth.
"Every note has been the most important note I could play or sing or write or whatever it is – that's what I try to accomplish every time I get to go and play," Vince said.
The 22-time Grammy Award-winning artist is bringing that dedication, along with a few of everyone's favorite country songs and his unparalleled musicianship, to the Ryman for a four-night summer residency. He and singer Wendy Moten will be performing at the historic venue on Aug. 4, 5, 6 and 7.
Vince is, admittedly, not a planner. He says he prefers to spend his time – whether it be at one of his own shows, on the road with the Eagles, performing with his wife, hanging out with his kids, or grabbing breakfast with friends (some of the most amazing artists, producers, and songwriters of all time) – in the moment.
During the upcoming residency, he may do a little bluegrass or jazz, he may play his biggest classics or some of his more contemporary songs; he may have a friend or two join him on stage, or sit on a stool with only an acoustic guitar. He doesn't appear to be that worried about it, his song selection, stage presence, and guest appearances tend to come together organically. That happens when you're one of the most seasoned, versatile, and collaborative artists in Music City, USA.
"There's a different plane that goes on when it's a little more free-spirited and not planned out," he said.
One thing Vince does have set in stone for those four shows: Wendy will have her time to shine.
"Most people would assume it would be an opening act kind of situation, but that would be a disservice to Wendy," he said. "She possesses a quality of voice and talent, like Gladys Knight, like Whitney Houston – you're hearing one of the absolute greats of all time."
Luckily for a go-with-the-flow kind of guy like Vince, the audience at the Ryman will join him on whatever musical journey he wants to take. And for a singer and guitarist of his caliber – masterfully and effortlessly performing rock, bluegrass, country, Christmas classics, etc. – there's no more suitable venue than the Mother Church.
"It's hands down my favorite place to play, no matter what configuration it is – no matter if it's bluegrass shows, Christmas shows … You just feel an energy in there unlike any other place you play," he said.
He likes the way the room reverberates. The way it connects an artist to their audience. The liveliness of it.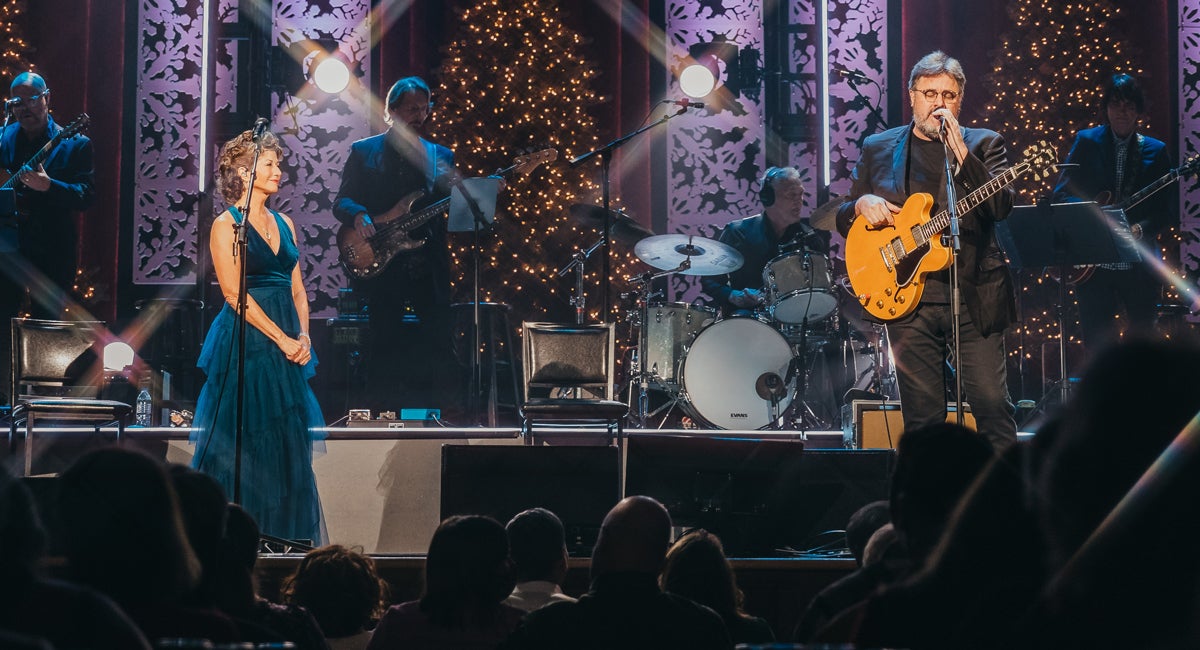 While he performs at the Ryman with his wife and fellow artist Amy Grant for their beloved Christmas at the Ryman residency, this is his first solo residency there in 15 years. Although, he's covered a lot of musical territory at the historic venue.
When Vince played at the Ryman for the first time (he thinks it was for a taping of a TV show) it was just him and a guitar.
"The magic that room contained, it was like I felt a spirit inside of me that I'd never felt before," he said. "It was palpable and it was eye-opening. I went 'Man, I don't know what this is, but wow it's an amazing experience.'"
He's spent decades chasing that feeling again. From filming specials with his 17-piece world-class band to performing his hit, "Go Rest High On That Mountain," at Bill Monroe's funeral, some of Vince's most meaningful nights have been spent on the Ryman stage.
He has told reporters that he'd rather be moved by music than be impressed by it. That's why his 2019 album, Okie, is his most personal body of music to date. And could be one of the reasons he decided to set up shop at the Ryman this August.
"It's pretty powerful," he said. "People go in there and feel connected, and that's, as a performer, what you're always hoping for."
The Ryman was built as a tabernacle for Christian revivalists 130 years ago, and while it's no longer a place of worship, something about it feels spiritual. Vince said, "Its intention for even being built was to save souls, and it still does."
_______
If you're looking to experience the show the way Vince would want to experience it, try to book the first few rows of the balcony. However, "there isn't a bad seat in the place," according to Vince.
You can get tickets for his residency at the Ryman here. And you can read how we're celebrating 130 years of music's most iconic stage here.
Stay in Touch
What's almost as iconic as visiting the Ryman? Always having the inside scoop!
Sign up for exclusive updates, offers, and events, so you never miss out on what's happening at the Mother Church.