Must-See Places in Nashville
Jan
31
, 2022
|
Things To Do
Nashville is one of the nation's most-visited cities and ranks among the top destinations for music fans. There's so much to see and do, planning a trip can frankly get a little overwhelming. Music City has a whole array of places to visit based on what you're interested in doing. Here are our top picks for places you need to see on your next visit to Nashville.
Must-Hear Musical Destinations
Music City overflows with places to enjoy music. Whether it's attending a live performance or learning about music history, Nashville is the place to enjoy music of all genres. While there are many places to go, here are some of our favorite music destinations in the city.
Ryman Auditorium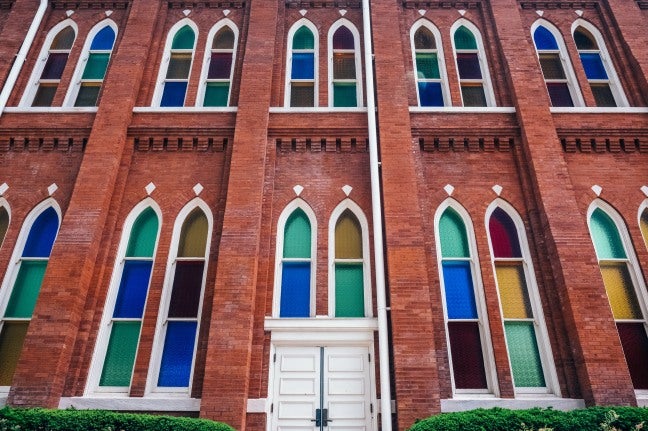 Today, Ryman Auditorium is known as one of the most famous music venues in the country, but did you know it wasn't originally built for concerts at all? In fact, the Ryman was constructed in 1892 as a church called the Union Gospel Tabernacle. Captain Tom Ryman had the church constructed after he attended a Christian tent revival in downtown Nashville that inspired him.
The tabernacle opened its doors and quickly established itself as not only a place of worship but a cultural epicenter for the city. It hosted famous performers and lecturers, including Susan B. Anthony and Booker T. Washington, and even played a role in the Fisk Jubilee Singers' rise to fame. When Captain Ryman died in 1904, the Union Gospel Tabernacle was renamed Ryman Auditorium in his honor.
In 1943, the Grand Ole Opry relocated to the Ryman from its former home in War Memorial Auditorium earning the Ryman a nickname that has stuck to this day: The Mother Church. The Grand Ole Opry was performed live at the Ryman until 1974, when the show moved to its current home, the Grand Ole Opry house.
Today, the Ryman is a top destination for performers and music fans of all genres. The original church pews, stained-glass windows, and architectural acoustics make it a one-of-a-kind venue to take in a concert.
Address: 116 5th Ave N, Nashville, TN 37219
Website: Ryman.com
Grand Ole Opry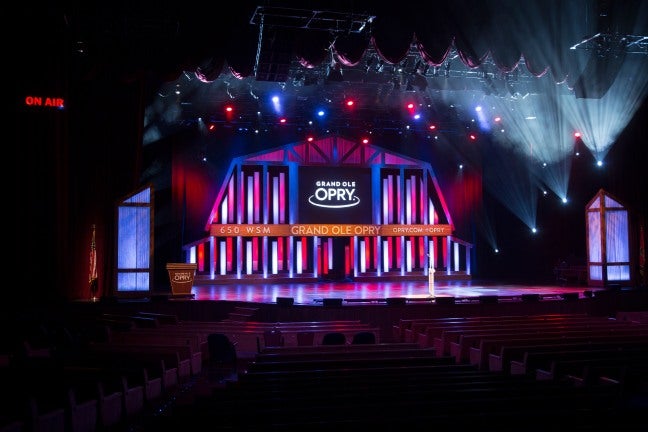 The Grand Ole Opry is the home to the famed Grand Ole Opry radio show – the longest-running radio show in the world. Opened in 1974, the Opry is the true home of country music, hosting weekly stage performances of the Grand Ole Opry, as well as shows by some of country music's biggest names.
It's also home base for Opry members – the most illustrious group in all of country music. Opry members include country greats, like Dolly Parton, Reba McEntire, and Bill Anderson, as well as a younger generation, like Kelsea Ballerini and Josh Turner. To be inducted as an Opry member, an artist must be invited by a current member based on the artist's career accomplishments and commitment. There are only 200 artists and groups throughout history who've been named Opry members.
The Opry House is open for concerts and tours, including a guided backstage tour that gives you a behind-the-scenes peek at the venue's dressing rooms and stage. It's a must-see for any country music fan. Check out the Opry's event calendar and plan your visit to one of Music City's most famous sites.
Address: 2804 Opryland Dr, Nashville, TN 37214
Website: Opry.com
Exit/In
Exit/In is one of the most storied music venues in Nashville. Opened in 1971, it's known for its Wall of Fame covered in the names of all the performers who have played on its stage. Famous acts include Etta James, Talking Heads, Leonard Cohen, REM, Steve Martin, and more.
Exit/In is located near Vanderbilt University on what is known as Nashville's Rock Block, named for the venue's rock shows. Exit/In still hosts live shows, updated on their events calendar.
Address: 2208 Elliston Pl, Nashville, TN 37203
Website: ExitIn.com
The Bluebird Cafe
Gaining national notoriety on TV shows like Nashville, The Bluebird Cafe is a tiny music stage in Green Hills. It opened in 1982 and now hosts more than 70,000 visitors each year. Though the venus is small, its talent is not. The Bluebird Cafe is a magnet for great talent whose previous performers include Taylor Swift, Garth Brooks, Vince Gill, Faith Hill, and many others.
The Bluebird frequently hosts concerts as well as open mic nights, songwriters competitions, and more. Attend a show and who knows: You just might see Nashville's next big artist!
Address: 4104 Hillsboro Pike, Nashville, TN 37215
Website: BluebirdCafe.com
Third Man Records
Third Man Records is a record label and store founded by singer Jack White. Originally started in Detroit, the label established its physical location in Nashville in 2009. It is home to many well-known artists, including Sleep, Olivia Jean, and Jack White's own projects, The White Stripes, The Dead Weather, and The Raconteurs.
The Third Man Records store is located in downtown Nashville and is open daily for shopping and occasional in-store shows.
Address: 623 7th Ave S, Nashville, TN 37203
Website: ThirdManRecords.com
Grimey's New & Preloved Music
A favorite record shop for Nashville locals, Grimey's is located in the East Nashville neighborhood. Boasting a broad selection of new and pre-owned records, CDs, and cassettes, the shop also sells record players, magazines, books, and music equipment and hosts live music. Check out upcoming events on Grimey's calendar.
Address: 1060 East Trinity Ln, Nashville, TN 37216
Website: Grimeys.com
Music Row
Music Row is a historic district in southwest Nashville, home to record labels, recording studios, and radio stations. Countless of music's most famous artists have recorded on Music Row, including Elvis Presley and Dolly Parton. It's the center of the music industry and home to such landmarks as RCA Studio B, the birthplace of the Nashville sound.
Music Row is especially notable for country music, as well as gospel and Christian music. Arrange a tour of historic sites like Studio B, through the Country Music Hall of Fame and Museum, or simply take a walk through the neighborhood. There are plenty of museums, plaques, and memorabilia to take in.
Location: 16th & 17th Avenues, Downtown Nashville
Schermerhorn Symphony Center
Located downtown, the Nashville Symphony aims to inspire and entertain through musical performance, innovation, and inclusion. The symphony's events calendar boasts something for everyone. In addition to orchestral performances, Schermerhorn hosts concerts by well-known artists, like Ronnie Milsap, backed by the Nashville Symphony, and a summer movie series with the orchestra performing the movie soundtracks live.
Schermerhorn Symphony Center is open year-round and welcomes guests of all ages.
Address: 1 Symphony Place, Nashville, TN 37201
Website: NashvilleSymphony.org
Must-Visit Historic Places
Nashville is bursting with history. Whether you're interested in US history, music history, art history, or something else, these museums are sure to educate and entertain during your next visit.
Ryman Auditorium
Yes, Ryman Auditorium is an active music venue, but it's also a living museum. Situated in the heart of downtown Nashville since the late 1800s, this building has seen a lot. On its stage bluegrass music was born and countless stars were catapulted to fame.
Learn about the Ryman's role in music history and Nashville history by taking a self-guided or backstage tour. See Ryman Auditorium, view exhibits and memorabilia from years past, and tour the Hatch Show Print Gallery to see event posters throughout the decades. Plus, learn about the Ryman before it was a music venue, back when it was a church and meeting place in the city. To learn about Ryman Auditorium history is to learn about the roots of Music City.
Address: 116 5th Ave. N., Nashville, TN 37219
Website: Ryman.com
The Hermitage
Located just outside of Nashville, The Hermitage is the former home of President Andrew Jackson. The sprawling estate is one of the oldest and largest site museums in the US with over 30 historic buildings, including the historic mansion, a museum, and breathtaking gardens.
The Hermitage offers daily tours, exhibits, and reenactments. It's also home to Natchez Hills Winery and Vineyard with wine tastings starting at just $6.00. The Hermitage is open to visitors Thursday–Monday each week.
Address: 4580 Rachel's Lane, Nashville, TN 37076
Website: TheHermitage.com
The Country Music Hall of Fame & Museum
The Country Music Hall of Fame and Museum seeks to collect and preserve music history, educating the public through its exhibits, publications, and programs. The museum has an extensive collection of memorabilia, including instruments and stage costumes. New exhibits are always rotating through the museum and are centered around music history, musical genres, and famous artists, like Johnny Cash and Bob Dylan.
The museum is also the home of Hatch Show Print, a working letterpress shop founded in the 1870s that is famous for making its signature concert and event posters for Ryman Auditorium, the Grand Ole Opry, and others. The Country Music Hall of Fame also manages the CMA Theater and the historic RCA Studio B.
Address: 222 Rep. John Lewis Way S., Nashville, TN 37203
Website: CountryMusicHallofFame.org
The Parthenon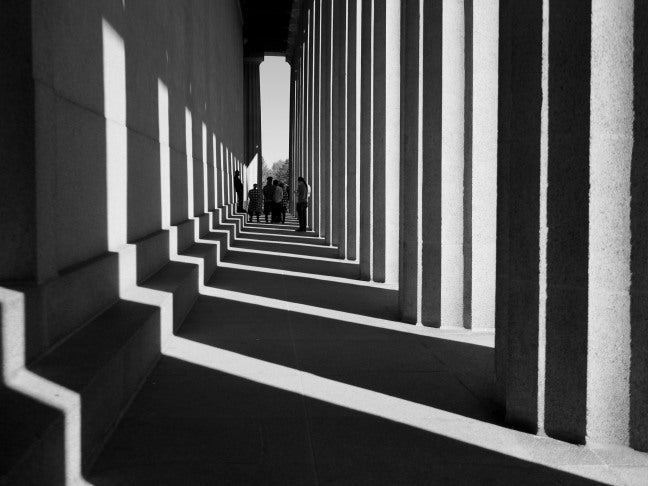 Nashville is nicknamed The Athens of the South due to the city's focus on higher education. Greek Revival architecture can be seen all around the city, including in the design of the Tennessee State Capitol Building. Perhaps the city's most famous Greek-inspired landmark is The Parthenon.
The Parthenon, a replica of the structure by the same name in Athens, was erected in 1897 in Nashville's Centennial Park as part of the Tennessee Centennial Exposition. It houses a museum with art exhibits and a 42-foot, full-scale replica of the statue of Athena. The Parthenon stands as a centerpiece of Centennial Park and is open daily for tours.
Address: 2500 West End Ave, Nashville, TN 37203
Website: NashvilleParthenon.com
Johnny Cash Museum
Located among the honky-tonks of Broadway, the Johnny Cash Museum celebrates one of country music's most famous and beloved native sons, Johnny Cash. With the world's largest collection of Johnny Cash artifacts and memorabilia, the museum is a must-visit for any Cash fan. It's also been ranked the #1 music museum in the world by Forbes, Conde Naste, and National Geographic Traveler.
The museum has an on-site cafe offering coffee, breakfast, BBQ, and more. The Johnny Cash Museum is open 9:00 a.m. to 7:00 p.m. seven days a week.
Address: 119 3rd Ave. S., Nashville, TN 37201
Website: JohnnyCashMuseum.com
Tennessee State Museum
The newly opened Tennessee State Museum features exhibits, history, and art that depict the history of the state of Tennessee. Permanent exhibits include features on Tennessee's natural history, first peoples, and role in the Civil War and Reconstruction. Rotating exhibits include Tennessee art before 1900 and displays of fossils and artifacts from the area's ancient peoples.
This free museum is open to the public from Tuesday to Sunday every week.
Address: 1000 Rosa L Parks Blvd., Nashville, TN 37208
Website: TNMuseum.org
Travellers Rest Plantation
Travellers Rest is the oldest historic house museum in Nashville. Built in 1799, this former plantation house was first inhabited by Judge John Overton and his family. Today, the museum's events and exhibits cover over 1,000 years of history, from Native American settlement in the Tennessee area to stories of the plantations' enslaved people to today.
The home is open for group tours Tuesday to Saturday from 10:00 a.m. to 4:30 p.m.
Address: 636 Farrell Pkwy., Nashville, TN 37220
Website: HistoricTravellersRest.org
Must-Play Family-Friendly Destinations
Nashville offers activities and destinations that are plenty of fun for the whole family. Young, old, or somewhere in between, these attractions promise fun memories you'll cherish for years to come. Here are our top recommendations for family-friendly things to do in Music City.
Nashville Zoo
Ranked one of the top attractions in the state and voted among Nashville's best day trips, the Nashville Zoo at Grassmere is a perfect destination for the whole family. In addition to numerous exhibits, the zoo offers experiences, like animal shows and zookeeper talks, as well as rides, including a zip line, carousel, and train.
The zoo has a number of on-site restaurants and even offers tours and backstage passes with exclusive experiences. The Nashville Zoo is open to visitors from 9:00 a.m. to 4:00 p.m. daily.
Address: 3777 Nolensville Pike, Nashville, TN 37211
Website: NashvilleZoo.org
Adventure Science Center
The Adventure Science Center, located downtown Nashville, is an independent, not-for-profit science and technology center dedicated to opening minds to the wonders of science and tech. The facility is a sprawling 44,000 square feet with more than 175 exhibits focused on biology, weather, sound, astronomy, physics, and space.
The center also houses the state-of-the-art Sudekum Planetarium. In the planetarium, visitors can see laser shows and planetarium shows.
Adventure Science Center is open five days a week.
Address: 800 Fort Negley Blvd, Nashville, TN 37203
Website: AdventureSci.org
SoundWaves at Gaylord Opryland Resort & Convention Center
SoundWaves at Gaylord Opryland Resort isn't a typical waterpark; It's an upscale attraction featuring exclusive amenities, rides, water features, music, and more. SoundWaves offers fun both indoors and outdoors, with water kept at a comfortable 84 degrees. Guests can even sunbathe indoors through the facility's uniquely designed roof.
Guests of the SoundWaves Waterpark must also be overnight guests of the Gaylord Opryland Resort & Convention Center. For information on rates and package deals, visit the SoundWaves website.
Address: 2800 Opryland Dr., Nashville, TN 37214
Website: SoundWavesGO.com
First Horizon Park
Located in the Germantown neighborhood of Nashville, First Horizon Park is a baseball park that serves as home to the Nashville Sounds Baseball Club, the Triple-A affiliate of the Milwaukee Brewers. But like most venues in Nashville, the stadium hosts more than baseball games. First Horizon Park is open for concerts, soccer games, festivals, and other public and private events.
A favorite feature of the park is The Band Box, a 4,000-square-foot outdoor bar and restaurant located in the right field of the park. In addition to food and drinks, this area features ping pong, corn hole, giant yard games, mini-golf, and shuffleboard. Socialize with friends – or make some new ones – while you enjoy a warm summer night of baseball.
Address: 19 Junior Gilliam Way, Nashville, TN 37219
Website: FirstHorizonPark.com
Pinewood Social
Pinewood Social is a trendy restaurant located in downtown Nashville. The restaurant really is more of a social club with a restaurant, bar, comfortable coffee shop, and workspace. The outdoor patio features seating, as well as lawn games, an outdoor bar, and rentable pools for lounging.
Pinewood Social may be most well-known for its Instagrammable indoor bowling alley featuring six reclaimed wood lanes from an old bowling alley in Indiana. It's also a good spot for celebrity sightings, with stars like Reese Witherspoon hosting private parties in the bowling alley.
Reserve a table, a lane, or a pool for your next Nashville visit at the Pinewood Social website.
Address: 33 Peabody St., Nashville, TN 37210
Website: PinewoodSocial.com
Must-See Outdoors Places
Take in some fresh air and gorgeous Tennessee views in Nashville's many parks and gardens. Whether you're in the city or on the outskirts of town, Music City offers plenty of options for hiking, water sports, or simply soaking up some sun.
Radnor Lake State Park
Located just outside Nashville, Radnor Lake State Park is a popular nature preserve and hiking destination. Spanning over 1,300 acres, the park is unique because of its abundance of wildlife, 7.75 miles of hiking trails, and environmental education programs.
The park is open year-round from 6:00 a.m. to 20 minutes after sunset. The visitor center is open Thursday to Monday from 9:30 a.m. to 6:00 p.m.
Address: 1160 Otter Creek Rd., Nashville, TN 37220
Website: TNStateParks.com
Fort Nashborough
James Robertson and his pioneers settled along the Cumberland River in 1780 in a stockade called Fort Nashborough, a settlement that would eventually grow into the city of Nashville. The site is still located along the Cumberland to this day, on Riverfront Park in downtown Nashville.
Fort Nashborough is open for self-guided tours daily from 9:00 a.m. to 4:00 p.m. Take a walk around the site, see historic buildings, and imagine yourself among Nashville's first settlers.
Address: 170 1st Ave. N., Nashville, TN 37201
Website: Nashville.gov
Cheekwood Estate & Gardens
Cheekwood is a 55-acre botanical garden and historic estate in Nashville. Offering dining, art galleries, and seasonal festivals like Cheekwood Harvest and Holiday LIGHTS, it's a popular outdoor destination for Nashville residents and visitors alike.
Visit in the spring for Cheekwood in Bloom to see more than 150,000 flowers bursting to life or tour one of the estate's famous pumpkin houses during the Harvest fall festival. The grounds also boast many gardens for self-exploration, including the Sigourney Cheek Literary Garden, the Bradford Robertson Color Garden, and the Blevins Japanese Garden.
Cheekwood is open year-round and hours may vary depending on the exhibits and festivals taking place. Be sure to visit the Cheekwood website for current hours of operation and tickets.
Address: 1200 Forrest Park Dr., Nashville, TN 37205
Website: Cheekwood.org
Bicentennial Capitol Mall State Park
An urban state park in downtown Nashville, the 11-acre Bicentennial Mall was opened in 1996 to commemorate the state of Tennessee's 200th anniversary. Located just northwest of the Tennessee State Capitol building, the mall is a popular place for walking, hiking, exploring the many monuments in the area, and learning about Tennessee history.
Address: 600 James Robertson Pkwy., Nashville, TN 37243
Website: TNStateParks.com
Cumberland Park
Opened just a few years ago, Cumberland Park is a family-friendly park located along Nashville's Cumberland River waterfront. It's an innovative play space for children with a splash pad, outdoor amphitheater, climbing walls, and unique play structures. A favorite for kids is The Hollow, a green space mimicking rolling hills with sand activities, a bounce pad, bridges, mazes, and more.
The park is located in the shadow of the John Seigenthaler Pedestrian Bridge and the Korean War Veterans Memorial Bridge in downtown Nashville.
Address: 592 S. 1st St., Nashville, TN 37213
Website: Nashville.gov
Must-Taste Dining Destinations
Nashville is known for some signature dishes – ever heard of Nashville hot chicken? – and the city's culinary prowess continues to grow along with its number of residents. Whether it's fine dining, a hearty Southern meal, or a boozy beverage, Music City has no shortage of delectable treats. Here are some you can't miss on your next visit.
Hot Chicken
Nashville is the original home of hot chicken. Coated with a thick layer of cayenne and other spices, fried, and served with pickles and white bread, this chicken isn't for the faint of heart. Music City boasts a number of restaurants that specialize in hot chicken, each with their own signature recipe and unique presentation. Three hot chicken restaurants are among locals' favorites: Prince's, Bolton's, and Hattie B's.
Prince's Hot Chicken
Address: 5814 Nolensville Pike, Nashville TN 37211 or 5055 Broadway Pl., Nashville, TN 37203
Website: PrincesHotChicken.com
Bolton's Spicy Chicken & Fish
Address: 624 Main St., Nashville, TN 37206
Website: BoltonsSpicy.com
Hattie B's
Website: HattieB.com
Meat & Three
Another meal that Nashville is famous for? The meat and three. With a choice of meat, like country fried steak or fried chicken, and three sides, like creamed spinach, mac and cheese, or green beans, the meat and three is a filling and comforting meal that combines the best tastes of Southern cuisine. Visit Arnold's, Puckett's, or The Loveless Cafe to try this classic plate.
Arnold's Country Kitchen
Address: 605 8th Ave. S., Nashville, TN 37203
Website: ArnoldsCountryKitchen.com
Puckett's Grocery & Restaurant
Address: 500 Church St., Nashville, TN 37219
Website: PuckettsGro.com
The Loveless Cafe
Address: 8400 Hwy. 100, Nashville, TN 37221
Website: LovelessCafe.com
Bushwackers
For a boozy, sweet treat, it doesn't get better than a Bushwacker. This frozen drink tastes similar to a chocolatey milkshake laced with rum or whiskey. Sipped through a straw, there's no better treat on a hot, Nashville day. Bushwackers can be found all around Music City, including 3 Crow Bar and Edleys' Bar-B-Que.
3 Crow Bar
Address: 1024 Woodland St., Nashville, TN 37206
Website: 3CrowBar.com
Edley's Bar-B-Que
Address: 908 Main St., Nashville, TN 37206 or 2706 12th Ave. S., Nashville, TN 37204
Website: EdleysBBQ.com
Pancake Pantry
A Nashville breakfast restaurant since the 1960s, this hot spot can usually be spotted with a line of hungry patrons circling the block. The Pancake Pantry is most famous for its namesake pancakes of which it offers 23 varieties. Their menu also includes omelets, waffles, sandwiches, and salads. Our recommendation? The sweet potato pancakes covered in powdered sugar and smothered in cinnamon cream syrup.
Address: 1796 21st Ave. S., Nashville, TN 37212 or 220 Molloy St., Nashville, TN 37201
Website: ThePancakePantry.com
Nashville Farmers Market
Open year-round, the Nashville Farmers Market offers fresh produce, shops, crafts, and a garden center. The market is also home to more than 20 restaurants, including Bella Nashville Neapolitan pizza, Jamaica Way Caribbean cuisine, Music City Crepes, and Jeni's Splendid Ice Cream.
The Nashville Farmers Market was founded in the early 1800s and today features two open-air sheds, a 24,000-square-foot garden center, and an international food hall. The market offers something for everyone.
Address: 900 Rosa L. Parks Blvd., Nashville, TN 37208
Website: NashvilleFarmersMarket.org
Must-Experience Unique Places
Looking for something off the beaten path? Music City has some hidden gems that offer a truly unique experience. How about a drink in an alley, a visit to a famous restroom, or karaoke in Santa's trailer? If you like something a little unexpected, you must experience these unique spots in Nashville.
Printer's Alley
Find fun off the beaten path on Printer's Alley, a strip of restaurants and nightclubs tucked away in downtown Nashville. Have dinner at Skull's Rainbow Room or drinks and blues at Bourbon Street Blues & Boogie Bar.
Location: Between 3rd & 4th and Church St. & Union St.
Website: NashvilleDowntown.com
Hermitage Hotel Bathroom
Sure the historic Hermitage Hotel has hosted countless famous figures, including numerous presidents, but it's also been awarded the prestigious title of Restroom of the Year for its lush men's restroom. Featuring lime green and black glass tiles, terrazzo flooring, and lime green fixtures, it is a beautiful sight to behold. Fear not: All genders are welcome to see this restroom.
Address: 231 6th Ave. N., Nashville, TN 37219
Website: TheHermitageHotel.com
Ryman Alley
The alley between Ryman Auditorium and the back entrance of Tootsie's Orchid Lounge is known as Ryman Alley, famous for the treks that Ryman Auditorium performers would make to Tootsie's after their shows. Today, that walk is a tradition for many artists who perform at the Ryman, exiting the backstage door after their shows to cross through the alley to Tootsie's to celebrate with a drink.
Location: Off of 5th St. between Ryman Auditorium and Tootsie's Orchid Lounge
Santa's Pub
This hidden gem is home to some seriously surprising talent. Santa's Pub is a small trailer offering a cash bar and karaoke. On any given night, patrons enjoy a cold drink and music by some of Nashville's most talented, not-yet-discovered singers. Just remember Santa's rules: No beer, no cussin', and no cigarettes on stage.
Address: 2225 Bransford Ave., Nashville, TN 37204
Website: SantasPub.com
Fifth + Broadway
The newly opened Fifth + Broadway development is a hot spot in downtown Nashville. Packed with retail shops, bars, and restaurants and located just steps away from Broadway's honky-tonk row, Fifth + Broadway is a one-stop-shop for entertainment. Check out more than 20 curated restaurants at the Assembly Food Hall or fine dining at the Twelve Thirty Club, owned in part by singer Justin Timberlake.
Address: Corner of 5th and Broadway Ave., Nashville, TN 37203
Website: FifthAndB.com
Must-Indulge Romantic Destinations
If you're due for a date night, Nashville's got great options for you. Go wine tasting, watch the sunset, or even pop the big question at one of the most romantic destinations in Nashville. There's plenty to celebrate in Music City.
Arrington Vineyards
Pack a picnic lunch and spend the day outdoors at Arrington Vineyards, a winery a short 30-minute drive from downtown Nashville. Co-owned by country music artist Kix Brooks, the 95-acre property includes 16 acres of vineyards, five tasting rooms, and live music on the weekends.
Surrounded by picturesque rolling hills, Arrington Vineyards is perfect for an afternoon for two. Purchase snacks at the winery or bring your own for open-air dining. The winery is open seven days a week for tastings, and private group events are available.
Address: 6211 Patton Rd., Arrington, TN 37014
Website: ArringtonVineyards.com
Ryman Proposal Package
Looking to pop the question in an unforgettable way? Why not propose on the most famous stage in music: Ryman Auditorium. Treat your sweetie to a tour of the Ryman, then ask for their hand on the famed Ryman stage while a professional photographer captures the memorable moment with a keepsake picture. To learn more and book the date, visit Ryman.com.
Address: 116 5th Ave. N., Nashville, TN 37219
Website: Ryman.com
Love Circle
Take in the gorgeous and ever-growing Nashville skyline from Love Circle, a scenic overlook and local lovers lane that's perfect for sparking a little romance. Hidden away above West End, this hill on the edge of the city gives an almost unobstructed view of downtown Nashville and it's beautiful sunsets.
Love Circle isn't an official park, so you won't find any tables or seating. In fact, you should prepare for a short hike to get there. Park on the circular road that surrounds the hill, then hike up the embankment to reach the top. The walk isn't long – about a minute or so – and the views are worth it.
Location: Love Circle, Nashville, TN 37212
Must-Share Instagrammable Places
If it's not on Instagram, did it even happen? There are tons of photo-worthy spots in Music City, with its art, history, and beautiful scenery. Whether it's a mural, the city skyline, or your favorite honky-tonk, here are some spots you'll want to commemorate with a social post.
"What Lifts You––Wings" Mural
Nashville is covered in murals, and it seems like new ones pop up every week. Each Nashville neighborhood has its signature art, but some murals are so famous, you can expect to stand in line to get your picture taken in front of them.
Some of the most popular are the "What Lifts You––Wings" mural in the Gulch and the "I Believe in Nashville" mural in 12th South. Bring a camera, ask a friendly passerby to snap your photo, and share your Instagrammable moment with the world.
"What Lifts You––Wings"
Address: 302 11th Ave. S., Nashville, TN 37203
"I Believe in Nashville"
Address: 2702 12th Ave. S., Nashville, TN 37204
John Seigenthaler Pedestrian Bridge
The John Seigenthaler Pedestrian Bridge spans the Cumberland River connecting East Nashville to downtown Nashville. With a length of 3,150 feet, it's one of the longest pedestrian bridges in the world.
From the bridge, walkers can see amazing views of the downtown skyline and might even see the General Jackson Showboat pass below. The eastern end includes a pedestrian plaza near Cumberland Park and Nissan Stadium. The western end faces the Schermerhorn Symphony Center and the Country Music Hall of Fame The pedestrian bridge is the perfect spot for a selfie with the city of Nashville as the backdrop.
Location: Access the bridge from Cumberland Park on the East side or 2nd Ave. downtown
Broadway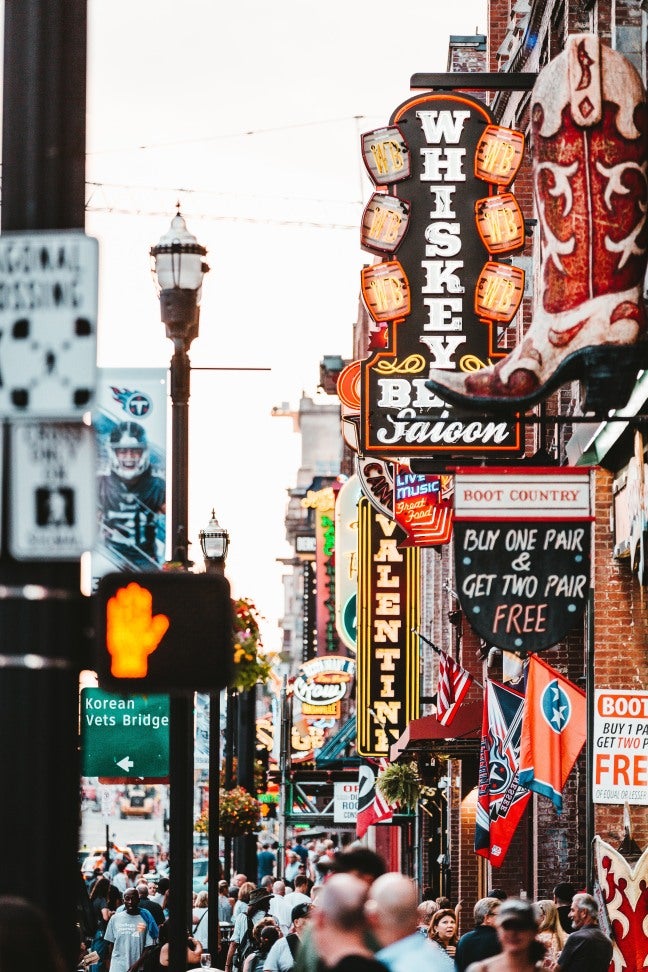 When you picture Nashville, the first image that comes to mind is probably Broadway Ave. Glowing with neon lights and radiating with live music from every window, Broadway is the heart of Music City's live music scene. It's the home of Nashville's honky-tonk row and an ever-increasing number of bars and restaurants owned by famous musicians, like Ole Red, owned in partnership with Blake Shelton, and Alan Jackson's AJ's Good Time Bar.
Grab a cocktail and some BBQ, sing along with the live music at each honky-tonk, and snap some photos and videos to remember your night on the town.
Location: Broadway Ave. between 2nd Ave. and 5th Ave. in downtown Nashville
Belmont Mansion
The Belmont Mansion is one of the most well-kept historic homes in the US. The largest house in Tennessee prior to the Civil War, construction of the Belmont Mansion was completed in 1860. The home was inhabited by Joseph Acklen and more famously his wife Adelicia Acklen, a well-known and influential figure in Nashville.
In 1887, the home was sold to a land development company and just three years later, the mansion was turned into a women's school called Belmont College. Today, it stands in the middle of the beautiful Belmont University campus.
Visitors can tour not only the historic home but its surrounding gardens, meticulously maintained and bursting with color. Most rooms in the home have been carefully restored to reflect their original mid-1800s style. Learn about the history of this home and the people who lived and worked there by scheduling a tour, available Thursday to Monday.
Address: Corner of Acklen Ave. and Belmont Ave., Nashville, TN 37212
Website: BelmontMansion.com
Sign Up for Alerts
Don't miss a moment in Music City. Sign up for email alerts from Ryman Auditorium to be notified when concerts and events are announced.
Stay in Touch
What's almost as iconic as visiting the Ryman? Always having the inside scoop!
Sign up for exclusive updates, offers, and events, so you never miss out on what's happening at the Mother Church.