How Long Does the Ryman Auditorium Tour Take?
There's so much to learn and see at historic Ryman Auditorium in downtown Nashville. With a 130-year history, there are lots of stories to tell about this legendary site. The Ryman offers many tour options for visitors, all of which range from 45-60 minutes depending on the type of tour that most interests you.
What's Included in the Tour?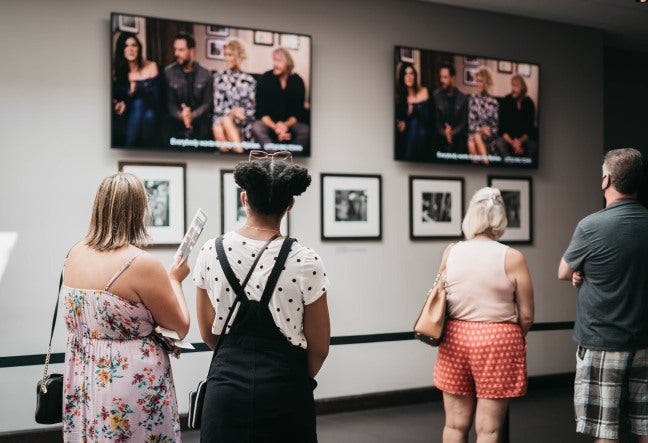 Each Ryman Auditorium tour starts in the Soul of Nashville theater, an immersive experience featuring well-known music artists who take you through a brief history of the Ryman enhanced by light, sound, and special effects. Then, explore the Ryman's exhibits including photos and artifacts throughout the years. Walk the Hatch Show Print gallery featuring posters specially designed for past Ryman events. Wrap up your visit with a chance to stand on the famous Ryman stage and have a souvenir photo taken.
Ryman Tour Options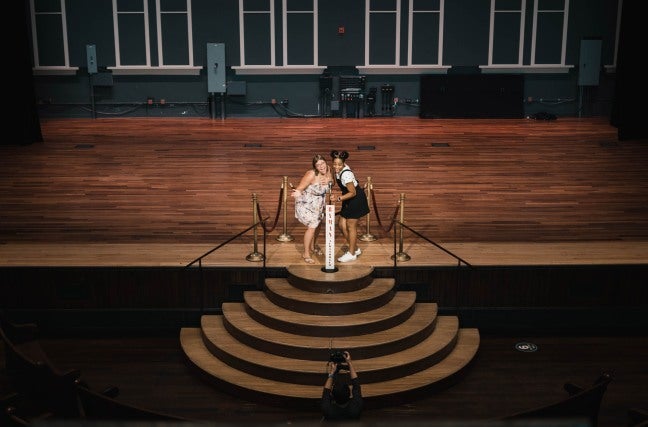 The Ryman offers many different tour options so you can make the most of your visit. Whether you're looking for a behind-the-scenes guided tour or want to explore at your own speed, there's a tour that's right for you. The length of your visit will depend on which tour option you choose, but most tours range from 45-60 minutes.
Self-Guided Tours
Explore Ryman Auditorium your way with a self-guided tour. Start in the Soul of Nashville theater, then take in the exhibits at your own pace. End by getting your picture taken in the center of the iconic Ryman Auditorium stage where your favorite stars have performed before. With the self-guided tour, you can visit for as long or as short as you'd like, but most tours last around 45 minutes.
Guided Backstage Tours
Learn all there is to know about the Ryman's 130-year history by taking a guided backstage tour. Hear stories of the Ryman's most famous guests and get a behind-the-scenes look at this beloved venue, including a tour of the dressing rooms, the wings, and the infamous stage. Each space is decorated with local art, rare vintage photographs, and priceless memorabilia honoring the stars of the Ryman's past. Expect the guided tour to last approximately 60 minutes.
Post-Show Opry at the Ryman Tours
For the ultimate Ryman Auditorium experience, the Post-Show Opry at the Ryman Tour can't be beat. Purchase tickets to a Grand Ole Opry performance at the Ryman, then schedule an after-show tour of the venue. You'll get to see the best of Ryman Auditorium from both the pews and the stage. Prepare to schedule up to 3 hours for this experience, including the show and tour.
Why Should You Tour the Ryman?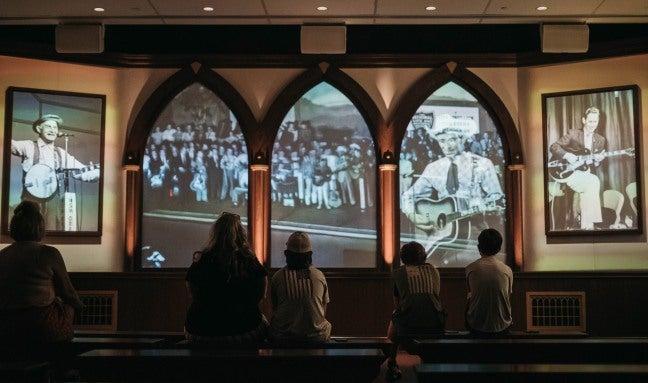 The Ryman is a must-see spot for any visit to Nashville. It played an integral role in helping Nashville become known as Music City, from its original use as a church to hosting the Grand Ole Opry to being a bucket-list performance venue today. Music City wouldn't be what it is today without the Mother Church. To truly understand and appreciate Nashville, you must first understand the significance of Ryman Auditorium.
Book Your Tour
Make the most of your time in Nashville and book a tour of Ryman Auditorium today.
If You Have Time... Why Not See a Show?
Ryman Auditorium is a coveted concert venue, both for performers and fans. Because it was originally constructed as a church, the auditorium's unique acoustics propel sound in a way few other venues can duplicate, making each show a truly immersive experience. The Ryman has a full calendar of performers of all music genres, as well as comedians and speakers. Check out the events calendar to find your favorite artist and purchase tickets.
Stay In Touch
Subscribe for updates, events offers and more. To sign up to receive our emails, Fill in the following fields and hit submit. Thanks, and Welcome!