Hatch + the Ryman: A Long Friendship
Some companies are so engrained in a city's culture that they help define it. So it is with Ryman Auditorium and Hatch Show Print. They are Nashville icons.
The Beginnings
Bluegrass was born at the Ryman and it's where the Grand Ole Opry made its home in 1943. While Hatch Show Print is one of the oldest working letterpress print shops in America. "Even after 142 years, all of the work that is done in this letterpress print and design shop has the same foundation — created onsite, by our own designers, who are also the craftspeople producing, by hand, brilliant and eye-catching posters and other items using the letterpress printing process. Even the ink is mixed by hand, so that we can guarantee colorful results," says Celene Aubry, director of Hatch Show Print.
"While each have their own long and storied histories, they intertwine often," says Misty Cochran Swann, marketing manager, concerts at Ryman Auditorium. They opened around the same time, (Ryman in 1892 and Hatch in 1879). They are part of the fabric of Nashville and the music industry as a whole, she says.
A Tradition is Born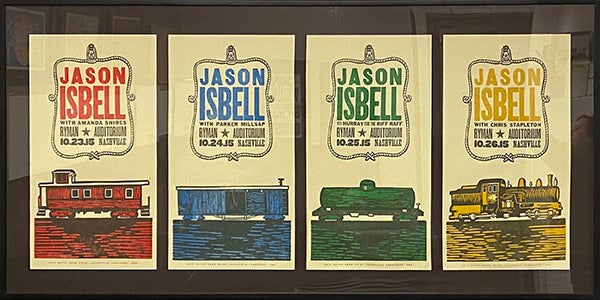 It wasn't until the 1940s that Hatch started making posters for the Grand Ole Opry. For a time, Hatch Show Print was owned by the Ryman. When the Ryman was renovated and reopened in the mid-1990s, Hatch started a new tradition of having a poster made for almost every show that played at the venue. They are works of art, and a tradition that continues today at the Ryman.
"Many of our most popular posters are from our artist residencies when Hatch can design a different poster for each night. Fans will line up early every night to get the full poster series. A great example is the Jason Isbell series from 2015 with a train running across all four posters. Many Hatch posters will go for hundreds of dollars on eBay. The most valuable posters are generally from rock acts like REM, Foo Fighters and Wilco and country artists like Merle Haggard, Sturgill Simpson and Chris Stapleton," says Swann.
Hatch is still creating posters for almost every show at the Ryman. Hatch creates approximately 600 designs a year and around one-third of those are Ryman Auditorium designs.
"With COVID happening over the past year, it was the first time we have sold a large quantity of Hatch posters online. In the past, anyone coming to the Ryman knew they had to be early to make sure the Hatch posters weren't sold out," says Swann.
A Master Craft
What makes Hatch Show Print unique? Their time-tested process. The letterpress printing is letters and images pressed into paper with ink in between. The process involves selecting — and, when necessary, carving —images into wood or linoleum; setting wood and/or metal type, letter by letter; assembling the design—both the imagery and the words—layer by layer; then inking and pressing these elements onto paper to form a poster or print.
"The print is made one color and one piece of paper at a time. It is basically the very same process that Johannes Gutenberg used to produce the first printed Bibles in the mid-1400s!" says Aubry.
Hatch Show Print creates new work using the contents of the historic shop that includes wood and metal type, which is as old or older than the shop — alongside imagery and graphic elements that have been hand-carved into wood or linoleum printing blocks, either last week or in the last century.
"As one of our nearest and dearest clients, the Ryman knows well the handmade nature of the posters — the textures, the edge-to-edge color, sometimes even the smell. As we design each project, we consider the poster's purpose — is it celebrating or commemorating an experience, a show, or a special event? We know it's just a poster, but we also know we've done our work well if it conjures memories of something that was so much more than that. Plus, it's important that it looks good on the wall, of course." says Aubry.
A Nashville Legacy
Hatch Show Print is ever popular in Nashville, "You can't launch a rubber band in this town without hitting someone who has ordered a poster from the shop," says Aubry. It has been for more than a century. "Looking back, if a town was large enough to have a daily paper, it probably also had at least one print shop that printed everything from business cards and stationery to "For Rent" and "For Sale" signs. Hatch Show Print did all of that, as well as the work that really put the shop on the map: advertisements. These ads could be as big as your hand or as big as the side of your barn, telling you who was performing where and when, and how much money you would need to save to buy a ticket," says Aubry.
Hatch Show Print has long since expanded to include national and international clients. In 1992, Hatch Show Print became a historic property of the Country Music Hall of Fame and Museum, which means that while it continues to operate as a letterpress print and design business, the entirety of the contents of the shop, its archive and its history and legacy, are preserved for the foreseeable future.
You can take a tour and learn about the shop's history, a little bit about Nashville's history, see the place where the work is made and then print the final color of a commemorative print you can take home with you.
Says Aubry, "While we work with ridiculously outmoded technology and use materials that are over 150 years old on a daily basis carrying on the traditions of this 142-year-old print shop, we don't think of it as being tethered to what's conventional or dusty. Everyone on our staff can use the latest and greatest design technology. We're able to leverage 19th century technology to make work that reflects the sensibilities of the era in which we are living, while ensuring our products are easily attributed to the shop. That's why we design everything we print and only print the work we design. We really couldn't do it any other way."
Celebrate the Friendship in Person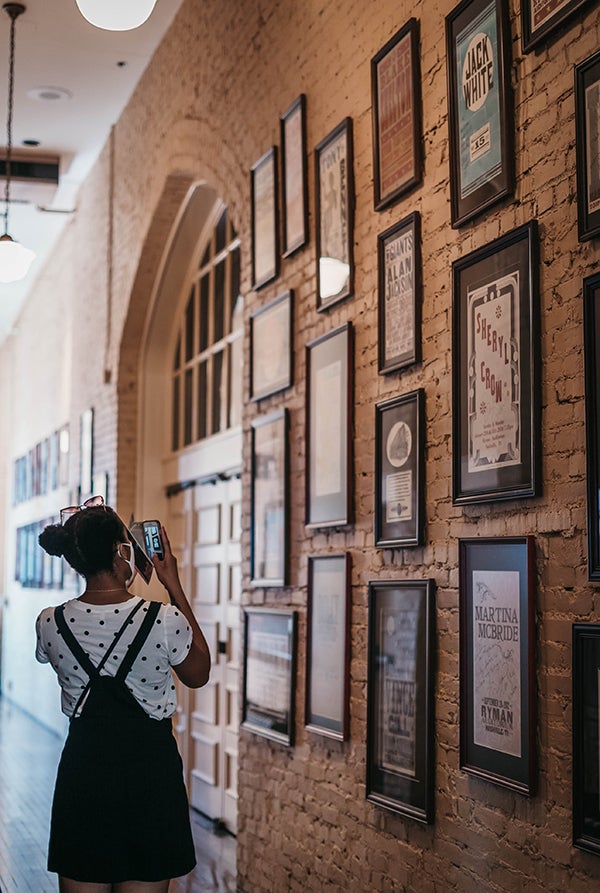 Celebrate both icons when you tour the Ryman or come for a show. Our upper-level vestibule is dubbed the Hatch Show Print Gallery and features some of our favorite prints from shows at the Ryman, many signed by artists themselves. And, take a piece of the Ryman and Hatch home with you from our collaboration on Ryman Auditorium Hatch Show Prints.
Stay in Touch
What's almost as iconic as visiting the Ryman? Always having the inside scoop!
Sign up for exclusive updates, offers, and events, so you never miss out on what's happening at the Mother Church.