9 Surprising Times Non-Country Artists Caught the Country Bug
There's no question that country music has many fans, but it might surprise you to learn that popular artists who would otherwise be categorized as staunchly non-country have been influenced by the genre. Sometimes inspiration comes from the unlikeliest places.
For The Beatles and Buck Owens, the admiration was mutual
Each member of The Beatles fell in love with country music in his own way. As children, Ringo Starr covered his bedroom walls with Gene Autry posters and John Lennon liked to imitate Hank Williams. Paul McCartney is a longtime Marty Robbins fan and
visited the Grand Ole Opry twice in 1974
. George Harrison's love for country was evident in his guitar of choice throughout much of the 1960s; he played the same model that was endorsed by genre virtuoso Chet Atkins. By the time Beatlemania reached fever pitch in the United States in 1963, the band was in search of a track that Starr could sing on an album. The drummer suggested "Act Naturally," a No. 1 song by Bakersfield sound pioneer Buck Owens. The bouncy, up-tempo hit fit Starr's vocals like a glove, showcasing his talent even though his range was limited compared to those of his bandmates. Owens loved The Beatles' interpretation of the song and incorporated a gag into his own set that involved his Buckaroos wearing wigs styled after the Fab Four's distinctive mops. Once the band split in 1970, Starr went to Nashville for some soul-searching, releasing
Beaucoups of Blues
, which was tinged with instrumental twang. Starr has made numerous visits to Music City, performing at the Ryman three times this decade and releasing the DVD
Ringo at the Ryman
in 2013. [caption id="attachment_12795" align="alignnone" width="1200"]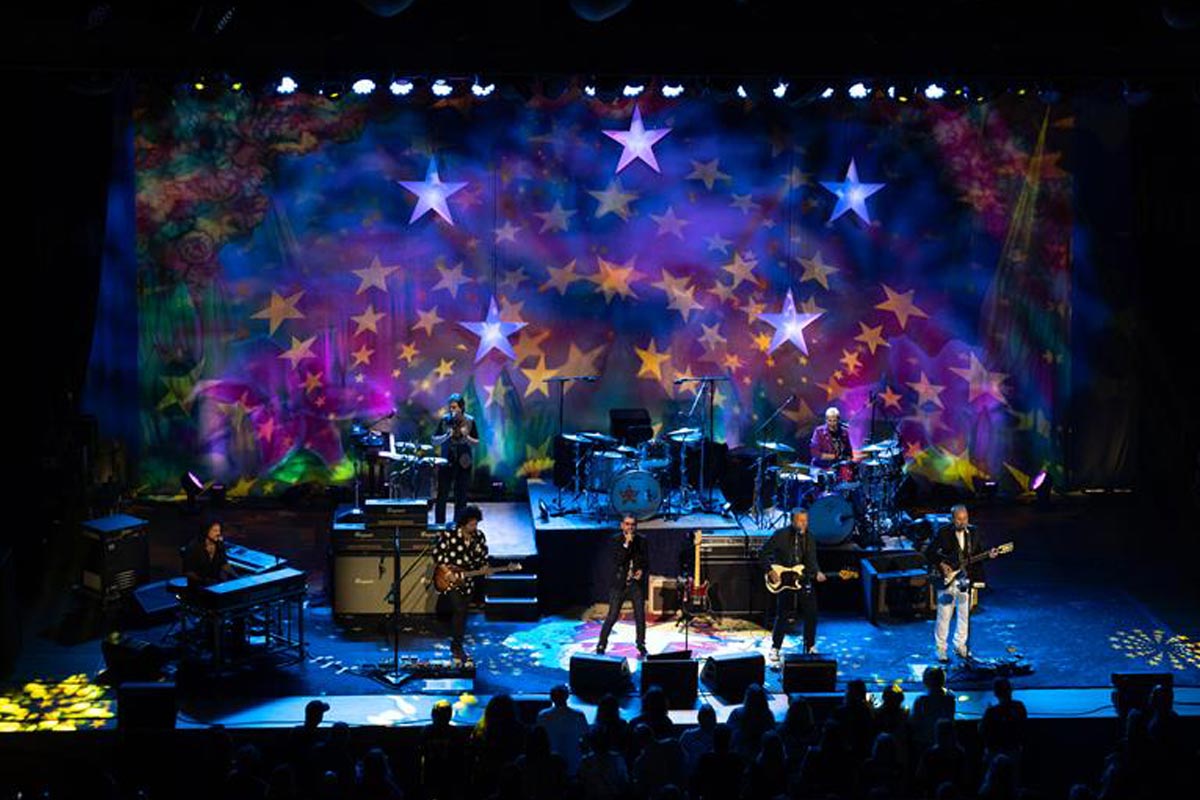 Ringo Starr has performed on the Ryman three times this decade. Photograph by Steve Lowry[/caption]
Ray Charles leaves an enduring impact on country music
Ray Charles' love of music was innate, driven by passion over profit. When he got the idea to release a country album, record executives warned him the project would flop.
Still, Charles insisted
. "I just wanted to try my hand at hillbilly music," Charles wrote in
Brother Ray: Ray Charles' Own Story
, his 1978 autobiography. "After all, the Grand Ole Opry had been performing inside my head since I was a kid in the country." Not only did the first volume of
Modern Sounds in Country and Western Music
spend 14 weeks at the top of the U.S. Pop Albums chart, it also introduced many new listeners to the genre. "He kicked country music forward 50 years," Willie Nelson said in a 2006
Tennessean
interview. "Before him, a lot of people had probably never heard of songs by Don Gibson or Hank Williams."
Shel Silverstein becomes unlikely country songwriter
A best-selling children's author and a
Playboy
cartoonist, Shel Silverstein was already an enigma. When the outlaw movement began to take hold in direct opposition to the Nashville recording establishment, there was perhaps no better time for an unconventional character like Silverstein to dabble in country songwriting. Opry member and writing partner Bobby Bare says Silverstein's interest in country music came from an earnest place. "His favorite singer as a kid was Ernest Tubb. And it's very difficult to imagine a small, Jewish boy growing up around Chicago loving Ernest Tubb," Bare shares in Ken Burns'
Country Music
documentary. "I mean it's strange. And of course, Shel was strange. But he was the most creative person I ever met in my life." The Johnny Cash classic "A Boy Named Sue"? Silverstein wrote that. Surprisingly, it was the only Johnny Cash song to crack the top ten on the
Billboard
Hot 100 chart. Silverstein appeared on
The Johnny Cash Show
, which taped at the Ryman, in 1970.
Janis Joplin's "Me and Bobby McGee" transfixes writers when it's posthumously released
Hardly any artists have made as big of an impact in such a short period of time as Janis Joplin did. The unconventional blues-rock artist could singularly express a multitude of emotions through her vocals in a nearly mythical way. Shortly after she recorded Kris Kristofferson and Fred Foster's "Me and Bobby McGee," Joplin met her untimely death in 1970. The songwriters got a chance to listen to the song before its posthumous release. While the likes of Roger Miller and Charley Pride had recorded the song previously, Joplin's affecting rendition of the poignant country song was unlike anything Foster and Kristofferson heard before. "Then she got to the middle part of 'Bobby McGee' and I just lost it. I just started crying. I couldn't help it," Foster said in
Country Music
. "That's not a record, that's an experience."
Maggie Rogers reacquaints herself with Taylor Swift's earliest hit
Taylor Swift and Maggie Rogers rose up as wunderkinds in the music industry, but sonically, they couldn't be more different — or at least that's what Rogers thought when she first heard Swift's "Tim McGraw." Rogers, who listened to alternative rock bands in middle school when Swift released "Tim McGraw," only recently realized the emotional magnitude of the song's lyrics. "It's such a beautiful sentiment too of like, fleeting affection and saying goodbye to someone," Rogers said
on an episode of Spotify's Under Cover
. Rogers, who performed two sold-out shows at the Ryman in October, decided to cover the country song at Spotify Studios but tinkered with the instrumentals and rhythm. "I was really interested in this idea of genre because I kind of fundamentally think that 'genre' just exists to sell music. Nobody actually thinks about it when you're making music," Rogers said. "But a song with the title 'Tim McGraw,' one of the greatest country stars of all time, could I take it and not make you think of country music?"
Decide for yourself
. [caption id="attachment_12796" align="alignnone" width="1200"]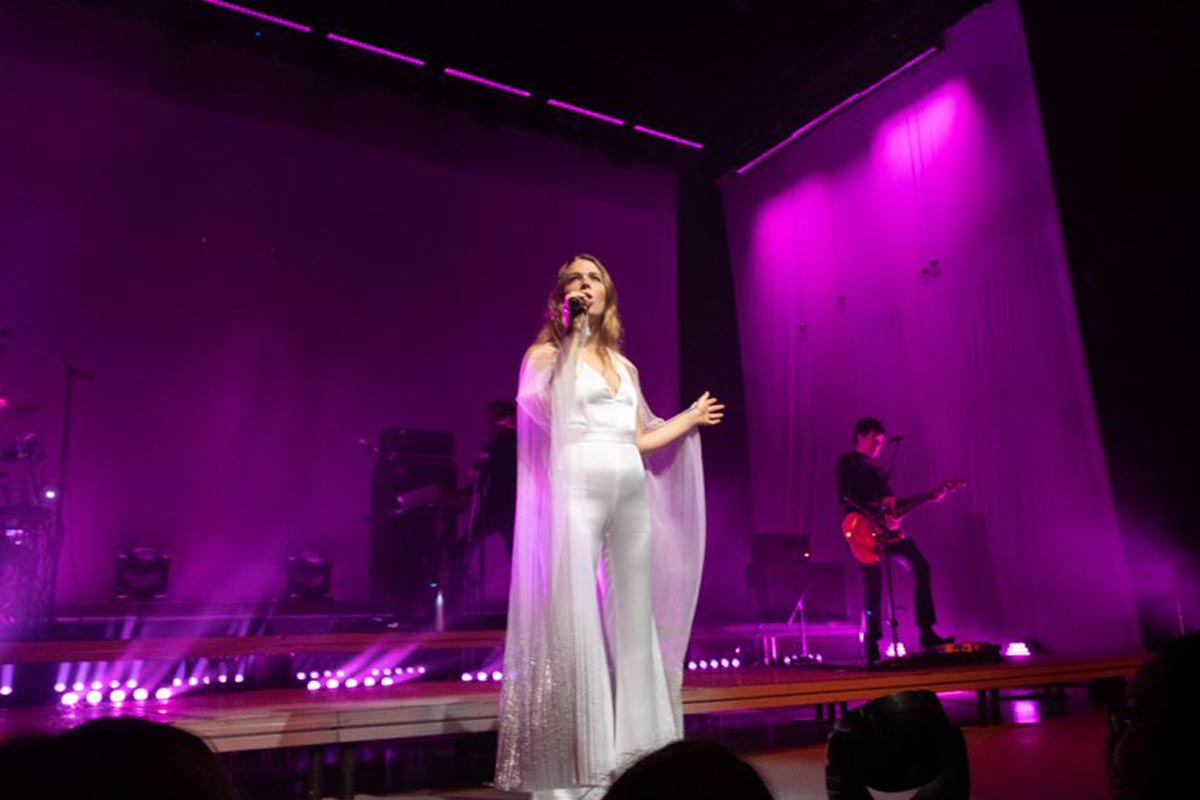 Maggie Rogers performs at the Ryman in 2019 during the last leg of her "Heard it in a Past Life" tour. Photograph by Steve Lowry[/caption]
Lady Gaga goes country with 2016 album Joanne
Lady Gaga is known for her pop panache, but the artist's love for experimentation inspired her to diverge from her audacious dance tracks to pursue two unique projects: an album with Tony Bennett in 2014 and 2016's folksy
Joanne
.
Joanne
leans heavily on the country music narrative-based songwriting tradition. Standout single "Million Reasons" and two other songs on the album were cowritten by Hillary Lindsey, who has penned contemporary country megahits like Carrie Underwood's "Jesus, Take the Wheel" and Little Big Town's "Girl Crush." Upon release of the project,
Lady Gaga told Rolling Stone
that she's a longtime fan of Garth Brooks and has a "deep respect for all country musicians," even though she isn't one herself.
Snoop Dogg buddies up with Willie Nelson for multiple collaborations
Snoop Dogg and Willie Nelson have long resisted fitting the mold, so it should come as no surprise that the two are friends. They've collaborated more than once, releasing "My Medicine," which the rapper dedicated to "my main man Johnny Cash, a real American gangster," in 2009. Lest we forget that music video, a portion of which was shot at the Grand Ole Opry House. In 2012, they did it again with "Roll Me Up and Smoke Me When I Die," getting the assist from Kris Kristofferson and Jamey Johnson for the CMA Award-nominated project.
Bob Dylan changes the game in Nashville
While country music is one of Nashville's major exports, it's not the only genre to come out of Music City. Gospel and rhythm and blues have long had strongholds here, and when Bob Dylan came to town in the 1960s, he inspired a wave of other genre-defying artists to make pilgrimage to Nashville. Dylan's relationship with Nashville began in 1964 when Johnny Cash wrote him a fan letter. Dylan wrote one back and invited Cash to perform with him at the Newport Folk Festival. "He loved Bob. And Bob loved him," Rosanne Cash said of her father in
Country Music
. "Bob said that when he first heard 'I Walk the Line' on the radio that it was a voice that sounded like it came from the 'middle of the earth.'" A year later, Dylan met Charlie McCoy, one of Nashville's finest session players who still performs regularly on the Opry. That single session with McCoy got Dylan's wheels turning. Frustrated by creative hang-ups when recording in New York City, Dylan was inspired finish
Blonde on Blonde
in the Tennessee capital. After the album saw widespread success, Dylan recorded two more albums in Nashville that decade,
John Wesley Harding
and
Nashville Skyline
, the latter of which featured Cash's voice on a rerecording of "Girl from the North Country." It wasn't long after that the likes of Joan Baez, Leonard Cohen, and The Byrds flocked to Nashville to see what the music scene was all about. [caption id="attachment_12799" align="alignnone" width="1200"]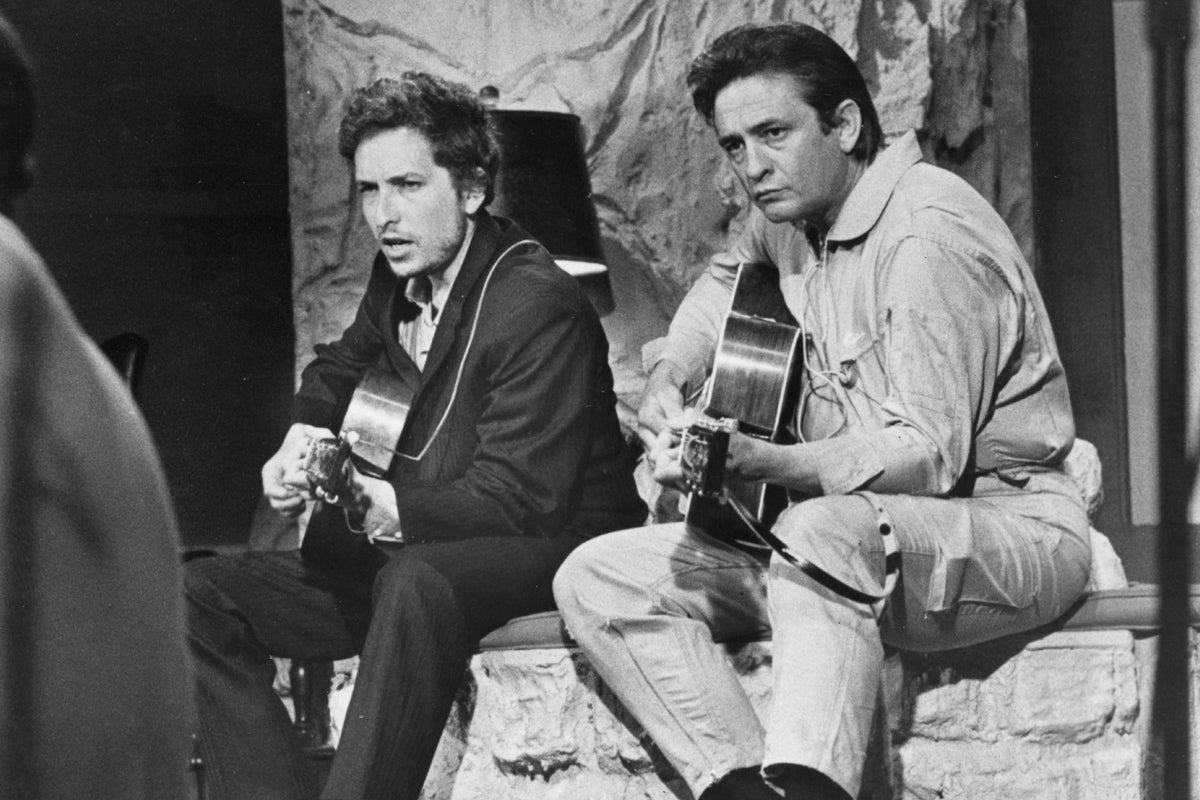 Bob Dylan appeared on what would become the first-ever episode of "The Johnny Cash Show."[/caption]
Lionel Richie returns to country with new album years after penning Kenny Rogers' "Lady"
When most people think of Lionel Richie, "All Night Long (All Night)" and "Dancing on the Ceiling" come to mind. But in the 1980s, the R&B musician wrote a number of country songs including the Kenny Rogers hit "Lady" and recorded "Deep River Woman" with Alabama. In 2012, Richie released
Tuskegee
, a duets album that featured a full roster of country acts from Blake Shelton to Shania Twain to Tim McGraw. The album's name is a nod to his hometown of Tuskegee, Alabama, which he credits as the melting pot that inspired his wide-ranging musical tastes.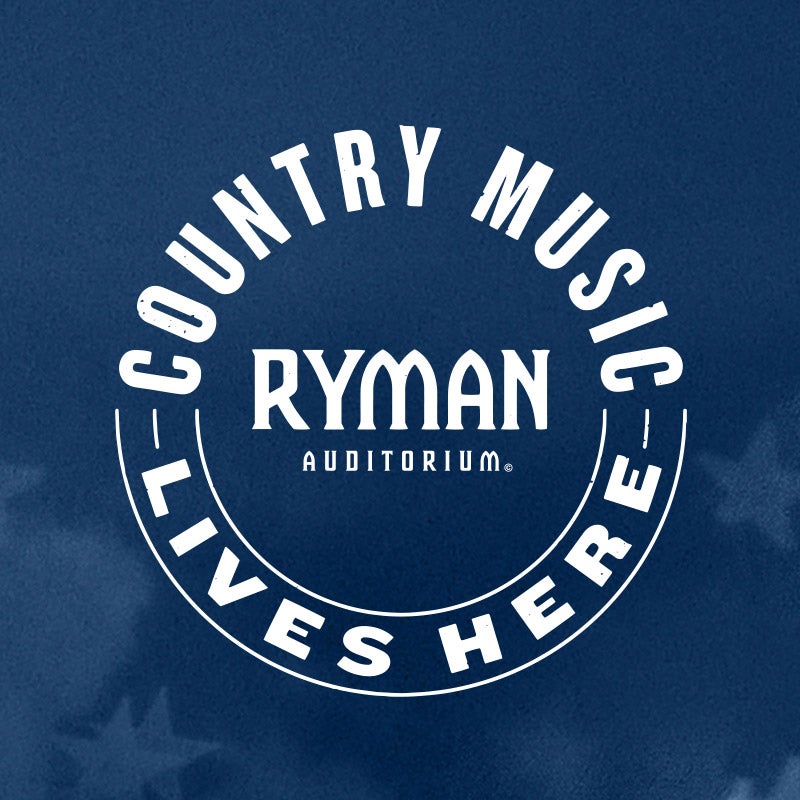 Country Music Lives Here
From country to pop to R&B, the Ryman accepts all comers, but its influence on country music was profound. Known as The Mother Church of Country Music, the Ryman earned a spot in Ken Burns'
Country Music
, a preeminent eight-part film about the genre.
Read More
Stay In Touch
Subscribe for updates, events offers and more. To sign up to receive our emails, Fill in the following fields and hit submit. Thanks, and Welcome!