Trevor Noah is the most successful comedian in Africa and is the host of the Emmy® and Peabody® Award-winning "The Daily Show" on Comedy Central. "The Daily Show" won a GLAAD award for Outstanding Talk Episode, and received nominations for a Writers Guild Award (Comedy/Variety Series) as well as two NAACP Image Awards, for Outstanding Talk Series and Outstanding Host in a Talk or News/Information Show. Noah also won Best Host at the 2017 MTV Movie & TV Awards, as well as a 2017 Creative Arts Emmy Award for Outstanding Short Form Variety Series for his hosting role on "The Daily Show – Between The Scenes." "The Daily Show with Trevor Noah" recently received three 2018 Primetime Emmy nominations, including Outstanding Variety Talk Series, Outstanding Interactive Program and Outstanding Short Form Variety Series. Trevor joined "The Daily Show with Jon Stewart" in 2014 as a contributor.
Trevor has written, produced, and starred in 8 comedy specials, including "Afraid of the Dark" on Netflix. Noah's latest standup special "Trevor Noah: Son of Patricia" launched on November 20th on Netflix. The special touches upon racism, immigration, camping and more. In 2016, Noah debuted his one-hour stand-up special, Trevor Noah: Lost in Translation, on Comedy Central. Noah was the subject of David Paul Meyer's award-winning documentary film "You Laugh But It's True" which tells the story of his remarkable career in post-apartheid South Africa. His Showtime comedy special, "Trevor Noah: African American" premiered in 2013. He was nominated for "Personality of the Year" at the 2014 and 2015 MTV Africa Music Awards and won the award in 2015. Trevor's success has also spanned to sold out shows over 5 continents.
Born in South Africa to a black South African mother and a white European father, Noah has hosted numerous television shows including South Africa's music, television and film awards, and several seasons of his own late-night talk show, "Tonight with Trevor Noah."
In November 2016, Trevor released his first book "Born a Crime: Stories from a South African Childhood," which became an instant New York Times bestseller. The book received the Thurber Prize for American Humor and two NAACP Image Awards, one for Outstanding Literary Work by a Debut Author and another for Outstanding Literary Work in the Biography/Auto-Biography category. Additionally, his performance on the Born a Crime audiobook was Audible's highest rated audiobook of 2016 and has remained one of the top selling titles on Audible since its release.
"Born A Crime" is a collection of personal stories about growing up in South Africa during the last gasps of apartheid and the tumultuous days of freedom that came with its demise. Already known for his incisive social and political commentary,here Noah turns his focus inward, giving readers an intimate look at the world that shaped him. These are true stories,sometimes dark, occasionally bizarre, frequently tender, and always hilarious. Whether subsisting on caterpillars during months of extreme poverty or making comically hapless attempts at teenage romance, from the time he was thrown in jail to the time he was thrown from a speeding car driven by murderous gangsters, the experiences covered in this book will shock and amaze, even as they leave you rolling on the floor with laughter.
The audiobook version performed by Trevor is was produced by Audible Studios and remains one of the top-selling, highest rated, and most commented on Audible performances of all time. "Born a Crime" won the Audie Award for "Best Male Narrator," and was also nominated in the "Autobiography/Memoir," "Best Narration by the Author" and "Audiobook of the Year" categories. To date, "Born a Crime" has sold over 1 million copies across all formats. The paperback version of "Born a Crime" debuted in February 2019. In April 2019, Trevor will release "It's Trevor Noah: Born a Crime," adapted for young readers. The book not only provides a fascinating and honest perspective on South Africa's racial history, but it will inspire young readers looking to improve their own lives.
Trevor's production company, Day Zero Productions, recently partnered with Viacom and already has several projects in development, including the feature film adaptation of Born a Crime starring Academy Award winner Lupita Nyong'o, which is set up at Paramount Players, and a half-hour comedy with Roy Wood Jr. and Aaron McGruder at Comedy Central.
In April 2018, Noah launched The Trevor Noah Foundation, a youth development initiative that enhances youth preparedness for higher education or entry into the workforce. Noah's vision is a South Africa that advances because each generation builds and must grow beyond its predecessor. Through a partnership with Microsoft, the foundation is able to provide under-resourced schools with the opportunity to use technology as a tool to enhance the learning experience, as well as increase digital literacy beyond the classroom.
Friday,
May
5
8:00PM
8:00 PM
Saturday,
May
6
7:00PM
7:00 PM
Sunday,
May
7
7:00PM
7:00 PM
Venue Information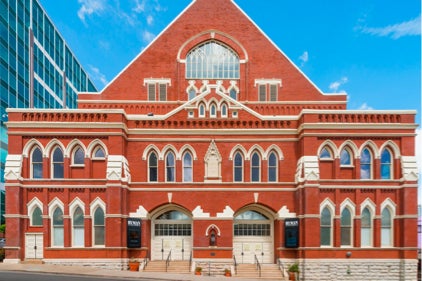 Ryman Auditorium
Ryman Auditorium, located at 116 Rep. John Lewis Way North, in Nashville, Tennessee, is one of the most celebrated venues in modern music. Built in 1892, the historic 2,362-seat live performance venue is the most famous former home of the Grand Ole Opry and is revered by artists and music fans for its world-class acoustics. A bucket list moment for both fans and artists alike, her iconic stage has hosted performers from across genres, such as Elvis Presley, Bruce Springsteen, Charley Pride, Loretta Lynn, Johnny Cash, Harry Styles, Wu-Tang Clan, Lizzo, and thousands more. While offering a diverse lineup and thriving concert schedule with over 200 shows per year, the venue is also open for daytime tours year-round. Along with best-in-class production technologies and livestream capabilities, the Ryman has been named Pollstar's Theater of the Year for 13 years through 2021.
Stay In Touch
Subscribe for updates, events offers and more. To sign up to receive our emails, Fill in the following fields and hit submit. Thanks, and Welcome!