The six men comprising STYX have committed to rocking the Paradise together with audiences far and wide by averaging over 100 shows a year every year since (yes) 1999, and each one of them is committed to making the next show better than the last. Founded in Chicago in 1972, STYX has the unique distinction of being the first band in rock history to have four consecutive certified multimillion-selling albums in a row: 1977's The Grand Illusion, 1978's Pieces of Eight, 1979's Cornerstone, and 1981's Paradise Theatre.
STYX draws from over four decades of barnburning chart hits, joyous singalongs, and harddriving deep cuts. Like a symphony that builds to a satisfying crescendo, a STYX set covers a wide range of stylistic cornerstones. From the progressively sweeping splendor that is "The Grand Illusion" to the hunker-down fortitude of all that is the "Blue Collar Man," from the majestic spiritual love for a special "Lady" to the poignant rumination on the fleeting nature of fame in "Miss America," from an individual yearning for true connection as a "Man in the Wilderness" to a soul-deep quest to achieve what's at the heart of one's personal vision in "Crystal Ball," from the regal reach-for-the-stars bravado of "Come Sail Away" to the grainy all-in gallop of that rugged "Renegade" who had it made, STYX draws on an unlimited cache of ways to immerse one's mind and body in their signature sound.
Saturday,
June
17
7:30PM
7:30 PM
Sunday,
June
18
7:30PM
7:30 PM
Venue Information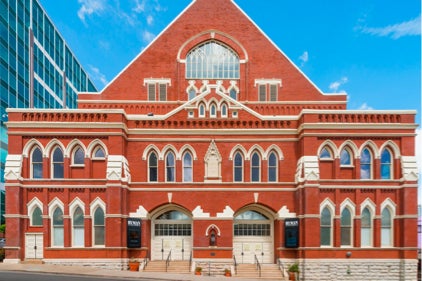 Ryman Auditorium
Ryman Auditorium, located at 116 Rep. John Lewis Way North, in Nashville, Tennessee, is one of the most celebrated venues in modern music. Built in 1892, the historic 2,362-seat live performance venue is the most famous former home of the Grand Ole Opry and is revered by artists and music fans for its world-class acoustics. A bucket list moment for both fans and artists alike, her iconic stage has hosted performers from across genres, such as Elvis Presley, Bruce Springsteen, Charley Pride, Loretta Lynn, Johnny Cash, Harry Styles, Wu-Tang Clan, Lizzo, and thousands more. While offering a diverse lineup and thriving concert schedule with over 200 shows per year, the venue is also open for daytime tours year-round. Along with best-in-class production technologies and livestream capabilities, the Ryman has been named Pollstar's Theater of the Year for 13 years through 2021.
Stay In Touch
Subscribe for updates, events offers and more. To sign up to receive our emails, Fill in the following fields and hit submit. Thanks, and Welcome!