Date

Oct

20

, 2023

Time

6:00 PM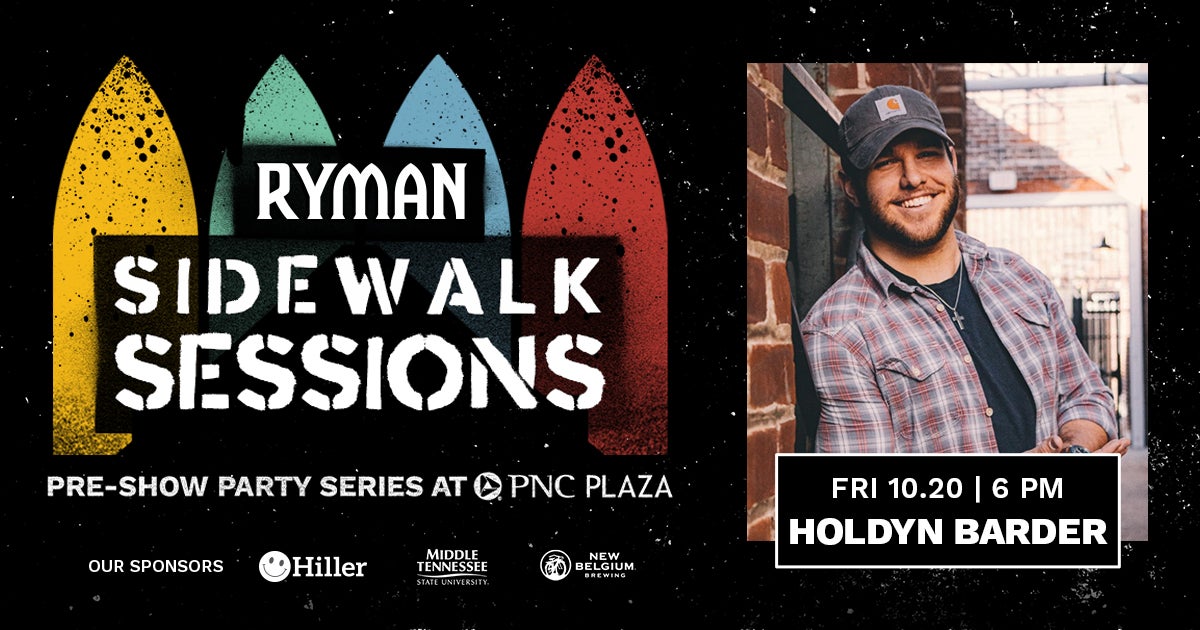 ABOUT SIDEWALK SESSIONS:
This fall, get your party started at the Ryman with Sidewalk Sessions, the pre-show party series on our PNC Plaza featuring FREE live music, drinks at our outdoor bar and plenty of giveaways. See Holdyn Barder on the PNC Plaza before the Jason Isbell concert on October 20.
ABOUT HOLDYN BARDER:
Defined by a unique sonic identity capturing familiar summer-infused lyrics, Chesney-like anthems, and stadium-electrifying guitar riffs, Holdyn's Barder's distinct sound conveys the old soul within the 24 year old. Whether it be a catchy beach tune or a heartbreaking ballad, Barder can execute it all. The young star's musical journey began after discovering a blue guitar-shaped paperclip next to his tennis bag in 2013. Taking it as a sign to pursue music, Barder ditched his original plan of becoming a quantum physicist and moved to Nashville in 2019, finishing his undergraduate studies at Belmont University. The Houston-born Philadelphia native's deep connection to country music doesn't begin there, though. Barder grew up singing along to '90s Country in a booster seat in the back of his mom's SUV.
Since moving to Music City, Holdyn Barder has collaborated with songwriters who've penned some of his role models' biggest hits (for Luke Combs, Luke Bryan, Jason Aldean, Rascal Flatts, et. al.). Holdyn Barder's Jersey Shore anthem "Stone Harbor" exploded in Summer 2022. Within a week of its release, NBC, FOX, The Philadelphia Inquirer, and more covered the song's rapid success. Barder spent the rest of the entire summer promoting "Stone Harbor" on an acoustic run throughout the South Jersey region. Barder's song "How Do I Get There From Her" also found similar success in 2022. The Sam Hunt-penned breakup ballad, produced by Tree Vibez Music songwriter Chris Loocke, was featured on CMT and garnered over a quarter of a million streams in its first few weeks.
With aims of selling out stadiums in his lifetime, Barder looks forward to releasing new music and connecting with new country music fans every single day. With a goal to release a full-length project in Summer 2023, along with already having many successful singles under his belt, there is much in store for this young star.
Please note: Plaza events may be rescheduled due to weather conditions.
Friday,
October
20
6:00PM
6:00 PM
Additional Ticket Information
Stay In Touch
Subscribe for updates, events offers and more. To sign up to receive our emails, Fill in the following fields and hit submit. Thanks, and Welcome!