Oct

7

, 2023

6:00 PM

Time

6:00 PM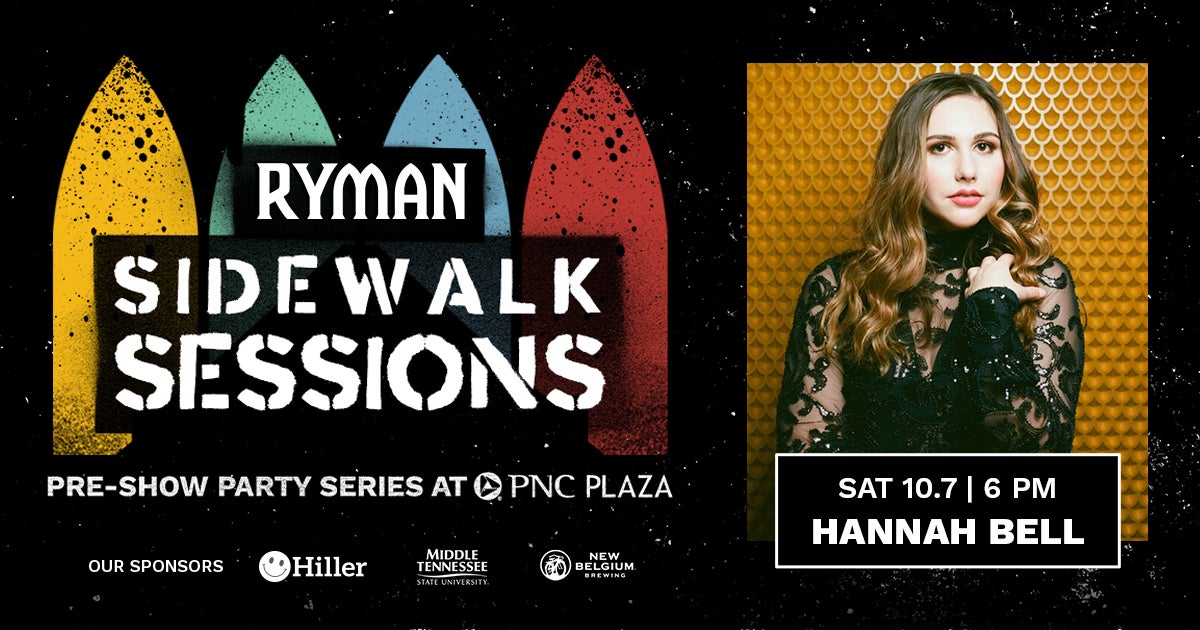 ABOUT SIDEWALK SESSIONS:
This fall, get your party started at the Ryman with Sidewalk Sessions, the pre-show party series on our PNC Plaza featuring FREE live music, drinks at our outdoor bar and plenty of giveaways. See Hannah Bell on the PNC Plaza before the Lucinda Williams concert on October 7.
ABOUT HANNAH BELL:
Texas sweetheart Hannah Bell is a songwriting force to be reckoned with in the pop country world. Moving her roots to Nashville at an early age, Hannah didn't have an ounce of hesitation uprooting her whole world to follow her dreams of becoming an artist. While she began penning her own songs at just eleven years old, her lyrics have always been charmingly intentional, stemming from real-life experiences that outline both her soft and spunky character.
After attending Belmont University to study the music business, the name "Hannah Bell" quickly became a staple around town. Often getting invited to play Nashville's infamous "writers rounds" throughout college, Hannah was put up on stages big and small, all over town alongside big names in the country scene. However– all the lights and noise couldn't keep this pure-hearted talent away from spreading more good, as she adored hopping on the stages of nursing homes, girl scouts, and special-needs beauty pageants.
As she honed in on her songwriting craft, Hannah began working with grammy-nominated producer Brad Hill (Maren Morris, Brett Young, Brothers Osbourne) to create her newest projects. Showcasing her genuine, recognized talent of heartening and comforting her listeners, she worked with Hill to produce her sought-after singles "Get Rid of It", "The Butterfly Song" and "Collecting Dust" that each embodied a different era of the dynamic Hannah Bell.
Heavily influenced by country superstars Shania Twain and Taylor Swift, Hannah credits her bubbly and vibrant stage presence along with her charismatic lyrical writing to these legendary women in the business. With her toes dipped in the pop scene as well, Hannah turns to the notable Post Malone for creating head-turning melodies that catch the attention of her listeners.
In her latest single "Hearts Don't Just Break", Hannah digs back into her bold and spirited side, mixing her already-celebrated pop country sound with a little bit of rock and roll. She is currently in the studio creating her 6th single. With it being almost a year from her last single, Hannah Bell's fans have been eagerly awaiting this next release, which is expected to drop in the next month.
Please note: Plaza events may be rescheduled due to weather conditions.
Stay in Touch
What's almost as iconic as visiting the Ryman? Always having the inside scoop!
Sign up for exclusive updates, offers, and events, so you never miss out on what's happening at the Mother Church.