OLD CROW MEDICINE SHOW
Ketch Secor (fiddle, harmonica, guitar, banjo, vocals) - Morgan Jahnig (upright bass) - Cory Younts (mandolin, keyboards, drums, vocals) - Jerry Pentecost (drums, mandolin) - Mike Harris (slide guitar, guitar, mandolin, banjo, dobro, vocals)
Mason Via (guitar, gitjo, vocals)
On their whirlwind new album Paint This Town, Old Crow Medicine Show offer up a riveting glimpse into American mythology and the wildly colorful characters who populate it. The most incisive body of work yet from the Nashville-based roots band—a two-time Grammy Award-winning juggernaut whose triumphs include induction into the Grand Ole Opry and double-platinum certification for their iconic hit single "Wagon Wheel"—the album pays homage to everyone from Elvis Presley to Eudora Welty while shedding a bright light on the darker aspects of the country's legacy. Fueled by Old Crow's freewheeling collision of Americana, old-time music, folk, and rock & roll, Paint This Town relentlessly pulls off the rare and essential feat of turning razor-sharp commentary into the kind of songs that inspire rapturous singing along.
In a major milestone for Old Crow, Paint This Town marks the first album created in their own Hartland Studio: an East Nashville spot the band acquired in early 2020 then transformed into a clubhouse-like space custom-built to suit their distinct sensibilities. "Over the years we've spent a lot of time and money in professional studios, but this was the first time we'd worked in our own place since back in the late '90s, when we'd hang a microphone from the rafters and record a cassette on our TASCAM 4-track," says frontman Ketch Secor. Co-produced by the band and Matt Ross-Spang (a producer/engineer/mixer who's worked with the likes of John Prine and Jason Isbell), Paint This Town also took shape from a far more insular process than their past work with such producers as Don Was and Dave Cobb (who helmed Old Crow's most recent effort, 2018's widely acclaimed Volunteer). Not only instrumental in allowing the band a whole new level of creative freedom, that self-contained approach helped to revive a certain spirit of pure abandon. "Doing it ourselves was a lot more fun with a lot less stress or pressure, and because of that we were way less precious about it," says Secor. "It all just felt less like a chore and more like a complete joy."
The seventh studio album from Old Crow, Paint This Town opens on its title track: a raucously swinging anthem that fully embodies that joyful energy. With its fable-like account of the band's carefree troublemaking over the last two decades, the track showcases Secor's uncanny knack for packing so much detailed storytelling into a single line (e.g., "We were teenage troubadours hopping on box cars for a hell of a one-way ride"). "Our band has always drawn its inspiration from those elemental American places, where water towers profess town names, where the Waffle House and the gas station are the only spots to gather," says Secor. "This is the scenery for folk music in the 21st century, and the John Henrys and Casey Joneses of today are the youth who rise up out of these aged burgs undeterred, undefeated, and still kicking."
Although much of Paint This Town looks outward to examine the American experiment, Old Crow never shy away from the intensely personal. Written soon after the demise of Secor's marriage, "Bombs Away" puts a devil-may-care twist on the classic divorce song, while the gently galloping "Reasons to Run" invokes the Lone Ranger in confessing to the emotional toll of too much time on the road. And on tracks like "Used to Be a Mountain," Old Crow turn their lived experience into a lens for illuminating larger-scale problems affecting the modern world. "I spent about 25 years of my life very close to the region of Appalachia where strip-mining occurs, which is really dangerous work and destructive for all living things," says Secor of the song's origins. Partly informed by his memories of hitchhiking around coal country as a teenager, "Used to Be a Mountain" emerges as a galvanizing meditation on environmental catastrophe, boldly propelled by Secor's frenetic vocal flow and firebrand poetry ("From the fat cats, race rats, big Pharma, tall stacks/They're the ones digging the hole/All the way down to Guangzhou").
In one of the album's most potent segments, Paint This Town delivers a trio of songs that delve into matters of race and hate and systems of power, embedding each track with Old Crow's vision for a more harmonious future. On "DeFord Rides Again," for instance, the band serves up a gloriously stomping tribute to legendary harmonica player DeFord Bailey (the first Black star of the Grand Ole Opry, who was eventually banned from the show and left in exile). "One of the things that inspired that song was the experiences we've had traveling all over the world and seeing the people who take country music into their hearts," says Old Crow upright bassist Morgan Jahnig. "It's the entire spectrum of humanity—but when you look at the people making country music, it tends to be pretty monochromatic. If we really want to push music forward, we need to let all kinds of people have a voice." Featuring Mississippi-bred musician Shardé Thomas on fife (a piccolo-like instrument often used in military bands), the soul-stirring "New Mississippi Flag" dreams up an insignia that truly honors the state's rich cultural heritage ("She'll have a stripe for Robert Johnson/And one for Charlie Pride"). "We're living in a time in which there's a great undoing of the mythologies that were created in order for the South to alter its view of itself, and with that undoing comes a repurposing," Secor points out. Meanwhile, "John Brown's Dream" unfolds as a swampy and smoldering portrait of the notorious radical abolitionist and his brutally violent attempt at rebellion.
Throughout Paint This Town, Old Crow bring their spirited reflection to an endlessly eclectic sound, spiking their songs with elements of everything from gospel (on "Gloryland," a heavy-hearted lament for our failure to care for each other) to Southern highlands balladry (on "Honey Chile," a melancholy love song graced with soaring harmonies and swooning fiddle melodies). That deliberate unpredictability has defined Old Crow since their earliest days, when they got their start busking on the streets with pawnshop-bought instruments. Through the years, they've continually breathed new life into their sound by inviting new musicians into the fold; to that end, Paint This Town marks the first album to include Jerry Pentecost (drums, mandolin), Mike Harris (slide guitar, guitar, mandolin, banjo, dobro, vocals), and Mason Via (guitar, gitjo, vocals). "We were auditioning new members during the process of putting the studio together—so if you signed up to be in this band, you got handed a paint roller and a list of songs to learn," says Secor. As they got Hartland Studio up and running, Old Crow also launched the Hartland Hootenanny: an hour-long variety show livestreamed every Saturday night during lockdown, with guest appearances from the likes of Amythyst Kiah, Billy Strings, Marty Stuart, and The War and Treaty. "The Hartland Hootenanny kept us joyous during what could've been a very bleak time," Secor says. "It helped us process the experience of Covid and George Floyd's death and all the urgent cries for change, but at the same time we talked about full moons and football and summer camp—which in a way symbolizes everything we are as a band."
Indeed, Old Crow ultimately consider that mingling of the joyous and the profound to be the very life force of their collective. "At the end of the day, we're still just trying to stop you on the street and get you to put a dollar in the guitar case," says Jahnig. "Then once we've got your attention, we're gonna tell you about things like the opioid epidemic and the Confederate flag and what's happening with the environment—but we're gonna do it with a song and dance. We feel a great obligation to talk about the more difficult things happening out there in the world, but we also feel obligated to make sure everyone's having a great time while we do it."
Venue Information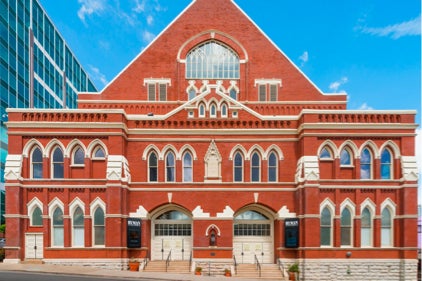 Ryman Auditorium
Ryman Auditorium, located at 116 Rep. John Lewis Way North, in Nashville, Tennessee, is one of the most celebrated venues in modern music. Built in 1892, the historic 2,362-seat live performance venue is the most famous former home of the Grand Ole Opry and is revered by artists and music fans for its world-class acoustics. A bucket list moment for both fans and artists alike, her iconic stage has hosted performers from across genres, such as Elvis Presley, Bruce Springsteen, Charley Pride, Loretta Lynn, Johnny Cash, Harry Styles, Wu-Tang Clan, Lizzo, and thousands more. While offering a diverse lineup and thriving concert schedule with over 200 shows per year, the venue is also open for daytime tours year-round. Along with best-in-class production technologies and livestream capabilities, the Ryman has been named Pollstar's Theater of the Year for 13 years through 2021.
Stay in Touch
What's almost as iconic as visiting the Ryman? Always having the inside scoop!
Sign up for exclusive updates, offers, and events, so you never miss out on what's happening at the Mother Church.