The April 27, 28 & 29 Nickel Creek shows have been rescheduled. Please hold on to your tickets as they will be valid for the new date. Please reach out to point of purchase with any questions or concerns. Please see below for the new show dates:

April 27: Rescheduled for September 4
April 28: Rescheduled for September 5
April 29: Rescheduled for September 6

A Note from Nickel Creek:

Nothing upsets us more than not being able to deliver a scheduled performance (which has happened just once before in our 34 years as a band), especially because as devoted concertgoers ourselves, we know how much goes into attending. We are deeply moved (and now further saddened) to see and hear the stories of how far many of you were traveling/have travelled to join us at these shows, and will be doing EVERYTHING IN OUR POWER to make it up to you over the course of this year's touring. We are so grateful for each and every one of you, and so, so, SO sorry about this news.

To make a long story short, Chris started the tour with a sinus infection, then caught the flu, and attempted to sing through it, which damaged his vocal chords. His doctor, one of the country's top voice specialists, says that he'd be risking far more serious damage if we proceeded, and has prescribed a couple weeks of rest and rehab. So, to everyone who put so much into attending these shows, our extraordinary crew, and our management team (who are working tirelessly to make this as right as is humanly possible), please accept our very sincerest apologies. We can't WAIT to get back on the horse in late May, and look forward MORE THAN EVER to our next evening with you.

Xoxoxo,

Chris, Sara, and Sean


Monday,
September
4
8:00PM
8:00 PM
Tuesday,
September
5
8:00PM
8:00 PM
Wednesday,
September
6
8:00PM
8:00 PM
Venue Information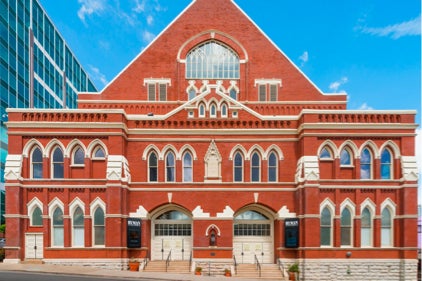 Ryman Auditorium
Ryman Auditorium, located at 116 Rep. John Lewis Way North, in Nashville, Tennessee, is one of the most celebrated venues in modern music. Built in 1892, the historic 2,362-seat live performance venue is the most famous former home of the Grand Ole Opry and is revered by artists and music fans for its world-class acoustics. A bucket list moment for both fans and artists alike, her iconic stage has hosted performers from across genres, such as Elvis Presley, Bruce Springsteen, Charley Pride, Loretta Lynn, Johnny Cash, Harry Styles, Wu-Tang Clan, Lizzo, and thousands more. While offering a diverse lineup and thriving concert schedule with over 200 shows per year, the venue is also open for daytime tours year-round. Along with best-in-class production technologies and livestream capabilities, the Ryman has been named Pollstar's Theater of the Year for 13 years through 2021.
Stay In Touch
Subscribe for updates, events offers and more. To sign up to receive our emails, Fill in the following fields and hit submit. Thanks, and Welcome!