Mitchell Tenpenny abandoned dreams of being a professional football player because his late-night songwriting showcases were at odds with early-morning college football practice. The grandson of famed country music publishing executive Donna Hilley, songwriting is in Tenpenny's blood. He has the inborn understanding of how details bring lyrics alive and the contemporary sensibilities to craft songs that country music fans crave.
His new eight-song EP "Midtown Diaries" distills his gift into infectious jams about girls and small towns, anthemic odes to love and raw, rapid-fire heartbreak. Ignited by the juxtaposition of Tenpenny and Jordan Schmidt's progressive co-production and Tenpenny's distinct, textured vocals, "Midtown Diaries" is the coming-of-age soundtrack for country fans of every vintage. He co-wrote every song.
"I want people to find their song on the EP," Tenpenny said. "That's why I gave it so much variety – love songs, break-up songs, weird songs that just feel groovy. I want them to fall in love with this, but in a way that they're like, 'Yes, I need more.'"
"Midtown Diaries" is the follow-up to Tenpenny's debut album "Telling All My Secrets," home to his double-platinum 2018 No. 1 smash "Drunk Me." The song led the Nashville native to personal and professional opportunities that range from meeting the love of his life to his co-write and duet on Chris Young's current single "At the End of a Bar."
"That doesn't happen without success," he said. "You don't get chances in this town. You have to earn them. You have to get lucky. 'Drunk Me' was the only reason people started listening to me. It set rocket fuel to my career."
Being the artist was never his plan. Playing in bands was Tenpenny's first passion. When he was 13 years old, he was the drummer and screamer in a hard rock band with his friends. He wrote his first song around then, too, and while he describes the lyrics as 'terrible,' it made his mother cry happy tears. The song was country, had a catchy melody and she could understand the words. Her reaction triggered a shift in Tenpenny's musical goals, and he started to write traditional-sounding country music songs. He continued to perform with his friends, but they went separate ways when the boys graduated high school.
Tenpenny headed to Lipscomb University to play football, then transferred to MTSU, where he shared a
room
with his best friend and fellow songwriter Brad Clawson. He planned to continue to play football, but his love of the game couldn't compete with his passion for songwriting. He took a professional songwriting class at MTSU where the professor and his classmates took turns critiquing each other's material. The course culminated with a performance at Bluebird Café – his first time on the famous stage. His grandmother, his mom and dad and all this mother's friends came to the show.
"That was the first legitimate thing I got to do in the music industry," he said.
After graduation, Tenpenny took a job in construction to pay the bills while working toward being a professional songwriter. Night after night, he sang his songs in bars and clubs, hoping that someone would want to record them. The feedback he received was consistent – he should record his songs instead of pitching them to other artists. One of those people, he said, was Craig Wiseman – Tenpenny's favorite songwriter. Wiseman, known for writing hits including Tim McGraw's "Live Like You Were Dying," offered to write with the young songwriter. The write took a year to happen, but Wiseman's endorsement gave Tenpenny the confidence to keep pushing forward.
"I was like, 'Okay, if this guy is coming up and saying that then maybe this is possible," he said. "My career took off from there."
Equipped with a catalog of hundreds of songs he'd written, Tenpenny signed a publishing deal with Sony/ATV and scored several popular song cuts, including Granger Smith's Top 10 hit, "If the Boot Fits."
In 2017, he played a set during CMA Music Fest that attracted the attention of Sony Music Nashville. Label executives in the audience were intrigued by fans' response to his "Alcohol You Later." Within two weeks, they were in serious negotiations for the singer's first major-label record deal. Sony was so sure of Tenpenny's talent that they sent him on a radio tour to promote his debut single "Drunk Me" before the deal was finalized.
"It was crazy," Tenpenny said of the chain of events. "You just never know who is in the crowd. The faith and trust that they had in me for them to just say, 'Hey, we'll get it all figured out, but we gotta go,' was pretty awesome. I didn't have a lot of time to think about it. It was like, 'I'm going to be an artist.'"
Sony Music Nashville revealed Tenpenny's signing – a joint venture between Tenpenny's Riser House and Columbia Nashville – in early 2018. Powered by the success of "Drunk Me," Tenpenny's first album, "Telling All My Secrets," came out at the end of the year and earned him the best first-week showing for any major label country debut LP of 2018.
"Drunk Me" was praised by the New York Times as one of the best songs of 2018, made history by achieving the highest entry for a new artist on Nielsen's On Demand Audio Core Country Streaming chart, and has since amassed more than 500 million streams.
In 2019, he kept his momentum and earned a New Male Artist of the Year nomination at the ACM Awards and a nod for Breakthrough Video ("Drunk Me") at the CMT Music Awards. He was the only country artist named one of Pandora's 2019 Artists to Watch and was included on prestigious lists such as Music Row's Next Big Thing and The Tennessean's Next Nashville Stars.
He didn't intend for there to be a nearly three-year gap between projects. But, just as it did for most people, 2020 put a glitch in Tenpenny's plans. He wanted to capitalize on the success of "Drunk Me," keep releasing new music and log plenty of time on the road introducing it to fans. Touring is a vital part of the success of new music, and since that wasn't possible, he had to reevaluate.
He used the extra time to write songs, including many of the songs on "Midtown Diaries," "At the End of a Bar," and more he hopes to release later.
"A lot of life has happened in three years," he said. "I'm a different person. Some of these songs, when we're going back and listening to stuff, you gotta make sure that you're still in that headspace. A lot of songs that I loved back then ended up not making it because I'm just not the same person I was when I wrote it. It was writing every day for almost three years and picking eight songs out of that."
Since the pandemic prevented Tenpenny from testing new songs with audiences, he turned to TikTok to vet material for "Midtown Diaries." "Truth About You," the EP's lead single, likely wouldn't have made the project if it hadn't gone viral on TikTok. He wrote the break-up song – a fervent, wounded mid-tempo wrapped in contemporary production – more than two years ago. He found "Truth About You" while reviewing older songs and tossed it on TikTok. Two-and-a-half million plays earned it a slot on the EP.
He wrote "Truth About You" with Thomas Archer and Matt Alderman.
"At that time in my life, I was like, 'I know exactly how to write this song. I've lived it before,'" he said. "I'm not in that headspace anymore, but I want to write songs people can relate to and use for good. If it helps them through a break-up, that's everything for me."
Tenpenny released "Truth About You" to streaming services in July. Within days of its release, "Truth About You" was streamed more than 1.4 million times to make it the largest streaming debut of his career.
While "Truth About You" isn't indicative of Tenpenny's headspace – "I Can't Love You Any More" is the singer to a tee. The song, written with HARDY and Schmidt, is a positive up-tempo love song inspired by his girlfriend.
The lyric is: "I can't love you any more than I do right now."
"It's one of those classic country songs with the turn of phrase," he explained. "I just wrote that song about looking at my girlfriend from across the room and the little things she does. I'm so glad it made the record because when I hear it, I see her."
Tenpenny co-wrote "To Us It Did" with HARDY and Schmidt, too. A nostalgic, feel-good bop, the song explores the small moments that comprise the best memories.
"We just wrote about our lives growing up," Tenpenny said. "It's those moments where you're talking back with your friends, and to you all, it means everything. But if you tell it to someone else, they don't care. It was a lot of fun to kind of reflect back on those."
Tenpenny debuted "Bucket List" at the beginning of the year. Written with Laura Veltz and Chris DeStefano about two years ago, "Bucket List" was inspired by fans' connection to Tenpenny's "Walk Like Him." Tenpenny wanted to give listeners a song about loss that offered hope.
"It was perfect because it wasn't too serious, and we could make the song hopeful about taking care of things right now," he said.
Tenpenny is filled with hope right now. He's thankful to be back on the road playing music again. He wants people to hear "Midtown Diaries," and he's optimistic that "At the End of a Bar" could be his first No. 1 hit as a songwriter for another artist, which is an item on his bucket list.
"Midtown Diaries" has a song for every emotion carefully crafted to marry country music's love affair with lyrics with modern production tailor-made for country radio.
And Tenpenny's mama definitely approves.
Venue Information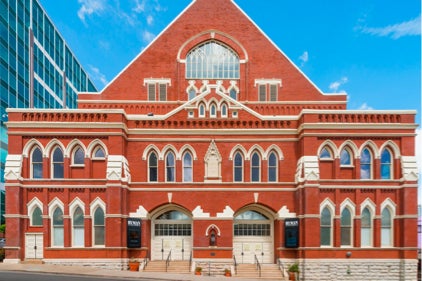 Ryman Auditorium
Ryman Auditorium, located at 116 Rep. John Lewis Way North, in Nashville, Tennessee, is one of the most celebrated venues in modern music. Built in 1892, the historic 2,362-seat live performance venue is the most famous former home of the Grand Ole Opry and is revered by artists and music fans for its world-class acoustics. A bucket list moment for both fans and artists alike, her iconic stage has hosted performers from across genres, such as Elvis Presley, Bruce Springsteen, Charley Pride, Loretta Lynn, Johnny Cash, Harry Styles, Wu-Tang Clan, Lizzo, and thousands more. While offering a diverse lineup and thriving concert schedule with over 200 shows per year, the venue is also open for daytime tours year-round. Along with best-in-class production technologies and livestream capabilities, the Ryman has been named Pollstar's Theater of the Year for 13 years through 2021.
Stay in Touch
What's almost as iconic as visiting the Ryman? Always having the inside scoop!
Sign up for exclusive updates, offers, and events, so you never miss out on what's happening at the Mother Church.