John Mellencamp's career in music has spanned more than 35 years during which time he transitioned from pre-fab pop idol to one of the most highly regarded mature songwriters of a generation. Mellencamp fell in love with music at an early age and was fronting a soul band in his native Indiana by the time he was 14. He would go on to release 26 albums with domestic sales exceeding 40 million units.
He has been nominated for 13 Grammys, was recipient of Billboard's Century Award, ASCAP Foundation's Champion Award, The Woody Guthrie Award, Q's Classic Songwriter Award and was inducted into the Rock and Roll Hall of Fame. Mellencamp has amassed 22 Top 40 hits and holds the record for the most tracks by a solo artist to hit #1 on the Hot Mainstream Rock Tracks Chart. The social activism that is reflected in his songs was one of the key catalysts that launched Farm Aid, the concert series and organization that has addressed the struggle of American family farmers for more than 25 years.
A career landmark occurred on March 10, 2008, when John was inducted into the Rock And Roll Hall Of Fame by Billy Joel at the annual induction ceremony in New York City. He hardly rested on his laurels with the release of Life, Death, Live and Freedom (an acclaimed live disc containing most of the songs from Life, Death, Love, and Freedom), and John's participation in a 2009 summer-long tour with Bob Dylan and Willie Nelson.

During days off during that tour John recorded, No Better Than This, again produced by T Bone Burnett. The release of No Better Than This was preceded by a few weeks by the four-CD box set, On The Rural Route 7609 made up mainly of versions of some of his classic songs other then the well known ones in general release. More recently, Universal issued John Mellencamp 1978 – 2012, a 17 CD set that encompasses all of the key albums of his career. On May 29, 2014 Republic Records announced an unprecedented "lifetime" recording contract with John. Mellencamp continues to evolve artistically with Plain Spoken—the first new music from the artist since 2010's critically acclaimed No Better Than This released in Setpember 2014.
Work continues on John's hugely ambitious "Ghost Brothers of Darkland County" musical theater collaboration with Stephen King -- a project that has come to life over the course of more than 10 years of effort. The story, which involves domestic turmoil, some of it supernatural. A touring version of "Ghost Brothers" played a string of dates in the Midwest in 2013 and a North American Fall tour beginning in November 2014.

Meanwhile, John continues to focus on another facet of his artistic expression: painting. He first came to New York in the 1970 with the intention of studying painting if his music career aspirations didn't pan out but started painting in earnest in the 1980's as a way to be creative in a more self-contained manner. His style has evolved over the years as evidenced by several gallery shows and published portfolios, and in recent years he has increased his output by completing over 100 new works. The current exhibit The Paintings of John Mellencamp will travel Museum of Art-DeLand, Florida, where it will be on view from October 16, 2014 through January 4, 2015 and the Morris Museum of Art in Augusta, GA from January 17 to April 12, 2015. Plans are being finalized for the exhibition to travel to additional museums. John's art will soon be seen at ACA Gallery in New York.
John has said many times in interviews that you will never meet anyone luckier than John Mellencamp. He is grateful for the support of those who have enjoyed his work and career over the years. If he has any advice to offer, it is to be tenacious: John's found that far too many people quit too soon in the face of early disappointment. While his own early efforts may have been faltering, he stayed with it--and that tenacity has been rewarded with the successes that continue to the present.
John Mellencamp continues to live and work in Bloomington, Indiana. He is the father of two sons, Hud and Speck and three daughters, Michelle, Teddi Jo and Justice.
Venue Information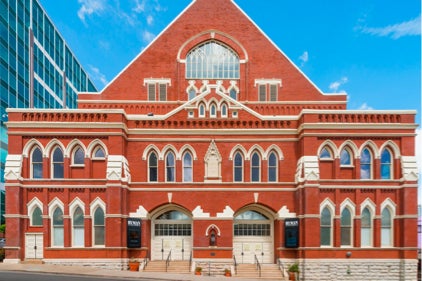 Ryman Auditorium
Ryman Auditorium, located at 116 Rep. John Lewis Way North, in Nashville, Tennessee, is one of the most celebrated venues in modern music. Built in 1892, the historic 2,362-seat live performance venue is the most famous former home of the Grand Ole Opry and is revered by artists and music fans for its world-class acoustics. A bucket list moment for both fans and artists alike, her iconic stage has hosted performers from across genres, such as Elvis Presley, Bruce Springsteen, Charley Pride, Loretta Lynn, Johnny Cash, Harry Styles, Wu-Tang Clan, Lizzo, and thousands more. While offering a diverse lineup and thriving concert schedule with over 200 shows per year, the venue is also open for daytime tours year-round. Along with best-in-class production technologies and livestream capabilities, the Ryman has been named Pollstar's Theater of the Year for 13 years through 2021.
Stay in Touch
What's almost as iconic as visiting the Ryman? Always having the inside scoop!
Sign up for exclusive updates, offers, and events, so you never miss out on what's happening at the Mother Church.