Critics, fans and fellow comedians agree: Brian Regan is one of the most respected comedians in the country with Vanity Fair calling Brian, "The funniest stand-up alive," and Entertainment Weekly calling him, "Your favorite comedian's favorite comedian." Having built his 30-plus year career on the strength of his material alone, Brian's non-stop theater tour continuously fills the most beautiful venues across North America, visiting close to 100 cities each year.
On February 23, 2021, Brian premiered his second Netflix stand-up special, Brian Regan: On The Rocks, which was shot at Tuachan Center for the Arts, an outdoor amphitheater in Utah. Brian's first Netflix special, Brian Regan: Nunchucks And Flamethrowers, premiered to rave reviews on November 21, 2017, and is also available as a vinyl album.
Brian returned for his third season in Peter Farrelly's TV series, Loudermilk, which premiered on April 27, 2021, streaming on Amazon Prime. Farrelly personally cast Brian in the series alongside Ron Livingston, Anja Savcic, Will Sasso and Mat Fraser. Brian received praise for his portrayal of "Mugsy," a recovering addict who is estranged from his family. The first two seasons of Loudermilk originally aired on AT&T's Audience Network and moved to Amazon Prime on March 12, 2021.
Brian stars in his own Netflix series, Stand Up And Away! With Brian Regan, which premiered on Christmas Eve 2018. Brian and Jerry Seinfeld Executive Produce the four-episode original half-hour series that combines sketch comedy and stand-up.
Brian made his London debut on February 2, 2019 at The Leicester Square Theatre and he made his Kennedy Center debut with two sold-out shows on March 21 & 22, 2019. He appeared at Carnegie Hall on November 11, 2017 following years of performances in New York City's finest theaters including Lincoln Center's Avery Fisher Hall, The Beacon Theater and Radio City Music Hall. Brian's tour has included visits to Denver's legendary 8600-seat Red Rocks Amphitheater and the 12,500-seat EnergySolutions Arena in Salt Lake City.
In 2015, Brian made history with his stand-up special, Brian Regan: Live From Radio City Music Hall, as the first live broadcast of a stand-up special in Comedy Central's history.
A regular on The Tonight Show Starring Jimmy Fallon, Brian is the rare guest who the show invites on for two segments: a performance segment and a segment on the couch to chat with Jimmy. Previously, Brian was a regular guest on The Late Show with David Letterman, making 28 appearances on the CBS show.
Brian made a scene-stealing cameo in Chris Rock's film, Top Five, and he is a guest on two episodes of Seinfeld's Comedians in Cars Getting Coffee, which is now streaming on Netflix.
Brian has eight hour-long comedy releases:
Brian Regan: On The Rocks (2021) – Premiered on Netflix on February 23, 2021
Brian Regan: Nunchucks and Flamethrowers (2017) – Available on Netflix
Brian Regan: Live From Radio City Music Hall (2015) – Broadcast live on Comedy Central, now available on CD & DVD and as a video or audio download
All By Myself (2010) only available as a CD or download only through his website
The Epitome of Hyperbole (2008) – Premiered on Comedy Central, now available on DVD
Brian Regan Standing Up (2007) – Premiered on Comedy Central, now available on DVD
I Walked on the Moon (2004) - Available on DVD or as an audio or video download only through his website
Brian Regan Live (1997) - Available on CD
For more visit Brian's website and follow Brian on Twitter, Instagram and Facebook.
Wednesday,
June
19
7:30PM
7:30 PM
Venue Information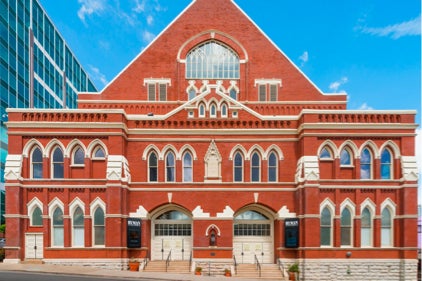 Ryman Auditorium
Ryman Auditorium, located at 116 Rep. John Lewis Way North, in Nashville, Tennessee, is one of the most celebrated venues in modern music. Built in 1892, the historic 2,362-seat live performance venue is the most famous former home of the Grand Ole Opry and is revered by artists and music fans for its world-class acoustics. A bucket list moment for both fans and artists alike, her iconic stage has hosted performers from across genres, such as Elvis Presley, Bruce Springsteen, Charley Pride, Loretta Lynn, Johnny Cash, Harry Styles, Wu-Tang Clan, Lizzo, and thousands more. While offering a diverse lineup and thriving concert schedule with over 200 shows per year, the venue is also open for daytime tours year-round. Along with best-in-class production technologies and livestream capabilities, the Ryman has been named Pollstar's Theater of the Year for 13 years through 2021.
Stay in Touch
What's almost as iconic as visiting the Ryman? Always having the inside scoop!
Sign up for exclusive updates, offers, and events, so you never miss out on what's happening at the Mother Church.