"OK, we're rolling."

And with those three declarative words - as spoken by producer Kevin Elson right after the music kicks in on Open Your Eyes, an instant callback to the beginning of "Addicted to That Rush," the hard-charging lead track on the band's self-titled 1989 debut - Mr. Big plants the flag between past, present, and future with DEFYING GRAVITY, the band's ninth original studio album that's set for release on Frontiers Music Srl on July 7, 2017.

DEFYING GRAVITY, recorded in just six (count 'em!) days at Ocean Studios in Burbank, California, reunites Mr. Big with the aforementioned noted producer Kevin Elson (Journey, Europe, Lynyrd Skynyrd), who's back behind the boards for the first time since helming the band's first four albums. DEFYING GRAVITY deftly showcases that patented Mr. Big blend of crunch and melody, from the freight-train ride of the aforementioned opening cut Open Your Eyes to the harmony-laden wonderment of Damn I'm in Love Again to the grateful/wistful nostalgia of 1992 (recalling the days when the band was flying high atop the singles charts with their international #1 smash To Be With You) to the barnburning slide-blues closing track, Be Kind. Overall, DEFYING GRAVITY is prime evidence that the only thing Mr. Big remains tethered to is their ongoing pursuit of achieving creative excellence.
Wednesday,
January
24
7:30PM
7:30 PM
Venue Information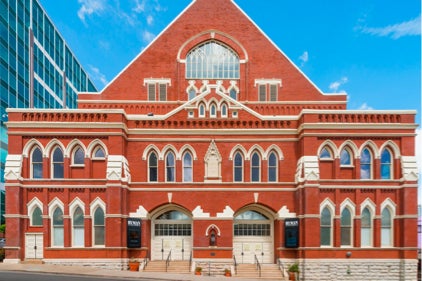 Ryman Auditorium
Ryman Auditorium, located at 116 Rep. John Lewis Way North, in Nashville, Tennessee, is one of the most celebrated venues in modern music. Built in 1892, the historic 2,362-seat live performance venue is the most famous former home of the Grand Ole Opry and is revered by artists and music fans for its world-class acoustics. A bucket list moment for both fans and artists alike, her iconic stage has hosted performers from across genres, such as Elvis Presley, Bruce Springsteen, Charley Pride, Loretta Lynn, Johnny Cash, Harry Styles, Wu-Tang Clan, Lizzo, and thousands more. While offering a diverse lineup and thriving concert schedule with over 200 shows per year, the venue is also open for daytime tours year-round. Along with best-in-class production technologies and livestream capabilities, the Ryman has been named Pollstar's Theater of the Year for 13 years through 2021.
Stay in Touch
What's almost as iconic as visiting the Ryman? Always having the inside scoop!
Sign up for exclusive updates, offers, and events, so you never miss out on what's happening at the Mother Church.