On their earthy, jubilant new album, the Columbus, Ohio, band Caamp examine those in-between days that make up a life—not the best or most eventful days, certainly not the worst or most tragic, but those full of small pleasures and forgotten disappointments. Taylor Meier, the group's singer and primary songwriter, came up with the phrase Lavender Days to describe them—a phrase that struck him out of the blue, "like a coconut out of the sky," he says with a laugh. Why lavender? "It's nostalgic. It can remind you of your grandmother's perfume or maybe the air freshener in your mom's car. It can summon up all of these incredible memories and transport you to those in-between days, which I think everybody remembers with more clarity than the big events."
Caamp have been writing and singing about those lavender days—in tender love songs tinged with melancholy and determination—ever since Meier played his first notes with bandmate Evan Westfall more than a decade ago. They met as students at Ohio University in Athens, playing local coffeehouses and growing more committed to this extracurricular project. With the addition of Matt Vinson on bass and Joseph Kavalec on keyboards, they built up a grassroots following well beyond the Buckeye State based on the inventiveness of Meier's songwriting, the exuberance of their live performances, and their tireless dedication to touring as much as possible.
From their self-titled 2016 debut album to their most recent releases of By and By in 2019 to Live From Newport Music Hall, "Fall, Fall, Fall", and "Officer of Love" in 2020 the band has amassed over 590 million streams globally as well as achieved multiple #1's at AAA radio. The band has headlined sold out shows and performed at major festivals around the world including Firefly, Shaky Knees, Forecastle, Outside Lands, Austin City Limits, Great Escape and many more. They have also performed on national TV on Jimmy Kimmel Live!, CBS This Morning Saturday and Late Show with Stephen Colbert.
Their new album Lavender Days will be released via Mom + Pop records on June 24th.
Thursday,
November
2
8:00PM
8:00 PM
Friday,
November
3
8:00PM
8:00 PM
Venue Information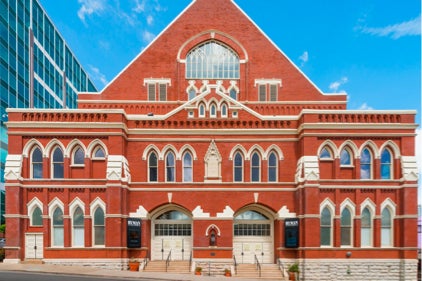 Ryman Auditorium
Ryman Auditorium, located at 116 Rep. John Lewis Way North, in Nashville, Tennessee, is one of the most celebrated venues in modern music. Built in 1892, the historic 2,362-seat live performance venue is the most famous former home of the Grand Ole Opry and is revered by artists and music fans for its world-class acoustics. A bucket list moment for both fans and artists alike, her iconic stage has hosted performers from across genres, such as Elvis Presley, Bruce Springsteen, Charley Pride, Loretta Lynn, Johnny Cash, Harry Styles, Wu-Tang Clan, Lizzo, and thousands more. While offering a diverse lineup and thriving concert schedule with over 200 shows per year, the venue is also open for daytime tours year-round. Along with best-in-class production technologies and livestream capabilities, the Ryman has been named Pollstar's Theater of the Year for 13 years through 2021.
Stay In Touch
Subscribe for updates, events offers and more. To sign up to receive our emails, Fill in the following fields and hit submit. Thanks, and Welcome!