Liz Phair is a Grammy-nominated singer songwriter whose debut album, Exile In Guyville, is considered by music critics to be a landmark of indie rock. She has been a recording artist and touring performer for twenty-five years, paving the way for countless music artists, particularly women, who count her among their major influences. Her deeply clever and often brutally candid songs have been garnering critical praise since she began her career in the early 1990s in Chicago by self-releasing audio cassettes under the name Girly-Sound. The intense viral response to these early tracks led to Phair signing with the independent record label Matador Records.
Her 1993 debut studio album Exile in Guyville was released to international acclaim; it has been ranked by Rolling Stone as one of the 500 Greatest Albums of All Time, by Pitchfork as one of the 100 Greatest albums of the 90's and is considered one of the most accomplished debut albums for any artist in any genre to date. She was featured on the cover of Rolling Stone Magazine, topped SPIN's 20 Best Albums of the Year, and reached No.1 on the Village Voice Pazz and Jop Critics Poll. Phair joined Lilith Fair in 1998-9, performing as a main stage headliner along with top female acts of the day like Sarah McLachlan, Emmylou Harris, Sheryl Crow and Missy Elliott.
In Spring 2016 Liz toured with The Smashing Pumpkins on their North American "In Plainsong" tour. Liz is currently working on a new record, and will be touring in June.
2018 marks the 25th Anniversary of Exile in Guyville. To celebrate, Matador Records will be re-issuing the record along with a box-set. Phair has sold over five million records worldwide, with three US gold albums and two Grammy nominations. More than two decades after the release of her debut, Phair's influence in contemporary music and particularly over female voices in alternative music can be felt today more than ever.
Venue Information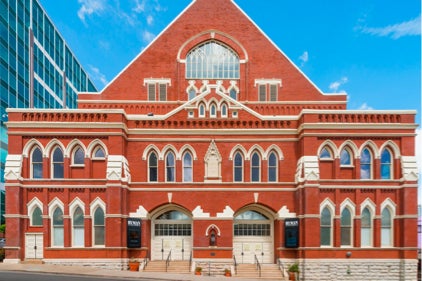 Ryman Auditorium
Ryman Auditorium, located at 116 Rep. John Lewis Way North, in Nashville, Tennessee, is one of the most celebrated venues in modern music. Built in 1892, the historic 2,362-seat live performance venue is the most famous former home of the Grand Ole Opry and is revered by artists and music fans for its world-class acoustics. A bucket list moment for both fans and artists alike, her iconic stage has hosted performers from across genres, such as Elvis Presley, Bruce Springsteen, Charley Pride, Loretta Lynn, Johnny Cash, Harry Styles, Wu-Tang Clan, Lizzo, and thousands more. While offering a diverse lineup and thriving concert schedule with over 200 shows per year, the venue is also open for daytime tours year-round. Along with best-in-class production technologies and livestream capabilities, the Ryman has been named Pollstar's Theater of the Year for 13 years through 2021.
Stay in Touch
What's almost as iconic as visiting the Ryman? Always having the inside scoop!
Sign up for exclusive updates, offers, and events, so you never miss out on what's happening at the Mother Church.