"I turned thirty and I was like, 'What do I want the rest of my life to look like?,' " says Brittany Howard. "Do I want to play the same songs until I'm fifty and then retire, or do I do something that's scarier for me? Do I want people to understand me and know me, do I want to tell them my story? I'm very private, but my favorite work is when people are being honest and really doing themselves."
As the frontwoman and guitarist for Alabama Shakes, Howard has become one of music's most celebrated figures—the band has won four Grammys (out of its nine nominations), and she has performed everywhere from the Obama White House to the main stage at Lollapalooza, where she sang with Paul McCartney at his invitation. But for her solo debut, Jaime, Howard boldly decided to explore new directions, with diverse instrumentation and arrangements and intimate, revelatory lyrics.
"It's scary to mess with success, because the Shakes are doing so good," she says. "But I needed to shake it up—and if you're going to do that, you better go all out and make it worth it."
Howard had amassed a bunch of ideas and song scraps, things that felt like they were outside the realm of the band. Her plans weren't clear for these incomplete tracks, which were mostly recorded alone on her laptop and given temporary, random titles—making it challenging to even locate them later.
"I wanted to do something on my own, just my music, that didn't have to have a genre or stick to fans' expectations," she says. "I knew I wanted to do a record, but I didn't know where to begin. I was freaking out, I didn't know what to sing or what it would sound like. I was writing every day, putting all this stress on myself, hoping something would happen."
In search of inspiration, Howard left her home in Nashville and went to Topanga Canyon for a change of scenery. "I was staying in this beautiful place and I was miserable because the songs just weren't coming," she says.
When she eventually went into engineer Shawn Everett's studio in Los Angeles to record, she only had a handful of finished songs. But once she started working with the band she had assembled—a core group of Alabama Shakes bassist Zac Cockrell ("We've known each other since we were kids," she says, "so working with another bass player seemed ludicrous"), innovative jazz-based keyboard player Robert Glasper, and drummer Nate Smith—Howard started to feel the music taking shape, sometimes out of their playing and sometimes simply out of conversations.
"I had forgotten some of these songs even existed," Howard says with a laugh. "'History Repeats' took forever to mix because it's the original from my Logic recording, which I had recorded vocals on just to show my friend how the program worked and then forgot about it. The vocal on 'Run to Me' was recorded on a cell phone!"
The work Howard has done with her side bands, Thunderbitch and Bermuda Triangle, also impacted her ambitions for the songs on Jaime. "The Shakes do a cycle of recording and touring, and then I get restless in the time off," she says. "Actually, to me, there is no time off—I'm a creative person and I need to create or I just feel weird, not fully human.
"With Bermuda Triangle," she continues, "I learned about raising my own voice. The other girls had their own songs, they could just play them on an acoustic guitar and they didn't need a band. My music is really composed, with lots of moving pieces, so that inspired me to really pay more attention to what I write and try to be a better songwriter."
Different sounds and approaches started to emerge. Howard plays all the parts on "Short and Sweet," while "Presence" sees her accompanied only by a harp. "13
th
Century Metal" grew out of Glasper and Smith jamming in the studio—"I heard that and knew I had to do something with it," she says.
Even more striking, though, are the stories Howard is telling on Jaime, the deeply personal and emotional territory she covers directly and nakedly, stripped of overtly poetic distance. She confronts harsh truths about relationships in songs like "Baby" and "Tomorrow" and examines spiritual ritual in "He Loves Me."
Howard points to "Georgia" as a breakthrough song on the project, and for herself. "That's a straightforward love song to another woman, which is something I never confronted until I was older," she says. "In a small town like where I come from, different is bad—I never wanted to be different. My greatest wish was to be like everybody else. I didn't want to be almost six feet tall, didn't want this big, bushy hair. That's the truth of what it feels like to hold everything in and just want to be accepted for being yourself."
"Goat Head" is a painfully candid account of Howard's family experience when she was growing up as a mixed-race child in a small Southern town. "It's a story my mom told me when I was 13 or 14," she says, "about how it was really hard to have little brown babies, how hard it was raising us. I never saw our town that way, never experienced it because I was too young, but it explained so much about my mom—why she was always so stressed, had so much trouble getting a job.
"When I sang it, I instantly felt afraid, embarrassed, vulnerable. I was definitely scared for the sake of my folks, bringing up bad memories, But it is my story to tell—that song was the experience of growing up in the South."
Howard titled the album after her sister, who taught her to play the piano and write poetry, and who died of cancer when they were still teenagers. "The title is in memoriam, and she definitely did shape me as a human being," says Howard. "But it's also about me—the people who know me well know how important she is to me."
As the first project to come out under Brittany Howard's own name, Jaime represents an enormous step both musically and personally. "It's my first time making decisions on my own, being the captain of the ship," she says. "It brings up existential questions—why am I here, why do I do this? People think that touring in a band is super-fun, and it can be, but nothing about it is normal. You miss out on a lot of stuff, so I need to make sure I'm doing it for the right reasons."
Howard looks forward to playing these songs live, but is tempering her expectations. "I have no idea what's going to happen," she says. "I have to measure my success by the fact that I did something I didn't think I could do—I knew I could, but I didn't know if I would. So just the fact that I made it, and gave myself permission to just fuck it up and do some stuff that's maybe stupid and not cool, is pretty successful. Being a creative person, that's the most successful thing."
Tuesday,
November
7
7:30PM
7:30 PM
Venue Information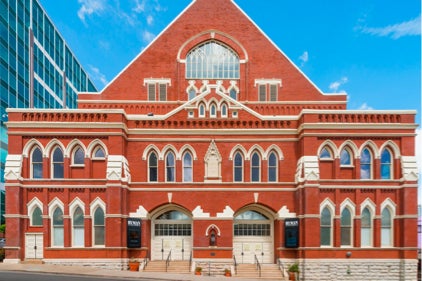 Ryman Auditorium
Ryman Auditorium, located at 116 Rep. John Lewis Way North, in Nashville, Tennessee, is one of the most celebrated venues in modern music. Built in 1892, the historic 2,362-seat live performance venue is the most famous former home of the Grand Ole Opry and is revered by artists and music fans for its world-class acoustics. A bucket list moment for both fans and artists alike, her iconic stage has hosted performers from across genres, such as Elvis Presley, Bruce Springsteen, Charley Pride, Loretta Lynn, Johnny Cash, Harry Styles, Wu-Tang Clan, Lizzo, and thousands more. While offering a diverse lineup and thriving concert schedule with over 200 shows per year, the venue is also open for daytime tours year-round. Along with best-in-class production technologies and livestream capabilities, the Ryman has been named Pollstar's Theater of the Year for 13 years through 2021.
Stay In Touch
Subscribe for updates, events offers and more. To sign up to receive our emails, Fill in the following fields and hit submit. Thanks, and Welcome!