Warren Zeiders was just 22 years old when he signed his first recording contract with Warner Records. After a series of live covers, "Ride The Lightning" caught fire and ignited a community of true believers before he'd ever toured or played outside his hometown of Hershey, PA. Zeiders' distinctive, high energy country music is powered by a steady supply of youthful grit, honesty, muscle, and then, there's that voice; a world-weary, lived-in, honeyed growl that belie his young years. Recently relocated to Nashville—the now 23-year-old singer/songwriter delivers outlaw sermons in his unmistakable authenticity. After his original solo acoustic version of "Ride The Lightning" became an instant hit, Zeiders released a string of rockin' but heartfelt tracks on his own 717 Tapes platform that led People Magazine to surmise "Warren Zeiders is a wild horse who sings about the truth." Following a pair of well-received EP's, Zeiders hit the road for this first-ever tour with all dates selling out in under 72 hours. To date, Warren Zeiders has amassed over 1.4 billion global TikTok views, in excess of 870 million audio streams and well over 39 million video plays on the heels of his recently released debut album 717 Tapes: The Album this past September. In recent weeks, Zeiders has released his first new tracks of 2023—"West Texas Weather" and "Pretty Little Poison"—and performed his first show outside the US in Queensland, Australia at CMC Rocks QLD. Zeiders and his band have just begun a year of non-stop touring including stops at Stagecoach Festival 2023 celebrating his 100th show to date and Nashville's CMA Festival, among others.
Venue Information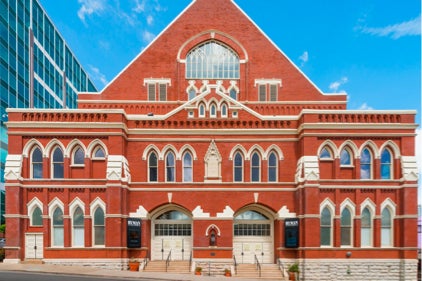 Ryman Auditorium
Ryman Auditorium, located at 116 Rep. John Lewis Way North, in Nashville, Tennessee, is one of the most celebrated venues in modern music. Built in 1892, the historic 2,362-seat live performance venue is the most famous former home of the Grand Ole Opry and is revered by artists and music fans for its world-class acoustics. A bucket list moment for both fans and artists alike, her iconic stage has hosted performers from across genres, such as Elvis Presley, Bruce Springsteen, Charley Pride, Loretta Lynn, Johnny Cash, Harry Styles, Wu-Tang Clan, Lizzo, and thousands more. While offering a diverse lineup and thriving concert schedule with over 200 shows per year, the venue is also open for daytime tours year-round. Along with best-in-class production technologies and livestream capabilities, the Ryman has been named Pollstar's Theater of the Year for 13 years through 2021.
Stay in Touch
What's almost as iconic as visiting the Ryman? Always having the inside scoop!
Sign up for exclusive updates, offers, and events, so you never miss out on what's happening at the Mother Church.