Open your minds, earthlings, and prepare to be launched headfirst into an alternate universe. A place where robots fall in love with humans. Where your tour guide into this alternate realm is a demure lil thang with a bold set of pipes. "I'm an alien from outer space," declares Janelle Monae on the first song of her debut album, Metropolis: The Chase Suite (Special Edition). Yes, Toto, we are no longer in Kansas anymore. Or even planet Earth.Suspend disbelief for a moment, as you're dropped mid-pursuit into a soaring sci-fi soundtrack. The lush orchestration experiments with elements of musical theater, funk and the dirty south. At one moment, Monae's voice takes on the metallic trill of Shirley Bassey, the next she's an ethereal siren, followed by a bluesy soothsayer. "No alter ego for me, this android definitely exists," says Monae of Cindi Mayweather, the heroine of The Chase. Mayweather, she explains, is an "Alpha Platinum 9000 android." She is on the run because she's fallen in love with a human being, a situation that is verboten in the future landscape of Metropolis.She discovered a talent for the arts during school, eventually leaving Kansas City for New York's American Academy of Dramatic Arts. Making the rounds of auditions in the Big Apple proved to be frustrating, though. "I wanted to create my own world. I didn't like that whole typecasting thing," she explains. On a whim, she left on a flight bound for The Netherlands that fatefully had a layover in Atlanta. "I had an intuition about Atlanta. I knew that really creative people like Outkast had come from here, so my subconscious was telling me that I should stay. I felt like this could be a place where I could start my own movement."That movement now has a name, The Wondaland Arts Society, operating as a studio and collective as well as Monae's record label. A chance meeting at Def Poetry Jam introduced her to soon-to-be Wondaland co-conspirators Chuck Lightning and Nate "Rocket" Wonder. Together they've fallen into a starry-eyed creative shorthand, staying up all night to dream up songs. "It was almost like we were connected from another land and God sent us all to work together," explains Monae. While Wonder is the musical genius and production guru, Lightning collaborates on the lyrics and the project's zany sensibility, bringing a cinematic passion to the soundscape. It was Lightning who introduced her to the project's seminal inspiration, the 1927 silent film Metropolis. The Wondaland Arts Society is an independent record label and mystery school that designs capes for superheroes and art for aliens. Ms. Monae is credited as one of the society's chief founders.Monae has carved out her own path by following her instincts. "I want to be looked at as a leader and a businesswoman," she says. "I really feel that music and artists have a huge influence in the way we think. My goal is to help bring as many people as I possibly can together with my music." But it isn't solely about the music. "With regards to the way that I dress, to the things that come out of my mouth, I'm really trying to give a different perspective." Considering for a moment, she adds, "and I think there are a lot of young girls out there who are like me."She may be living in a fantasy world of her own creation, but Janelle Monae is confident you won't want to leave once you've visited.
---
Jidenna Meet and Greet Upgrade
Meet and greet with Jidenna
Personal photograph with Jidenna
Commemorative meet and greet laminate and lanyard
Early venue access
Limited availability
VIP upgrade only; this upgrade does not include a ticket to the show. Fans must purchase concert ticket separately to attend the M&G.
All upgrades are available here: https://bit.ly/jidennavip
Tuesday,
October
3
8:00PM
8:00 PM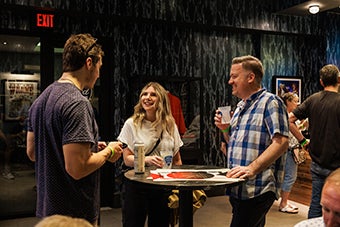 ELEVATE YOUR RYMAN EXPERIENCE
Want to make your night at the Ryman an iconic one? Snag a spot in our new and improved Ford Lounge. Hang out in our recently-expanded private space, grab some food and a top-shelf drink from the open bar, and take home a commemorative Hatch Show Print Poster.

Upgrade your ticket, you deserve it!
Venue Information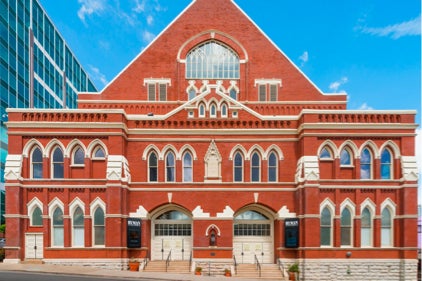 Ryman Auditorium
Ryman Auditorium, located at 116 Rep. John Lewis Way North, in Nashville, Tennessee, is one of the most celebrated venues in modern music. Built in 1892, the historic 2,362-seat live performance venue is the most famous former home of the Grand Ole Opry and is revered by artists and music fans for its world-class acoustics. A bucket list moment for both fans and artists alike, her iconic stage has hosted performers from across genres, such as Elvis Presley, Bruce Springsteen, Charley Pride, Loretta Lynn, Johnny Cash, Harry Styles, Wu-Tang Clan, Lizzo, and thousands more. While offering a diverse lineup and thriving concert schedule with over 200 shows per year, the venue is also open for daytime tours year-round. Along with best-in-class production technologies and livestream capabilities, the Ryman has been named Pollstar's Theater of the Year for 13 years through 2021.
Stay In Touch
Subscribe for updates, events offers and more. To sign up to receive our emails, Fill in the following fields and hit submit. Thanks, and Welcome!