It was toward the end of the T Bone Burnett–curated September 2013 Another Day, Another Time concert at New York City's Town Hall—a celebration of the early '60s folk revival that had inspired the Joel and Ethan Coen film Inside Llewyn Davis—when singer Rhiannon Giddens indisputably stole the show. Performing Odetta's "Water Boy" with, as the New York Times put it, "the fervor of a spiritual, the yips of a folk holler, and the sultry insinuation of the blues," Giddens brought the star-studded audience to its feet. She was the talk of the lobby during intermission as those attendees unfamiliar with her Grammy Award–winning work as a member of African-American folk interpreters Carolina Chocolate Drops wondered who exactly Rhiannon Giddens was, with her elegant bearing, prodigious voice, and fierce spirit.
On her Nonesuch solo debut Tomorrow Is My Turn, Giddens and Burnett revisit "Water Boy," its Odetta-arranged work-song rhythm serving as both provocation and a statement of power. Giddens delivers an equally thunderous rendition, one made all the more striking when placed between a gentle, ruminative interpretation of Dolly Parton's "Don't Let It Trouble Your Mind" and a version of Hank Cochran's "She's Got You," popularized by Patsy Cline, that Giddens imbues with "an old-timey R&B vibe," abetted by Carolina Chocolate Drops band-mate Hubby Jenkins. The breadth of musical vision on Tomorrow Is My Turn fulfills the promise of that brief but stunning star turn at Town Hall. The album incorporates gospel, jazz, blues, and country, plus a hint of proto-rock and roll, and Giddens displays an emotional range to match her dazzling vocal prowess throughout.
The life that Giddens explores at the climax of Tomorrow Is My Turn is her own creative one, on the lilting, self-penned ballad "Angel City." Though she regards herself far more as singer than songwriter, "Angel City," composed in the course of a single night during the recording of the Burnett-helmed The New Basement Tapes project, fits perfectly at the close of the set, gently paying homage to the elder artists whose work comprise the rest of the album. "It was these women, these artists, who had helped me, who had come with me on this journey, and here are lyrics that represented that."
Tomorrow Is My Turn was recorded in Los Angeles and Nashville, with a multi-generational group of players whom Burnett assembled. Among them are fiddle player Gabe Witcher and double bassist Paul Kowert of label-mates Punch Brothers; percussionist Jack Ashford of Motown's renowned Funk Brothers; inventive drummer and Burnett stalwart Jay Bellerose; veteran folk-blues guitarist Colin Linden; legendary backup singer Tata Vega; and Nashville session great, bassist Dennis Crouch. Giddens enthuses, "We had Dennis and Paul on stand-up bass at the same time on some of these tracks. They are all 'musicians' musicians' and they did cool stuff they don't always get the opportunity to play. It was a bit of a challenge for them too, all these different kinds of music; every day was something new. We'd start the day by watching the original inspiration for the song on YouTube, and then we would go cut it. They were a diverse group of people, but it felt like a real band."
The songs here, says Giddens, "are all facets of the human condition." Taken together, they answer the question Twyla Tharp posed at the beginning of Giddens' solo adventure. Tomorrow Is My Turn is a composite portrait of "Ruby," of America, and of Giddens herself, whose turn is clearly right now.
Friday,
September
15
8:00PM
8:00 PM
Venue Information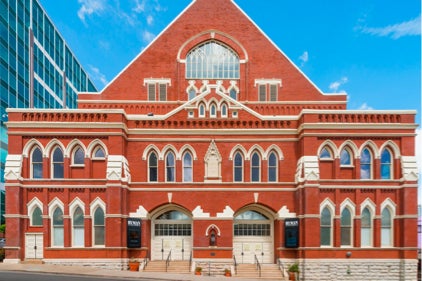 Ryman Auditorium
Ryman Auditorium, located at 116 Rep. John Lewis Way North, in Nashville, Tennessee, is one of the most celebrated venues in modern music. Built in 1892, the historic 2,362-seat live performance venue is the most famous former home of the Grand Ole Opry and is revered by artists and music fans for its world-class acoustics. A bucket list moment for both fans and artists alike, her iconic stage has hosted performers from across genres, such as Elvis Presley, Bruce Springsteen, Charley Pride, Loretta Lynn, Johnny Cash, Harry Styles, Wu-Tang Clan, Lizzo, and thousands more. While offering a diverse lineup and thriving concert schedule with over 200 shows per year, the venue is also open for daytime tours year-round. Along with best-in-class production technologies and livestream capabilities, the Ryman has been named Pollstar's Theater of the Year for 13 years through 2021.
Stay In Touch
Subscribe for updates, events offers and more. To sign up to receive our emails, Fill in the following fields and hit submit. Thanks, and Welcome!