;Join Ray LaMontagne and his trio this fall for a special edition of the Just Passing Through tour as Ray performs a fan requested set list from across his catalog. Ray's vast catalog spans eight full length records, multiple Grammy nominations, and chart topping radio singles. Joining Ray on the tour will be John Stirratt from Wilco on acoustic bass. The two will be playing songs spanning across Ray's albums including Trouble, Till The Sun Turns Black, Gossip in the Grain, God Willin' & The Creek Don't Rise, Supernova, Ouroboros, and Part Of The Light.
On his previous solo tours, critics across the US were raving about his performance. Consequence of Sound said, "Hearing Ray LaMontagne perform live is a poignant and magical experience," while The Boston Herald raved, "LaMontagne's voice remains a marvel, quiet and reflective one minute and forceful and impassioned the next. It really is an amazing instrument."
Ray LaMontagne has released 7 studio albums, 5 of which have reached Top 10 on Billboard's Top Rock Albums chart and Billboard's Digital Albums chart. Additionally, Ray's 2010 album God Willin' & the Creek Don't Rise won the Grammy for Best Folk Album and was nominated in the coveted Song of The Year category for "Beg Steal or Borrow."
Each release from his catalogue over the last 13 years carries its own character and feel. Having worked with producers Ethan Johns, Dan Auerbach of the Black Keys and Jim James of My Morning Jacket, Ray's vast sonic catalogue has been called everything from "a perfect throwback to the lost art of the album-length format," from Entertainment Weekly to "epic and magical," from Rolling Stone and "gorgeous and ambitious," from Esquire. NPR's All Things Considered said that Ray throughout the course of his career "has continued to push himself in different directions," while People called Ray a "marvel of nature."
Venue Information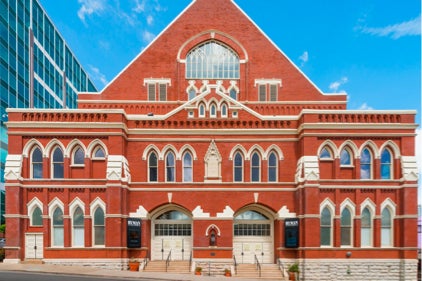 Ryman Auditorium
Ryman Auditorium, located at 116 Rep. John Lewis Way North, in Nashville, Tennessee, is one of the most celebrated venues in modern music. Built in 1892, the historic 2,362-seat live performance venue is the most famous former home of the Grand Ole Opry and is revered by artists and music fans for its world-class acoustics. A bucket list moment for both fans and artists alike, her iconic stage has hosted performers from across genres, such as Elvis Presley, Bruce Springsteen, Charley Pride, Loretta Lynn, Johnny Cash, Harry Styles, Wu-Tang Clan, Lizzo, and thousands more. While offering a diverse lineup and thriving concert schedule with over 200 shows per year, the venue is also open for daytime tours year-round. Along with best-in-class production technologies and livestream capabilities, the Ryman has been named Pollstar's Theater of the Year for 13 years through 2021.
Stay in Touch
What's almost as iconic as visiting the Ryman? Always having the inside scoop!
Sign up for exclusive updates, offers, and events, so you never miss out on what's happening at the Mother Church.