Following word of the Summer 2023 release of This Moment – their first new studio album in 46 years – revolutionary world music ensemble Shakti will continue to discover and explore the musical common ground bridging East and West on an extensive U.S. tour, beginning August 17 in Boston. Born in the mid-1970s out of the deep artistic and spiritual connection bonding British guitarist John McLaughlin and Indian tabla player Zakir Hussain, Shakti's cross-cultural musical conversation dissolved boundaries with uncommon passion, grace, and dexterity – awakening subsequent generations of musicians to the possibilities of such hybrids in the process. Alongside McLaughlin and Hussain, today's Shakti features vocalist Shankar Mahadevan, violinist Ganesh Rajagopalan, and percussionist Selvaganesh Vinayakram (son of original Shakti ghatam player T.H. "Vikku" Vinayakram).
Looking ahead to the performances, McLaughlin equates the endeavor to a homecoming of sorts. "Shakti was born in the USA in 1973," he reflects, "and is also no stranger to American audiences. We've played concerts all over the US from coast to coast and north to south – and everywhere we've played, we've had wonderful audiences."
With the recording of their new studio album now complete, the members of Shakti now await the opportunity to continue their pan-global dialogue. "In our initial incarnation," Zakir Hussain concludes, "we did not always have the time nor the means to explore. Now, with the decades of individual musical experiences we all have poured into this, the result reveals an extraordinary depth and level of interaction within this band."
Venue Information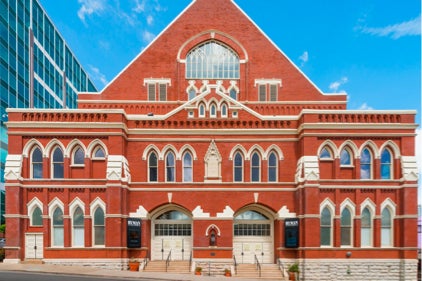 Ryman Auditorium
Ryman Auditorium, located at 116 Rep. John Lewis Way North, in Nashville, Tennessee, is one of the most celebrated venues in modern music. Built in 1892, the historic 2,362-seat live performance venue is the most famous former home of the Grand Ole Opry and is revered by artists and music fans for its world-class acoustics. A bucket list moment for both fans and artists alike, her iconic stage has hosted performers from across genres, such as Elvis Presley, Bruce Springsteen, Charley Pride, Loretta Lynn, Johnny Cash, Harry Styles, Wu-Tang Clan, Lizzo, and thousands more. While offering a diverse lineup and thriving concert schedule with over 200 shows per year, the venue is also open for daytime tours year-round. Along with best-in-class production technologies and livestream capabilities, the Ryman has been named Pollstar's Theater of the Year for 13 years through 2021.
Stay in Touch
What's almost as iconic as visiting the Ryman? Always having the inside scoop!
Sign up for exclusive updates, offers, and events, so you never miss out on what's happening at the Mother Church.