Strength, versatility and a spunky sense of adventure are qualities more often associated with literary heroines than successful country singers, but then there's nothing typical about Sara Evans. Whether dominating country radio airwaves with one of her many hit singles or attracting a new legion of fans with her spirited turn on "Dancing with the Stars," Evans' drive, talent and determination have placed her in an elite class of artists who transcend musical genres to become a household name. Her musical accomplishments are celebrated with the release of "Sara Evans-Greatest Hits." The 14-song collection features 10 of Evans' signature songs as well as four inspired new songs, worthy of taking their place alongside such modern classics as "No Place That Far," "A Real Fine Place to Start," and "Born to Fly." Indeed, Evans was on her way to becoming one of the most successful female artists of her generation--a compelling, heart-in-the-throat heir to Loretta Lynn and Tammy Wynette. She's won numerous accolades, among them the Academy of Country Music's Female Vocalist of the Year and the Country Music Association's Video of the Year for "Born to Fly". She was named 2006 Female Vocalist of the Year in the R&R Reader's Poll and has been celebrated as one of People magazine's "50 Most Beautiful People." Evans has earned numerous #1 hits, two of which she co-wrote, including "Born to Fly," "No Place That Far," "Suds In The Bucket" and "A Real Fine Place to Start," which spent two weeks at the top of the country charts. Of the five albums Evans has released, her sophomore set, "No Place That Far," has been certified gold; 2001's "Born to Fly" is double-platinum and 2003's "Restless" and 2005's "Real Fine Place" are both platinum. Releasing a Greatest Hits package generally signals the close of one chapter in an artist's career and the beginning of a new one. It is often a time for introspection and taking a hard look at the factors that contributed to those hits. Evans humbly credits her success to "luck, the kindness of country radio, and a good record label." Obviously, there's been so much more involved. Sara Evans is a vibrant, talented woman with a distinctive voice and an innate ability to relate to her audience. She's a songwriter, a mother of three, and a master at multi-tasking, but above all, she's real. It's that honesty and integrity that resonate throughout her music. "I'm just really grateful for what I have. I want my life to mean something and I want to make music that matters."
Venue Information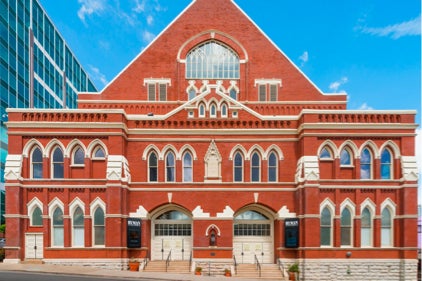 Ryman Auditorium
Ryman Auditorium, located at 116 Rep. John Lewis Way North, in Nashville, Tennessee, is one of the most celebrated venues in modern music. Built in 1892, the historic 2,362-seat live performance venue is the most famous former home of the Grand Ole Opry and is revered by artists and music fans for its world-class acoustics. A bucket list moment for both fans and artists alike, her iconic stage has hosted performers from across genres, such as Elvis Presley, Bruce Springsteen, Charley Pride, Loretta Lynn, Johnny Cash, Harry Styles, Wu-Tang Clan, Lizzo, and thousands more. While offering a diverse lineup and thriving concert schedule with over 200 shows per year, the venue is also open for daytime tours year-round. Along with best-in-class production technologies and livestream capabilities, the Ryman has been named Pollstar's Theater of the Year for 13 years through 2021.
Stay In Touch
Subscribe for updates, events offers and more. To sign up to receive our emails, Fill in the following fields and hit submit. Thanks, and Welcome!