The Swell Season are Glen Hansard (from Irish band, The Frames) and Marketa Irglova (a classically trained Czech pianist and vocalist). They entered the spotlight last year with two Grammy nominations and an Oscar win for Best Original Song, "Falling Slowly." That win was for the indie film, "Once," for which Hansard and Irglova also composed the score along with the original soundtrack work. They played the film's two lead characters too!

If you missed their Oscar speech/debacle you missed the feel good moment of the season. Thanks to the Academy you can relive it and swoon over the wonderfully sincere and clearly deserving duo. They're kind of people I actually want to see speak at the Oscars outside of Jon Stewart (and Viggo Mortensen who's in the background, feeling it big time).

Their new album Strict Joy, takes its name from a poem by Irish writer James Stephens (1882-1950). It was co-produced by Hansard and Peter Katis (The National, Interpol). In addition to members of The Frames, the album features guitarist Javier Mas (Leonard Cohen).
Venue Information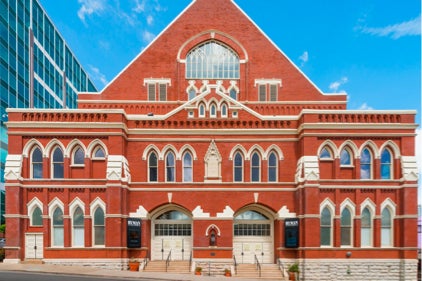 Ryman Auditorium
Ryman Auditorium, located at 116 Rep. John Lewis Way North, in Nashville, Tennessee, is one of the most celebrated venues in modern music. Built in 1892, the historic 2,362-seat live performance venue is the most famous former home of the Grand Ole Opry and is revered by artists and music fans for its world-class acoustics. A bucket list moment for both fans and artists alike, her iconic stage has hosted performers from across genres, such as Elvis Presley, Bruce Springsteen, Charley Pride, Loretta Lynn, Johnny Cash, Harry Styles, Wu-Tang Clan, Lizzo, and thousands more. While offering a diverse lineup and thriving concert schedule with over 200 shows per year, the venue is also open for daytime tours year-round. Along with best-in-class production technologies and livestream capabilities, the Ryman has been named Pollstar's Theater of the Year for 13 years through 2021.
Stay In Touch
Subscribe for updates, events offers and more. To sign up to receive our emails, Fill in the following fields and hit submit. Thanks, and Welcome!