CLUTCH shares more in common with The Grateful Dead, Rush, and the Allman Brothers than their heavy riffs and heady twists-of-phrase might suggest. Because like those bands, the supporters who adore CLUTCH are there for the experience, community, and authentic connection.
To love CLUTCH is to feel a sense of ownership, membership, and belonging.
Seneca Valley High School classmates Neil Fallon (vocals), Tim Sult (guitar), Dan Maines (bass), and Jean-Paul Gaster (drums) share an unshakeable musical and personal bond now three decades strong. Shaped by the same region which birthed Bad Brains, Minor Threat, and Rites Of Spring, CLUTCH crafts hyper-literate and libertine jams informed by hardcore fury and fuzzy, athletic, stoner rock.
A worldwide cabal of fans and critics cherish the band's dense and diverse catalog of underground classics, released through major labels, indies, and since 2009, Clutch's own Weathermaker imprint. Sunrise On Slaughter Beach, the band's thirteenth studio album, is a slamming summary of everything that makes the band great and another giant leap forward into career longevity.
"There's no question that Clutch etched themselves a name in the pantheon of great rock bands," Lambgoat wrote in 2004. Classic Rock Magazine counted 2013's Earth Rocker and 2015's Psychic Warfare among the 50 Best Rock Albums of the 2010s. Rolling Stone described 2018's Book of Bad Decisions as "bathed in the grit and liberal fuzz tone that have made their live shows legendary."
Those live shows over the years include tours with Slayer, System Of A Down, and Marilyn Manson, and more recent co-headlining treks with Dropkick Murphys, Killswitch Engage, and Mastodon. Like Slayer or Iron Maiden, CLUTCH outlasted rock bands anchored to "hit songs" and the pressure of replicating them. The foursome from Germantown, Maryland, isn't bound by trends. Across 13 studio albums and assorted releases since 1991, they've earned a reputation as one of the best around.
LineUp
Neil Fallon - Vocals/Guitar
Tim Sult – Lead Guitar
Dan Maines – Bass
Jean-Paul Gaster – Drums
Select Discography
Sunrise on Slaughter Beach (2022)
Book of Bad Decisions (2018)
Psychic Warfare (2015)
Earth Rocker (2013)
Strange Cousins from the West (2009)
From Beale Street to Oblivion (2007)
Robot Hive/Exodus (2005)
Blast Tyrant (2004)
Pure Rock Fury (2001)
Jam Room (1999)
The Elephant Riders (1998)
Clutch (1995)
Transnational Speedway League: Anthems, Anecdotes & Undeniable Truths (1993)
Venue Information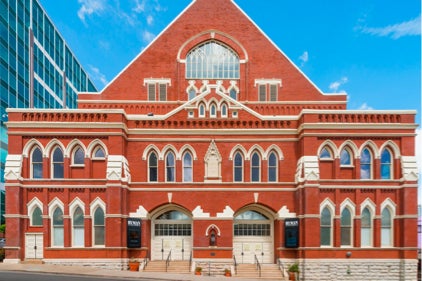 Ryman Auditorium
Ryman Auditorium, located at 116 Rep. John Lewis Way North, in Nashville, Tennessee, is one of the most celebrated venues in modern music. Built in 1892, the historic 2,362-seat live performance venue is the most famous former home of the Grand Ole Opry and is revered by artists and music fans for its world-class acoustics. A bucket list moment for both fans and artists alike, her iconic stage has hosted performers from across genres, such as Elvis Presley, Bruce Springsteen, Charley Pride, Loretta Lynn, Johnny Cash, Harry Styles, Wu-Tang Clan, Lizzo, and thousands more. While offering a diverse lineup and thriving concert schedule with over 200 shows per year, the venue is also open for daytime tours year-round. Along with best-in-class production technologies and livestream capabilities, the Ryman has been named Pollstar's Theater of the Year for 13 years through 2021.
Stay in Touch
What's almost as iconic as visiting the Ryman? Always having the inside scoop!
Sign up for exclusive updates, offers, and events, so you never miss out on what's happening at the Mother Church.