Ryan Adams is a multiple-Grammy-nominated singer songwriter from Jacksonville, NC who has released a veritable onslaught of critically acclaimed and commercially successful albums since 2000. Among the most recent of these was September 2014's Ryan Adams. Written and produced by Adams, the album led off with ""Gimme Something Good,"" the first vinyl single to go #1 at the Amazon.com music store, and entered the Billboard chart at career high #4. The album earned two nominations at the 56th Annual Grammy Awards: Best Rock Song for ""Gimme Something Good"" and Best Rock Album. In Fall 2015, Adams commemorated the release of his full-album cover of Taylor Swift's 1989 by appearing as the first music guest on The Daily Show with Trevor Noah, then opening Jimmy Kimmel Live's week of shows airing from New York, playing (of course) ""Welcome To New York"" from 1989.
Among the other monuments in the Adams canon are: Ashes & Fire, his 2011 Glyn Johns-produced ""gorgeous, shimmering solo album" (USA Today); 2007's Easy Tiger which opened at #7 on the U.S. chart with Ryan's biggest first week sales to date and wound down the year with "Halloweenhead" making Rolling Stone's Best Songs of 2007; 2005's Cold Roses and Jacksonville City Nights; 2004's Love Is Hell; Ryan's 2001 major label debut Gold, which has sold nearly a million copies worldwide to date and features ""When Stars Go Blue,"" quoted in Stephen King's Lisey's Story and widely known as ""that Tim McGraw song the kid did on American Idol"" or ""the song the Corrs did with Bono"; and his 2000 solo debut Heartbreaker, released on Bloodshot Records and including ""My Winding Wheel,"" ""Oh My Sweet Carolina"" (featuring Emmylou Harris) and ""Come Pick Me Up."
Ryan Adams is also CEO of his own PAX-AM label through which he has released numerous singles and albums including the 15-LP exclusive vinyl edition of his 2012 Live After Deaf box set that sold out its entire pressing in eight minutes. He has also produced albums for Jenny Lewis, La Sera, Fall Out Boy, Willie Nelson, Jesse Malin, and collaborated with Norah Jones, America, Cowboy Junkies, Beth Orton and many others. His current band The Shining has accompanied him on world spanning rave-reviewed tours since 2014.
Venue Information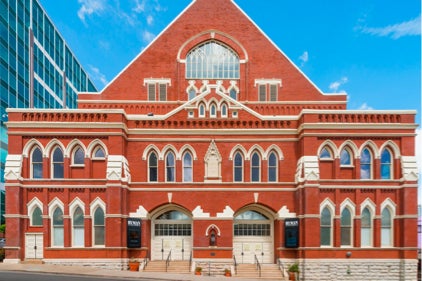 Ryman Auditorium
Ryman Auditorium, located at 116 Rep. John Lewis Way North, in Nashville, Tennessee, is one of the most celebrated venues in modern music. Built in 1892, the historic 2,362-seat live performance venue is the most famous former home of the Grand Ole Opry and is revered by artists and music fans for its world-class acoustics. A bucket list moment for both fans and artists alike, her iconic stage has hosted performers from across genres, such as Elvis Presley, Bruce Springsteen, Charley Pride, Loretta Lynn, Johnny Cash, Harry Styles, Wu-Tang Clan, Lizzo, and thousands more. While offering a diverse lineup and thriving concert schedule with over 200 shows per year, the venue is also open for daytime tours year-round. Along with best-in-class production technologies and livestream capabilities, the Ryman has been named Pollstar's Theater of the Year for 13 years through 2021.
Stay in Touch
What's almost as iconic as visiting the Ryman? Always having the inside scoop!
Sign up for exclusive updates, offers, and events, so you never miss out on what's happening at the Mother Church.