Created by Herbert W. Armstrong College and Armstrong Dance, with original music from Golden Globe-nominated composer Brian Byrne (Heartbeat of Home), Celtic Throne celebrates the dramatic and mysterious origins of Irish dance. Infused with innovative choreography, dazzling costumes and spectacular lighting and projection, Celtic Throne follows the millennia-long journey of a music-and-dance-loving people as they migrate from the ancient Near East to Ireland, Scotland, England and the United States. Celtic Throne combines Byrne's powerful, cinematic musical score with hard- and soft-shoe Irish dancing, all set against epic imagery of Ireland, the Scottish Highlands, scenes from the British Empire and traditional America. This show is a stonking celebration of the British Isles and the United States.
"A must see! … I know brilliant when I see it!"—Darren Maguire, former Riverdance lead dancer.
Venue Information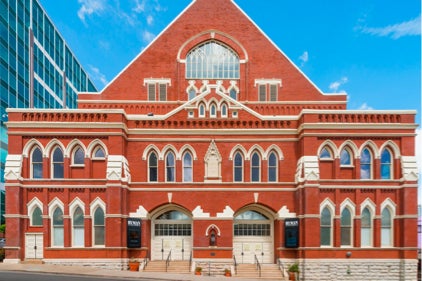 Ryman Auditorium
Ryman Auditorium, located at 116 Rep. John Lewis Way North, in Nashville, Tennessee, is one of the most celebrated venues in modern music. Built in 1892, the historic 2,362-seat live performance venue is the most famous former home of the Grand Ole Opry and is revered by artists and music fans for its world-class acoustics. A bucket list moment for both fans and artists alike, her iconic stage has hosted performers from across genres, such as Elvis Presley, Bruce Springsteen, Charley Pride, Loretta Lynn, Johnny Cash, Harry Styles, Wu-Tang Clan, Lizzo, and thousands more. While offering a diverse lineup and thriving concert schedule with over 200 shows per year, the venue is also open for daytime tours year-round. Along with best-in-class production technologies and livestream capabilities, the Ryman has been named Pollstar's Theater of the Year for 13 years through 2021.
Stay In Touch
Subscribe for updates, events offers and more. To sign up to receive our emails, Fill in the following fields and hit submit. Thanks, and Welcome!