Called "dobro's matchless contemporary master," by The New York Times and lauded as "my favorite musician" by no less than rock legend John Fogerty, Jerry Douglas could have been a musical innovator on any number of instruments. However, as a teenager, Douglas adopted the relatively obscure and unexplored Dobro, and that decision has helped him carve out a unique place in American music. By discovering the capabilities of this expressive instrument during a period of intense creativity in acoustic music generally, Douglas has wielded incalculable influence on bluegrass and its many related genres. His transcendent technique and his passionate musicality have helped him net twelve Grammy Awards and numerous International Bluegrass Music Association awards. Douglas holds the distinction of being named Musician of the Year by The Country Music Association (2002, 2005, 2007), The Academy of Country Music (ten times), and The Americana Music Association (2002, 2003). In June 2004, the National Endowment for The Arts honored Douglas with a National Heritage Fellowship, recognizing his artistic excellence and contribution to the nation's traditional arts. Jerry Douglas is a most innovative musician, both solo and as a member of groundbreaking bands including The Country Gentlemen, J.D. Crowe & the New South, Boone Creek, The Whites, Strength in Numbers (with Sam Bush, Bela Fleck, Edgar Meyer, and Mark O'Conner), and since 1998, a key member of Alison Krauss + Union Station. As a recording artist, Douglas's distinctive sound graces more than 2000 albums, including discs released by James Taylor, Phish, Paul Simon, Bill Frisell, Earl Scruggs, Ray Charles, Lyle Lovett, Bill Evans, the Chieftains, and the 8 million-plus selling soundtrack to O Brother, Where Art Thou. The restless creative spirit, which is the common thread in his eclectic discography, also is prominent through every moment of is most recent solo releases, The Best Kept Secret (Koch Records) and the 2007 collection Jerry Douglas: Best of the Sugar Hill Years (Sugar Hill Records), highlighting selections from five of his trailblazing recordings. Jerry Douglas was a featured player at Eric Clapton's 2007 Crossroads Guitar Festival. Douglas has recently completed work as Music Director for Transatlantic Sessions 3, a weekly television special airing on BBC TV during autumn 2007, featuring highly acclaimed artists from Scotland, Ireland, and America. This BBC project has reunited Douglas with his long time collaborator, Sir Aly Bain.
Thursday,
June
29
7:30PM
7:30 PM
Venue Information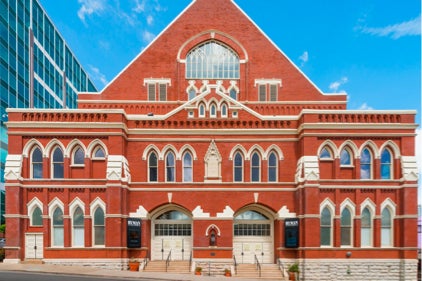 Ryman Auditorium
Ryman Auditorium, located at 116 Rep. John Lewis Way North, in Nashville, Tennessee, is one of the most celebrated venues in modern music. Built in 1892, the historic 2,362-seat live performance venue is the most famous former home of the Grand Ole Opry and is revered by artists and music fans for its world-class acoustics. A bucket list moment for both fans and artists alike, her iconic stage has hosted performers from across genres, such as Elvis Presley, Bruce Springsteen, Charley Pride, Loretta Lynn, Johnny Cash, Harry Styles, Wu-Tang Clan, Lizzo, and thousands more. While offering a diverse lineup and thriving concert schedule with over 200 shows per year, the venue is also open for daytime tours year-round. Along with best-in-class production technologies and livestream capabilities, the Ryman has been named Pollstar's Theater of the Year for 13 years through 2021.
Stay In Touch
Subscribe for updates, events offers and more. To sign up to receive our emails, Fill in the following fields and hit submit. Thanks, and Welcome!