ABOUT TWEN:
In ten tracks Twen charts a course across the sound waves of trans-Atlantic pop on their second LP One Stop Shop. Story has it, the band's been #vanlife-ing since the pandemic, writing songs as they navigated their way through a society on the edge of collapse. The urgency of the moment percolates throughout the album, as does a healthy dose of classic FM radio. One Stop Shop is a love letter written to what gets left behind when you hit the road. Melancholic, with half an eye on the rearview mirror, whilst brimming with energy and excitement about the adventure ahead…
The Twen Towers in terms of songwriting are Jane Fitzsimmons and Ian Jones. The pair demonstrates a keen affinity for turn of the millennium Britpop. Shades of Oasis, which comes with its own rearview mirror agenda. Like those Manchester strumhounds, Twen imbues what might have been ordinary pop ditties with an improbable sense of the epic – and they do it primarily by means of the six-string. The sound of One Stop Shop is determined by that era's commitment to the guitar (all types: jangly! reedy! sparkly! reverby! tinny! meaty! buzzy! and more…) as the main vehicle for communicating structure, feeling, mood, texture.
The social and political messages in One Stop Shop are not lost on the listener. It would be hard to drive around the highways and byways of America during the pandemic and not translate that panorama of social disintegration into your songwriting. Twen's message is more "live your truth," delivered in the lingo of pop lyrics, than any particular dogma. What is communicated above all is a longing for a sense of place – whether that means feeling comfortable in your own skin or having a bed without four wheels – coupled with a creeping suspicion that anything worth knowing or doing is accomplished along the way, rather than at the final destination. The album celebrates life on the road, but also hints at the exhaustion that comes with the relentless grind of the proverbial #vanlife. For some of us, one circuit around the country sucking down meals at roadside diners is enough adventure for a lifetime. One Stop Shop is written for those blessed and cursed souls, who love a homecoming, but just can't wait to get back on the road again."
ABOUT DIARRHEA PLANET:
The gravitational pull of Diarrhea Planet is strong; once you get caught in the orbit of its stadium-sized riffs and blistering solos, it's hard to escape. The Nashville six-piece has been melting faces since its debut 7" Aloha first started making waves outside the leafy campus of Belmont University, where its members first met. What started as a dorm room dick joke between two friends bored by the music-business ladder-climbing of their classmates has grown into one of the biggest—and loudest—rock acts to come out of Nashville since their big bros and labelmates in JEFF The Brotherhood. As they toured the country behind their critically acclaimed 2013 LP I'm Rich Beyond Your Wildest Dreams, the likes of Billboard, Rolling Stone, SPIN, and even BuzzFeed have taken notice. Ignore them at your own peril.
On their latest LP for Infinity Cat Recordings, Turn to Gold, the Planet boys worked with Vance Powell, the Grammy-winning engineer and Jack White confidant. Powell used his expertise in recording live sound to capture some of the energy of the Diarrhea Planet live experience—they tracked the main guitar and drum tracks live, in the same room, for a record that's both massive and frenetic. It's easily the most sophisticated and complex music they've ever made, but still carries the joyous irreverence that minted thousands of RAWK fans across the country.
The band's rhythm section, which features drummer Ian Bush (a.k.a. Tuff Gus) and bassist Mike Boyle, is the bedrock on which the foundation is built, but what makes Diarrhea Planet explode is the raw power of its four guitars. Not one note is wasted, and each ax slinger plays a role; Jordan Smith writes soaring power pop singalong hooks; Brent Toler brings a classic rock sensibility and chunky, fuzzy riffs; Emmett Miller's wields classical training and a wizard-like five-finger pick-less technique for mind-bending, finger-tapping solos; and Evan Bird is the glue that holds them all together, capable of playing any part (or instrument) as needed.
Diarrhea Planet is a nationally touring band, playing a punishing schedule of more than 200 shows a year. But they cut their teeth in the clubs and house shows of the Nashville DIY scene, built by the likes of JEFF, Heavy Cream, Natural Child, Pujol, and shaped in legendary spaces like the old police precinct that would come to be known as Glenn Danzig's House. As they've graduated from living rooms to clubs to festivals, the energy has remained constant—just ask the ladies in the mosh pit or the crowdsurfing dads you're sure to find at any Diarrhea Planet show. They're carrying the torch for the past, present and future of rock, and you'd be wise to take notice—everyone else sure has.
Venue Information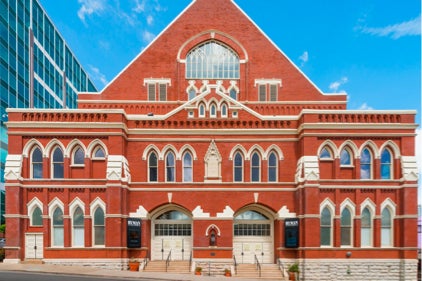 Ryman Auditorium
Ryman Auditorium, located at 116 Rep. John Lewis Way North, in Nashville, Tennessee, is one of the most celebrated venues in modern music. Built in 1892, the historic 2,362-seat live performance venue is the most famous former home of the Grand Ole Opry and is revered by artists and music fans for its world-class acoustics. A bucket list moment for both fans and artists alike, her iconic stage has hosted performers from across genres, such as Elvis Presley, Bruce Springsteen, Charley Pride, Loretta Lynn, Johnny Cash, Harry Styles, Wu-Tang Clan, Lizzo, and thousands more. While offering a diverse lineup and thriving concert schedule with over 200 shows per year, the venue is also open for daytime tours year-round. Along with best-in-class production technologies and livestream capabilities, the Ryman has been named Pollstar's Theater of the Year for 13 years through 2021.
Stay In Touch
Subscribe for updates, events offers and more. To sign up to receive our emails, Fill in the following fields and hit submit. Thanks, and Welcome!