In another universe, you could easily see Salomón Villada Hoyos as a typical 20- somethingyear-old, club-hopping, sliding in-and-out of girls' DMs, but also going through the normal growing pains of young adulthood—paying rent, making sure his parents are doing well, and perhaps finding the one. Well, in the real world Villada Hoyos is FEID, a hit-making singer/ songwriter nominated for three Latin Grammys for Best Urban Music Album and Best Reggaeton Performance in the last few years. For the Medellín, Colombia-born artist big award moments are career highlights but not his apex.
"It was my goal throughout 2019 to get the nod. I didn't know which one I was going to receive, but I was sure that all the love and commitment that I had put into the album, people would feel it," says FEID. "And it's a challenge for the album I'm releasing this year, because it feels like I'm in the spotlight. Yet, not winning gave me extra motivation."
His album FERXXO VOL.1 M.O.R" (MENSAJES ON REPEAT) proved to be another step in the right direction not only for another invite to Latin music's biggest night but also to push the urbano genre forward. M.O.R. was a trip into FEID's younger self's two-way messages. With song titles like "XNTXS," AVXNTADXR" and CU U U UXX" you should get the idea . . . the kid was a Don Juan with his thumbs.
"The acronym M.O.R. means MESSAGES ON REPEAT. They're 14 old school text messages. I would read them over and over again, to tell [the ladies] what I was thinking," he says of the album's concept. "The album has a romantic undertone but as I have been polishing my way of writing in recent years it comes with authentic messages —so pure FEID phrases!"
And that's the point: pure FEID. He's a unique artist within the Latin urbano space. Clearly, extremely Colombian and proud of his Medallo roots, but heavily influenced by English language artists like T-Pain and Drake, all the while carving out his own lane. FEID's vocals are distinctly mellifluous—or better put by the late great Guru of Gang Starr, "It's mostly tha voice." And FEID agrees.
"I feel like my voice defines it in the end, there are a lot of beats that are just beats but when I play them, they sound like FEID," he says. "A lot of producers when they play certain types of chords they say, 'Wow those are FEID chords. FEID will kill that.' That's when they grab some R&B chords, they put them flow lo-fi hip-hop and then they put the reggaeton sauce on it. That's my sound."
With his heroic work as Peter, rather, Pedro Parker, as part of the super reggaeton friends collective The Avengers (Dalex, Sech, Lenny Tavarez, Justin Quiles, Dímelo Flow) and his own solo work, FEID is easily one of the leaders of the new school. This isn't to mention the over 150 songs he's written for superstars (J Balvin, Reykon, Nicky Jam, etc.)—he's a complete artist with so much more still to accomplish.
"I think that I'm building my corner," he says confidently. "I have always wanted to have my sound and my own flow. Being with The Avengers has helped me to define myself more as an artist and to know what kind of audience I want to attack. I can sing any flow, so put me in a song with the superstars so they can enjoy a great song (laughs). Being new but not new to the industry is super cool too, they know I'm coming for it all."
On his last mixtape, BAHÍA DUCATI, the colombiano continued his evolution as an artist and leader in the reggaeton and Spanish R&B genres, respectively. The mixtape consisted of gems left on the cutting room floor from FERXXO VOL.1 M.O.R" (MENSAJES ON REPEAT). On the first focus track, "FOTOGRAFÍAS" featuring the legendary Zion & Lennox, FEID drips with lust over an ex over a lush reggaeton romantic beat.
The mixtape featured a who's who list of artists including De La Ghetto, Sech, Ñejo, Alvaro Diaz, and Miky Woodz. Even among a star-studded "PORFA (Remix)" with J Balvin, Nicky Jam, Maluma, Sech and Justin Quiles, FEID stands out with his mellifluous flow. "PORFA (Remix)" is the feather in his (surely) Ducati-inspired cap.
Well, Do You Want M.O.R.e?!!!??! (Palabra to Black Thought). Ferxxo got y'all. Since BAHÍA DUCATI, he's been heralded as the "voice of Colombia" by Paper and crowned one of "the new kings of reggaeton" by Esquire MX. And rightfully so.
No other artist in FEID's peripherals has matched his thinking outside the box creativity. The stories within the first three DEATHOFGIAN-directed music videos ("Chimbita" "Purrito Apa," "Fumeteo") of his fourth studio album, Inter Shibuya – La Mafia, are beautifully woven together and will be presented as part of a Japanese style manga (comic book) upon album release. On "Tengo Fe" a somber FEID laments over a passionate love lost. A lush video with stellar art direction and FEID's signature multi-colored Medallo mullet flowing in the wind.
Inter Shibuya – La Mafia is a collection of 15 songs full of emotive, lyrical majesty. The album's name is inspired by Japan's famous pedestrian crosswalk in Shibuya, Tokyo—which is also a hub for fashionistas (an obvious link for FEID).
Even the album's artwork tells a story—a story of FEID's evolution. Each circle represents each of his albums, taking the best of each to create his latest. In one full swoop, Ferxxo tell us everything is related, everything makes us better. And with Inter Shibuya – La Mafia, he's presented as one of Latin music's most dynamic stars. And we're all witness.
Venue Information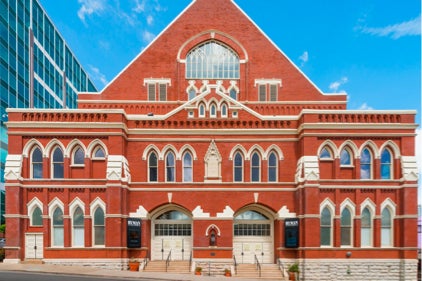 Ryman Auditorium
Ryman Auditorium, located at 116 Rep. John Lewis Way North, in Nashville, Tennessee, is one of the most celebrated venues in modern music. Built in 1892, the historic 2,362-seat live performance venue is the most famous former home of the Grand Ole Opry and is revered by artists and music fans for its world-class acoustics. A bucket list moment for both fans and artists alike, her iconic stage has hosted performers from across genres, such as Elvis Presley, Bruce Springsteen, Charley Pride, Loretta Lynn, Johnny Cash, Harry Styles, Wu-Tang Clan, Lizzo, and thousands more. While offering a diverse lineup and thriving concert schedule with over 200 shows per year, the venue is also open for daytime tours year-round. Along with best-in-class production technologies and livestream capabilities, the Ryman has been named Pollstar's Theater of the Year for 13 years through 2021.
Stay In Touch
Subscribe for updates, events offers and more. To sign up to receive our emails, Fill in the following fields and hit submit. Thanks, and Welcome!