Courtesy Photo: Derrek Kupish
Edgy. Classic. Country. A defining voice of music and a modern-day legend, 2023 Country Music Hall of Fame Inductee and two-time Grammy® winner Tanya Tucker continues to inspire artists today. Born in Seminole, Texas, Tanya had her first country hit, the classic "Delta Dawn," at the age of 13 in 1972. Since that auspicious beginning, she has become one of the most admired and influential artists in country music history, amassing 23 Top 40 albums and a stellar string of 56 Top 40 singles, ten of which reached the No. 1 spot on the Billboard country charts. Tanya's indelible songs include some of country music's biggest hits such as the aforementioned "Delta Dawn," "Soon," "Two Sparrows in a Hurricane," "It's a Little Too Late," "Trouble," "Texas (When I Die)," "If It Don't Come Easy," "Strong Enough To Bend" and many more. Tanya is also the recipient of numerous awards, including two CMAs, two ACMs and three CMT awards. In 2020, Tanya received two Grammy Awards for Best Country Album: While I'm Livin' and Best Country Song: "Bring My Flowers Now." In the fall of 2020, Fantasy Records released Tanya Tucker – Live From The Troubadour on October 16, the one-year anniversary of Tanya's historic, standing-room only set from which it originates. In October 2022 The Return of Tanya Tucker, Featuring Brandi Carlile, a documentary that chronicles the resurgence in Tucker's career following the success of her aforementioned 2019 album While I'm Livin', hit theaters globally via Sony Pictures Classics. Lauded by The New York Times, the documentary raves that Tanya "hasn't lost a step in terms of phrasing. The teardrop in her voice, strategically used in heartache songs, remains credible. [The doc] interweaves the contemporary sessions…better-than-competent piece of fan service." In December 2022, Tanya made her acting debut in a lead role in Paramount's A Nashville Country Christmas, starring alongside Academy Award® winner Keith Carradine. In October of 2023, Tanya will be inducted into the Country Music Hall of Fame - marking more than 50 years in the entertainment business. On the spirits side, the icon's signature tequila, Tanya Tucker's Cosa Salvaje Tequila, is now available in 14 U.S. states and Canada, with additional stores carrying the tequila every day.
Venue Information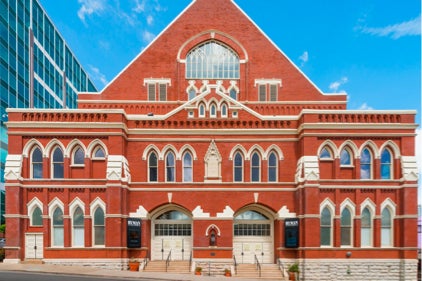 Ryman Auditorium
Ryman Auditorium, located at 116 Rep. John Lewis Way North, in Nashville, Tennessee, is one of the most celebrated venues in modern music. Built in 1892, the historic 2,362-seat live performance venue is the most famous former home of the Grand Ole Opry and is revered by artists and music fans for its world-class acoustics. A bucket list moment for both fans and artists alike, her iconic stage has hosted performers from across genres, such as Elvis Presley, Bruce Springsteen, Charley Pride, Loretta Lynn, Johnny Cash, Harry Styles, Wu-Tang Clan, Lizzo, and thousands more. While offering a diverse lineup and thriving concert schedule with over 200 shows per year, the venue is also open for daytime tours year-round. Along with best-in-class production technologies and livestream capabilities, the Ryman has been named Pollstar's Theater of the Year for 13 years through 2021.
Stay in Touch
What's almost as iconic as visiting the Ryman? Always having the inside scoop!
Sign up for exclusive updates, offers, and events, so you never miss out on what's happening at the Mother Church.