Outright genre-bending singer/songwriter/rapper Jelly Roll has quietly been building a remarkable career, under the radar and on his own terms. Since his days selling his mix tapes out of the trunk of his car, Jelly Roll has constantly been releasing new music (more than 24 albums), touring relentlessly, consistently topping various iTunes charts, engaging a rabid fanbase and creating videos that have amassed a staggering billion plus views on YouTube. He pairs deeply personal lyrics with music that blends Old-school Rap, Classic Rock, Country and Soul to create music that is therapeutic, raw and tackles the heaviness in life.
His 2020 single "Save Me"—a confessional, vulnerable expression of self-doubt set the stage for his new season of life and took him to new heights, with more than 65 million views on YouTube and Gold certification from the RIAA.
Jelly's newest album Ballads of the Broken last was released in late 2021. The introspective 10-track album features the #1 Active Rock hit, "Dead Man Walking" as well as, "Son of a Sinner", which is currently climbing the country charts. The album shows Jelly Roll's growth as an artist and man, drawing from his personal experiences to tell the story of a man who has been through the ringer and isn't afraid to share his raw truth
Venue Information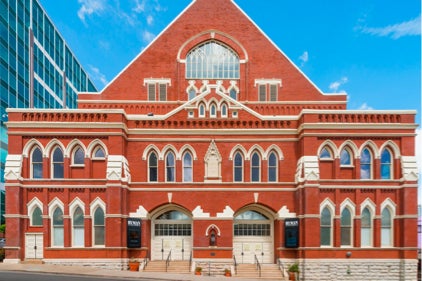 Ryman Auditorium
Ryman Auditorium, located at 116 Rep. John Lewis Way North, in Nashville, Tennessee, is one of the most celebrated venues in modern music. Built in 1892, the historic 2,362-seat live performance venue is the most famous former home of the Grand Ole Opry and is revered by artists and music fans for its world-class acoustics. A bucket list moment for both fans and artists alike, her iconic stage has hosted performers from across genres, such as Elvis Presley, Bruce Springsteen, Charley Pride, Loretta Lynn, Johnny Cash, Harry Styles, Wu-Tang Clan, Lizzo, and thousands more. While offering a diverse lineup and thriving concert schedule with over 200 shows per year, the venue is also open for daytime tours year-round. Along with best-in-class production technologies and livestream capabilities, the Ryman has been named Pollstar's Theater of the Year for 13 years through 2021.
Stay in Touch
What's almost as iconic as visiting the Ryman? Always having the inside scoop!
Sign up for exclusive updates, offers, and events, so you never miss out on what's happening at the Mother Church.