There is a Clear Bag Policy in place for this show:
• Bags must be clear plastic, vinyl or PVC and do not exceed 12" x 6" x 12"
• One-gallon clear plastic freezer bag (Ziploc bag or similar)
• Small clutch bags, camera and binocular cases, not exceeding 4.5" x 6.5", with or without a handle or strap, can be taken into the venue with one of the clear plastic bag options.
---
After achieving ubiquity as a platinum-certified pop force of nature, superstar actress, and accomplished film and television producer, Sabrina Carpenter empowered herself to open up like never before as a songwriter and storyteller. As such, the songstress underwent a series of creative and personal transformations chronicled on her fifth full-length album and 2022 debut for Island Records, Emails I Can't Send. Musically, she ushered the sound into new territory with an emphasis on live instrumentation. Simultaneously, she pulled lyrics right from her most intimate experiences—as if writing in real-time. Ultimately, she challenged what it means to make pop music by abandoning all of the rules and redefining her sound from a place of unfettered creativity, candor, charisma, and confidence.
"You're conditioned to follow the rules, especially when it comes to pop," she states. "I got tired of the routine, what's expected, what's supposed to be, and what should be. When I threw those expectations out the window, I was more excited about the music. My heart was pulling me towards live instruments and very real lyrics. I was trying to tell my story as authentically as I could. Sometimes, it was more uplifting. Other times, it was more honest. Ultimately, I've never really felt closer to music than I do now."
In order to get "closer to music," Sabrina quite literally embraced her roots once again. Listening intently to a myriad of favorites, she dusted off old records by the likes of Carole King, Joni Mitchell, Dolly Parton, and Marvin Gaye. Emphasizing the inclusion of live instrumentation and stripped-back production, her artistry progressed in organic and understated fashion. She gave audiences a glimpse at her direction with the 2021 one-off "Skin," which generated hundreds of millions of streams and became her first Billboard Hot 100 hit. However, it just scratched the surface of where Emails I Can't Send would go as she held nothing back during the writing and recording process.
"I stopped sugarcoating things," she confesses. "As a songwriter, I reached the point where it was more important for me to speak my truth than it is to worry about the perceptions and opinions of others. I didn't want this to be anybody else's album, but mine."
Her story played out vividly on the album's first official release "Skinny Dipping," Co-written with Grammy® Award-nominated multiplatinum artists and songwriters Julia Michaels and JP Saxe, it showcased the unfiltered honesty at the heart of the album with its vivid recollections of running into an ex at a coffee shop. She performed it for the first time on The Tonight Show Starring Jimmy Fallon, while People highlighted how, "The single demonstrates a sense of closure from a past relationship." However, she picked up the pace with the dancefloor-ready follow-up "Fast Times." Driven by upbeat percussion and a dynamic vocal performance, Rolling Stone hailed it as a "sexy, playful pop song" and one of "The Best Songs of 2022." However, the single "Vicious" cuts even deeper into the old wound of a failed romance. Her understated vocals peek through handclaps and a head-nodding guitar riff as she muses, "Everyone thinks you're an angel, but shit I would probably use different wording."
"Sonically, you're able to hear me really closely, and it's almost like I'm narrating the story to you," she elaborates. "This is the personal side of the album. It's as if I'm having a conversation. We've all had experiences with people we love so deeply who turn out to be different than we thought they were. It's a really painful realization to come to terms with. A lot of times, we focus on the other side of the healing process and ignore the part where we're filled with anger and resentment. I don't touch on that side of myself too often, but it's a huge part of my story over the past couple of years, so I thought it was important to start there on 'Vicious'."
Fittingly, she begins the album with the piano-laden title track "Emails I Can't Send." Between soft strings, her voice barely registers above a whisper as she warns, "Don't make me cuss you out. Why'd you let me down? Don't say sorry now."
Whether it be the extreme dynamics of "Tornado Warnings" or the cheeky acoustic ponderances of "Bad For Business," the album finds Sabrina at her most raw and real. This sentiment shines the brightest on the finale "Decode." Her voice quakes with unfiltered feeling over delicately strummed guitar as her cadence alternates between hushed verses and a hypnotic hook.
"It reaches a place of acceptance," she observes. "You're not necessarily holding anger for the past, but you're accepting if the situation was perfect, you wouldn't be where you are now. You wouldn't have grown or learned from it. You wouldn't know how to take care of yourself in the future. Finally, you can move on."
Since making her debut with Eyes Wide Open in 2015, Sabrina has evolved as a singer, songwriter, and performer on her own terms. Amassing over a billion streams, she has earned one platinum single, "Thumbs," and two gold singles—"Sue Me" and "Why." Beyond selling out shows on multiple continents, she has collaborated with Zara Larsson, Farruko, and Saweetie. Her dynamic filmography spans everything from her first leading role in the 2019 Tribeca Film Festival favorite The Short History of the Long Road to the #1 Netflix mega-hit Work It, which she produced. In 2022, she co-stars in the comedy thriller film Emergency (Amazon Prime), which premiered at Sundance Film Festival. Other major credits include Clouds and the Broadway production of Mean Girls. It's no wonder Forbes touted her as a featured honoree on its "30 under 30" list.
Now, Emails I Can't Send tells Sabrina's story like never before. The album finds Sabrina refusing to take the easy way out, embracing her vulnerabilities and welcoming growth. The result is a deeply intimate look into the inner workings of her mind; her thoughts, feelings, and everything in between.
"There's a huge message of self-acceptance, self-forgiveness, and imperfection," she leaves off. "I've learned you can't just skip to the part where you're healed and everything's okay. You have to go through it. I'm someone who likes to listen to music and get in my feels. Making that kind of record for me was really special. This is my own."
Venue Information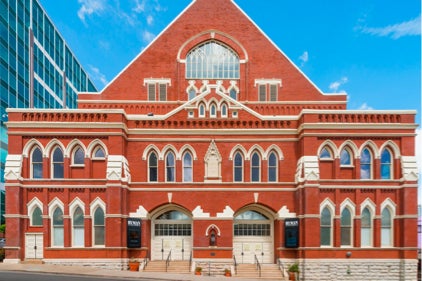 Ryman Auditorium
Ryman Auditorium, located at 116 Rep. John Lewis Way North, in Nashville, Tennessee, is one of the most celebrated venues in modern music. Built in 1892, the historic 2,362-seat live performance venue is the most famous former home of the Grand Ole Opry and is revered by artists and music fans for its world-class acoustics. A bucket list moment for both fans and artists alike, her iconic stage has hosted performers from across genres, such as Elvis Presley, Bruce Springsteen, Charley Pride, Loretta Lynn, Johnny Cash, Harry Styles, Wu-Tang Clan, Lizzo, and thousands more. While offering a diverse lineup and thriving concert schedule with over 200 shows per year, the venue is also open for daytime tours year-round. Along with best-in-class production technologies and livestream capabilities, the Ryman has been named Pollstar's Theater of the Year for 13 years through 2021.
Stay in Touch
What's almost as iconic as visiting the Ryman? Always having the inside scoop!
Sign up for exclusive updates, offers, and events, so you never miss out on what's happening at the Mother Church.