Rock N Roll Jesus is Kid Rock's most honest, eclectic, and soulful record to date. It's his State of the Union address, a deeply personal statement that looks at racism in America, empathizes with soldiers in Iraq (Rock visited the troops last Christmas) and also lays bare his tormented relationship with Pam Anderson. During their breakup, Rock assumed a low profile, focusing on his music for the first time in years.
Initially, he teamed up with producer Rick Rubin, who gave him a much-needed jolt of confidence. "I told him, 'there are no classic American rockers right now, none,'" says Rubin. "'You can fill that gap. There's no competition, just get in there and do it.'" Rubin also encouraged Rock to step up his lyrics. "I said, 'Don't say your name in every song. You already covered all that "I'm Kid Rock, let's get drunk".'" Rock immediately wrote what he considers his best song ever, "Amen," in which he points his middle finger at "scumbag lawyers and wolves-in-sheep's-clothing pastors."
With the release of Rock N Roll Jesus, Rock is calm and confident, considering what's at stake. Jesus is "a 'make it to the next level' record," he says. "That or go play county fairs for the next ten years." He believes this is his comeback. "It's the best record I've ever made, and it's going to move mountains. I feel more comfortable in my skin than I've ever felt. I know I'm a great performer. I've done that my whole life, but now I've come into my own as a songwriter and musician."
Kid Rock released the album Rebel Soul on November 19, 2012, with "Let's Ride" as its lead single. This was his first mainstream album available for download from iTunes. A music video for the explicit "Cucci Galore" was released to You Tube. "Let's Ride" music video was released to AOL.com a week later. Kid Rock and TBT have also, already filmed two other music videos for the album, which are "Happy New Year", and "Redneck Paradise", a song he co-wrote with Eric & Jason Young of the southern rock group, The Young Brothers, for which his most recent "Chill'n The Most Cruise" destinations both 3 & 4 have been nick-named. He performed at several Mitt Romney rallies leading up to the Presidental Election. Nascar heavily promoted the album during the Race For The Chase, which ended in a live performance of "Let's Ride". He also performed "Chickens In The Pen " and " All Summer Long" on Good Morning America. He performed "Detroit,Michigan" at the 2012 Detroit Lions Halftime Show and George Clinton made a cameo appearance. He paid the high school that was working with him for the halftime show $2,500 dollars to pay for their expensives getting to and from Ford Field.The album debut at No 5 on the Billboard Hot 100 selling 146,933 copies. He will be performing "Let's Ride" on WWE's upcoming Tribute to The Troops special on NBC.
Venue Information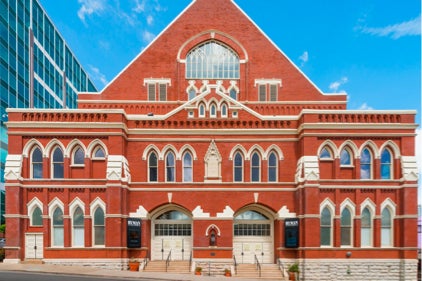 Ryman Auditorium
Ryman Auditorium, located at 116 Rep. John Lewis Way North, in Nashville, Tennessee, is one of the most celebrated venues in modern music. Built in 1892, the historic 2,362-seat live performance venue is the most famous former home of the Grand Ole Opry and is revered by artists and music fans for its world-class acoustics. A bucket list moment for both fans and artists alike, her iconic stage has hosted performers from across genres, such as Elvis Presley, Bruce Springsteen, Charley Pride, Loretta Lynn, Johnny Cash, Harry Styles, Wu-Tang Clan, Lizzo, and thousands more. While offering a diverse lineup and thriving concert schedule with over 200 shows per year, the venue is also open for daytime tours year-round. Along with best-in-class production technologies and livestream capabilities, the Ryman has been named Pollstar's Theater of the Year for 13 years through 2021.
Stay in Touch
What's almost as iconic as visiting the Ryman? Always having the inside scoop!
Sign up for exclusive updates, offers, and events, so you never miss out on what's happening at the Mother Church.