The international, chart topping supergroup Il Divo debuted in 2004 with instant success. With songs in four languages, their debut album Il Divo became a Top 4 sensation in 19 countries, hitting #1 in eight. The group went on to be a world leader in their unique pop-opera genre, achieving second to none success around the world, performing before personalities such as former US presidents George Bush, Bill Clinton or Barack Obama and the Queen of England. To date, Il Divo has sold over 30 million records throughout its career, achieved 160 gold and platinum records in more than 33 countries, and completed six world tours at the most important venues around the world including the Broadway stage. They have ten studio albums, two live albums, one compilation album, plus numerous special editions, duets and collaborations with other artists such as Celine Dion, Tony Braxton, Kristin Chenoweth or Michael Ball among others. The group's latest album For Once In My Life: A Celebration of Motown, is the group's robust and joyful song sojourn into the timeless, classics from Motown's legendary vaults. First discovered and mentored by Simon Cowell in 2003, the original four members of Il Divo are the Swiss tenor Urs Buhler, French tenor Sebastien Izambard, American tenor David Miller and Spanish baritone Carlos Marin. In late 2021, the group suffered the unexpected, tragic loss of Carlos Marin while on a global concert tour in support of their new album. For the first time in their 18 years, they were faced with the decision whether or not to carry on. Ultimately, David, Urs and Sebastien resolved to proceed in honor of their lost brother Carlos. The tour, previously, the For Once in My Life Tour was reimagined as a Greatest Hits Tour so that they could pay tribute each night to incredible career they shared with Carlos. Special guest vocalist, Mexican American baritone Steven LaBrie, was added to the shows. Find concert dates here. For more information, please visit IlDivo.com or follow the group on Instagram @ildivo.
Thursday,
March
16
7:30PM
7:30 PM
Venue Information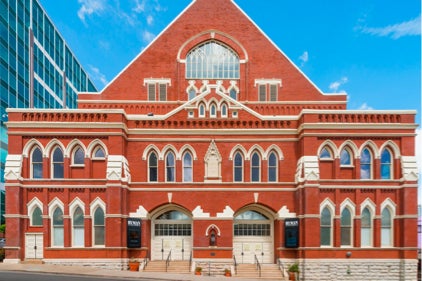 Ryman Auditorium
Ryman Auditorium, located at 116 Rep. John Lewis Way North, in Nashville, Tennessee, is one of the most celebrated venues in modern music. Built in 1892, the historic 2,362-seat live performance venue is the most famous former home of the Grand Ole Opry and is revered by artists and music fans for its world-class acoustics. A bucket list moment for both fans and artists alike, her iconic stage has hosted performers from across genres, such as Elvis Presley, Bruce Springsteen, Charley Pride, Loretta Lynn, Johnny Cash, Harry Styles, Wu-Tang Clan, Lizzo, and thousands more. While offering a diverse lineup and thriving concert schedule with over 200 shows per year, the venue is also open for daytime tours year-round. Along with best-in-class production technologies and livestream capabilities, the Ryman has been named Pollstar's Theater of the Year for 13 years through 2021.
Stay In Touch
Subscribe for updates, events offers and more. To sign up to receive our emails, Fill in the following fields and hit submit. Thanks, and Welcome!