Far from overnight, Price's recent meteoric rise is the product of more than a decade of hard work and sacrifice. While she'd long been one of East Nashville's best-kept-secrets, she burst onto the international scene with the 2016 release of her first solo album, 'Midwest Farmer's Daughter.' The record debuted in the Top 10 on Billboard's Country Albums chart and graced Best-Of lists everywhere from Entertainment Weekly to NPR Music, who called it "the hard-won arrival of an artist who feels like she's always been here." Vulture described Price as "one of the most compelling country talents to come out of Nashville in recent memory," while Pitchfork hailed the album as "a potential classic," and Rolling Stone praised its "amazingly vivid songcraft." Price solidified her next-big-thing status with stellar performances on Saturday Night Live, Colbert, Fallon, CBS This Morning, Seth Meyers, A Prairie Home Companion, and more, in addition to taking home Emerging Artist of the Year honors at the Americana Music Awards and winning The American Music Prize for the year's best debut album. She shared stages and bills with Willie Nelson, Bob Dylan, Kris Kristofferson, Emmylou Harris, and Chris Stapleton among others, and her compelling story—years of toil in the Nashville trenches, the loss of her family's farm and the tragic death of her infant child, a brush with the law, selling her car and pawning her wedding ring to afford studio time, signing to Jack White's Third Man Records as the label's first country artist—was recounted in glowing profiles everywhere from the NY Times Magazine and the New Yorker to Morning Edition and Fader. The arrival of Price's spectacular sophomore album, "All American Made," proves that she hasn't taken a moment of it for granted. Delivering on the promise of her debut and then some, the record finds Price planting her flag firmly in the soil as a songwriter who's here for the long haul, one with the chops to hang with the greats she so often finds herself sharing stages with these days.
Venue Information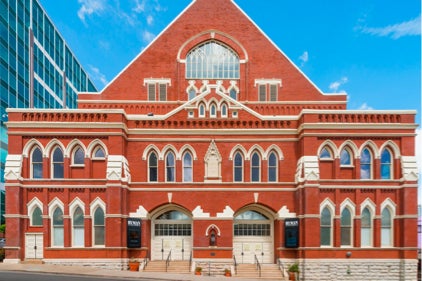 Ryman Auditorium
Ryman Auditorium, located at 116 Rep. John Lewis Way North, in Nashville, Tennessee, is one of the most celebrated venues in modern music. Built in 1892, the historic 2,362-seat live performance venue is the most famous former home of the Grand Ole Opry and is revered by artists and music fans for its world-class acoustics. A bucket list moment for both fans and artists alike, her iconic stage has hosted performers from across genres, such as Elvis Presley, Bruce Springsteen, Charley Pride, Loretta Lynn, Johnny Cash, Harry Styles, Wu-Tang Clan, Lizzo, and thousands more. While offering a diverse lineup and thriving concert schedule with over 200 shows per year, the venue is also open for daytime tours year-round. Along with best-in-class production technologies and livestream capabilities, the Ryman has been named Pollstar's Theater of the Year for 13 years through 2021.
Stay in Touch
What's almost as iconic as visiting the Ryman? Always having the inside scoop!
Sign up for exclusive updates, offers, and events, so you never miss out on what's happening at the Mother Church.